Sometimes when life gets hectic and overwhelming, a certain emotion starts to nags at me.
Guilt.
Guilt that because I'm dealing with one child I can't be there for another. Guilt that I can't volunteer in my girls' classrooms like I wish I could. Guilt that we are going yet another night without a healthy home cooked meal. Guilt that the house is a mess or that laundry isn't done or that e-mails sit unanswered.
Different seasons of life bring different trials and obstacles and there are certain times that being the kind of mother you want to be is harder than usual. I have been feeling this a lot lately.
Whenever I feel overwhelmed and the guilt starts to creep in, I remember a favorite quote: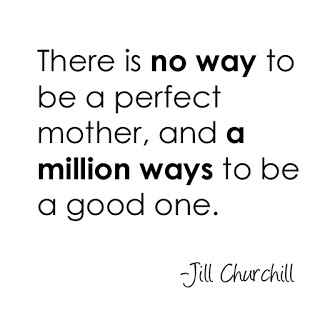 I think of this quote and I remember that it's ok. It's ok if right now I can't volunteer. It's ok if right now chicken nuggets are one of our main food groups. It's ok if the house is a mess and laundry isn't done and e-mails are sitting unanswered.
It's ok if I'm not a perfect mom. I can still find ways to be a good one. I can make sure that every day my kids know how much I love them. I can take a minute to listen to the poem Ellie wrote. I can tell Addison how proud I am of the way she straightened up her room. I can chase Kole around the house making him squeal with delight and then scoop him up and smother him with kisses. I can wake my kids up in the morning and tuck them in at night with hugs and a smile. I can make sure that they know how special they are to me. Every single day.
A million little ways to be a good mom. I remember that quote and I do the best that I can.
And the guilt goes away.
Or at least subsides for a bit. :)
xoxo, Erin