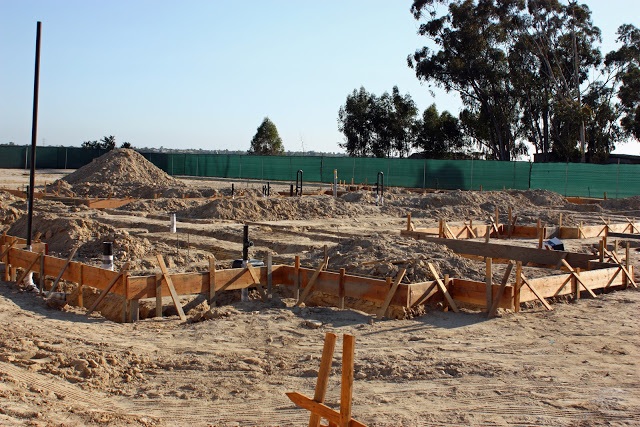 Lots of trenches and underground pipes for plumbing! Is anyone asleep yet?
No? Well then here's a few more pics that I just took today…
A view from the left side of the house.
A view from the back left corner which is our master bedroom.
Left side of the house again (guess I was too lazy to walk around and take any of the right side).
View from the right corner of the house in front of the garages. We have a gas trench inspection tomorrow and then hopefully by the end of next week they will be laying the foundation! YEA.
Ok. So now you're asleep.
:)
Let me wake you up with this fun binder I just bought. You'll never guess where I got it.
That's right my friends. I had to go back to Staples! Those office supplies by Martha Stewart have been calling my name ever since I bought my purse organizer. It's hard to see in this picture, but the binder has such a cool texture. I also picked up some fun tabs and something else I'll share in another post. :)
I love this binder. I love the color. I love the thick side pocket…
I love the easy to open/close latch at the bottom of the rings.
But I didn't buy this binder just because it was so fabulous (although that is totally something I would do). I actually really needed something to hold all of my ever-changing sketches for the built-ins for the new house. It was getting too hard to view them all on my computer. Plus I wanted to make notes directly onto the paper. My cabinet guy and I are e-mailing back and forth almost daily making tweaks and changes to things and I needed a better way to organize everything.
This binder is perfect!
I used the yellow tabs for all of the closets, blue for all of the bathrooms, and green for everything else. Now when I need to find the sketches for a certain room it is so much easier to locate them! This binder takes me to a really happy place. :)
The pocket on the left has been perfect for holding miscellaneous papers/notes of things I want to remember. There is so much to remember!
And here's a peak of one of my favorite sketches…
This is a bird's eye view of my scrapbook room/office. I keep tweaking things in this room and it still isn't finalized. Can't wait to move in and organize this space! I'll share more pics of these sketches at some point. Unless the majority of you are more drowsy now than you were during the dirt pics. Kenny has a funny way of instantly falling asleep whenever I bring up our built-ins. Such a multi-talented man I married.
:)
Happy Thursday everyone!
xoxo, Erin