It's Friday!  And we're talking make-up today!  Can I get a WOOT WOOT!!  So.  I've had these pictures ready to post for months now.  And I kept putting off posting them because I was going to try to take some pictures of what this make-up actually looks like on my face.  But I have been wearing very little make-up this summer and on the days that I am getting completely ready, I'm too busy getting everyone in this house ready to stop and take pictures.  But by now you've seen enough pictures of me on this blog to get an idea of what my make-up looks like anyway.  :)  And really it's nothing that special.  I'm not an expert on this subject, but I do like to try out new make-up.  After years of sampling lots of different brands and colors, these are my favorites!  My go-to's that I wear every day.  Every day that I actually venture out of my gym clothes and get ready that is.  :)
**Quick tip before we start:  Make-up can be really expensive once you leave places like Target and Wal-Mart.  If you want to splurge on some nice make-up but don't know where to start or what to buy, the best thing to do is to make an appointment to get a makeover.  The makeover is usually free as long as you buy some make-up so if I know I need some new make-up anyway, I love to get a makeover to try out new products.  (I've always done this at Nordstroms but you can get makeovers at most big department stores.)  And DO NOT feel like you need to buy everything the make-up artist tries on you.  They work pretty hard to sell you as much as possible, so hold your ground and only purchase the stuff you really love and know you will use.  One thing I've gotten really good at over the years when it comes to make-up is learning to say "thanks, but no thanks."  :)  I've linked to most of my favorite products if you're interested in checking them out.   So here we go!
My make-up brushes are a mix of both brands.  It's a pain to pay for make-up brushes, but I would highly recommend buying some nice ones.  They make a big difference when you are applying your make-up and as long as you take care of them, they will last for years.  (Post on washing make-up brushes here.)
First thing I apply on my face everyday is sunscreen (I'll share my favorite sunscreen at some point!  I forget to take a picture of it).  Next is foundation.  I LOVE Bobbi Brown foundation.  I've tried lots of different brands and this one is my absolute favorite.  Aside from great coverage, it just seems to give my face a nice even glow.  "Sand 2" is the shade that looks the best on me.  I have very fair skin, so obviously find the shade that matches your complexion.  This stuff isn't cheap, but a little bit goes a long way and this bottle lasts quite a while.  I once made the mistake of asking Kenny to pick me up some new foundation on his lunch hour because I didn't have time.  He came home that night and said "ERIN!  Is that how much you're paying for this stuff!!?"  So now I ask for new make-up a lot for my birthday, Christmas, etc. Takes the sting out if it's a gift.  ;)
I also really like Bobbi Brown's tinted moisturizer.  It's a lighter foundation (not as good of coverage as the foundation above) but it still gives your skin a glow and offers a little sun protection.  I use this the most in the summertime.  (For some reason the Amazon price was a lot higher than I paid for this in Nordstroms so check out your department store first if you want to try this.)
Switching over to MAC, this is their Strobe Cream.  I got this in my stocking last Christmas and have really enjoyed it.  It's a cream you apply over your foundation and it sort of brightens your skin giving it a little extra pizazz.  I don't wear this every day, but it's fun to apply for special occasions/date nights.
If you decide to try this I would totally recommend getting the touch-up brush that goes with it.  It applies the cream so evenly.  I love it!
In my last Favorites on Friday post I shared my love for "Painterly" by Mac.  Foundation for your eyelids.
Just use your finger to rub a little on your eyelid and it keeps your eyeshadow looking great all day long.  No more creases!
For everyday eyeliner, I use either "Prunella" by Mac (it's a dark brownish purple color) OR I just apply some of my eyeshadow in a really thin line below my eye with a special "eye definer" brush.  I tend to use the Prunella the most often because I can put it on so fast.  I love the way my shadow looks, but it takes more time to apply.  I usually have 5 minutes or less to put my make-up on so I tend to stay away from anything that slows me down!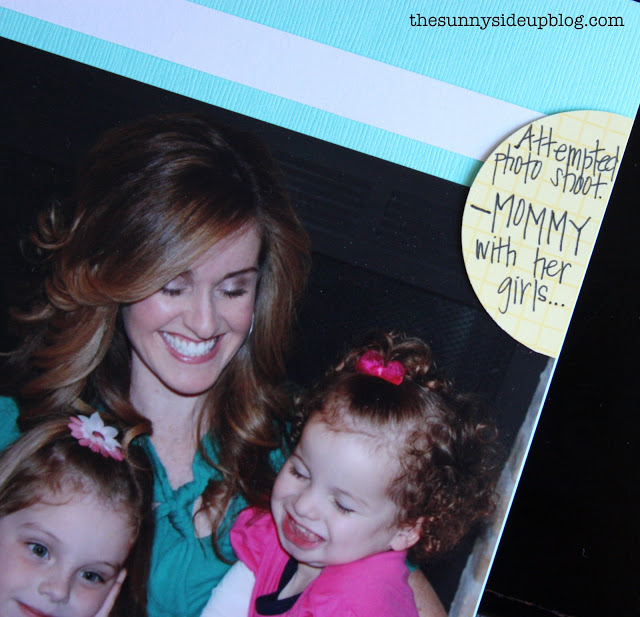 Not the best picture, but we're all about the eyeshadow today.  :)  You can see how the Mac eyeshadow has a bit of a sparkle/shine in it.
My blush is "Cubic" by Mac.  I like it, but I'm not in love with it.  I want to try something new as soon as I use it all, but this stuff won't go away!  I do love Mac's blush brush though and have used it for years.
Let's talk Mascara!  YES!  Use an eyelash curler!  I know a lot of people don't, but this makes the biggest difference for me and my eyelashes.  Just ten seconds on each eye with an eye lash curler and my eyelashes are curled up and SO long.  Sometimes if I'm really rushed, I just curl my lashes and don't even put on the mascara and they still look so much better.  My favorite eye last curler is the top silver one by Mac.  You can buy one that looks the same and is cheaper in Target, but the Mac curler has more of a spring in it or something.  It works better and is totally worth the extra 10 bucks.  I also love this lash curler by Laura Mercier.  I read about it in a magazine (it was voted the best eye lash curler in a contest).  But again, it takes me a little longer to use so I find that I grab my silver Mac eyelash curler most days.
Here are a few other mascaras I've recently tried.  They aren't as good!  I haven't found anything I like as much as my Define-A-Lash by Maybelline!  In my opinion, even the more expensive mascaras don't compare.
I replace it about every three to four months (3-6 months is recommended for replacing mascara).  I kept putting my old mascara in my cupboard after I bought a new one thinking that I'd keep it just in case for a back up.  Last time I cleaned out that cupboard I realized how many I had stashed away!  HA!  I tossed them after taking this picture.  :)
As far as lipstick goes, I was on a quest for years to find a shade I loved.  I tried many Mac lipsticks and they were all fine.  But my favorite?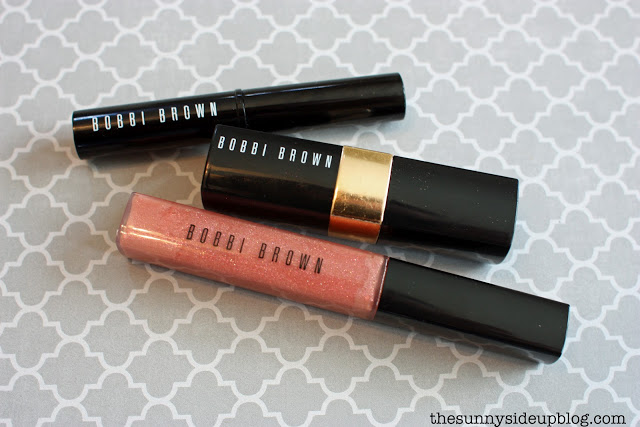 This picture is from a couple of years ago, but this is the lipstick combo.  It's a fun splash of color!
Bobbi Brown's shimmer lip gloss is super expensive, so for day to day I substitute it with other lip gloss like these from Bath and Body Works.  I especially love "Brown Sugar."
So there you go!  My favorites!  I know these colors won't work on everyone (if you have fair skin and freckles, you're hooked up!), but maybe this post gave some of you an idea of something new to try next time you're shopping for make-up.  It's always fun to discover new products so if you have a favorite when it comes to make-up please share in the comments!
Now go forth and look fabulous!
And while you're at it, enjoy the weekend.
:)
**affiliate links used
xoxo, Erin