FUN weekend. Lots of play and little work. I'll pay for it tomorrow (the laundry alone!), but it was worth it. I got to spend Friday afternoon at the park with a friend I danced with in college and haven't seen since. She was in town visiting and called and I'm SO glad she did! I loved catching up with her and meeting her cute kids. Two girls close in age and a two year old little boy. We are living parallel lives. :) It was SO fun to see her again. I didn't take a picture (I have been awful at taking pictures this summer!) but we had a great afternoon.
The rest of the weekend included get togethers with two other families we love to hang out with. First a little pool time! I finally learned the secret to getting Kole to stay put in the pool instead of just running around it.
Good old Thomas to the rescue. This boy of mine loves his trains.
I love his trains too. They allow me at least five minutes of down time.
I'll take it!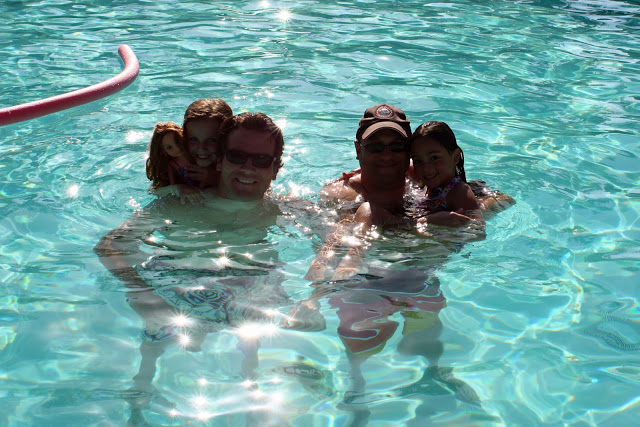 Best friends and their dads.
Our other fun get-together was a BBQ at a friends house. They made the most delicious meal I think I've ever had! Seriously! Great food. Great company. We didn't want to leave. So we didn't! We all hung out so late. I think it was the latest my kids have ever stayed up!
My contribution to the amazing meal? Not much. My cute friend insisted on making everything aside from a fruit salad. So I made my fruit salad and I also made some fruit dip. I thought I'd share this SIMPLE fruit dip because it is seriously so good. And so simple. Did I mention that already? That it's simple and good? Because it is.
Whip together:
8 oz cream cheese (softened)
7 oz jar of marshmallow creme
2 teaspoons of Maraschino cherry juice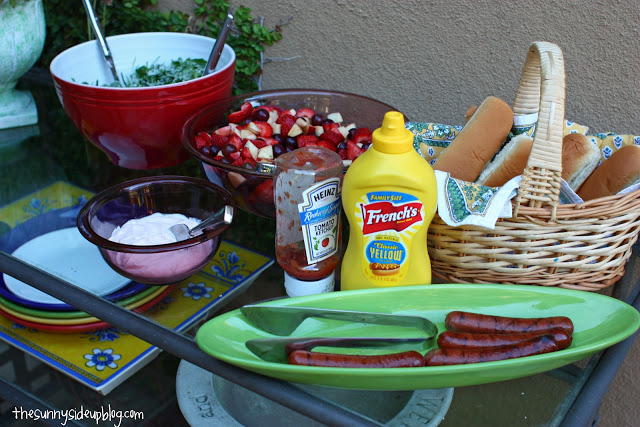 You can see the dip in the purple bowl on the kids' table next to my fruit salad. It's light pink and it's delicious! Not the healthiest, but a summertime hit nonetheless.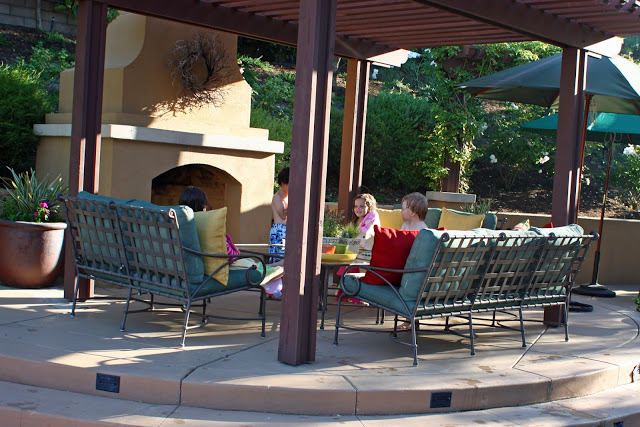 Table for the kids.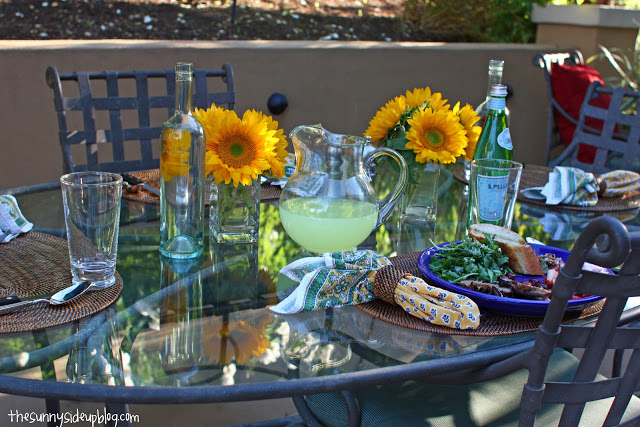 Table for the adults. I loved the fresh sun flowers!
A few more pics from the evening —
What kid doesn't love a slip-n-slide?
Kole was in absolute heaven.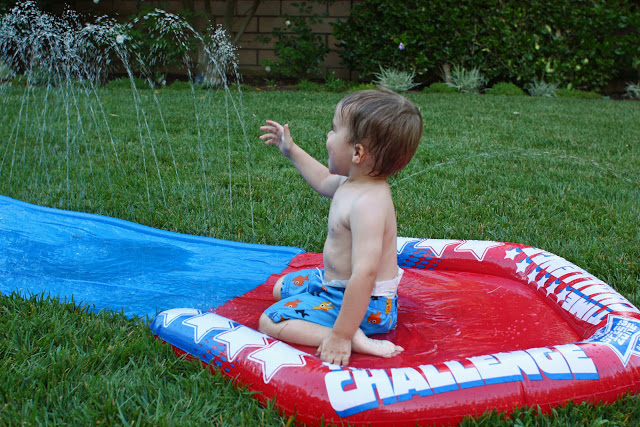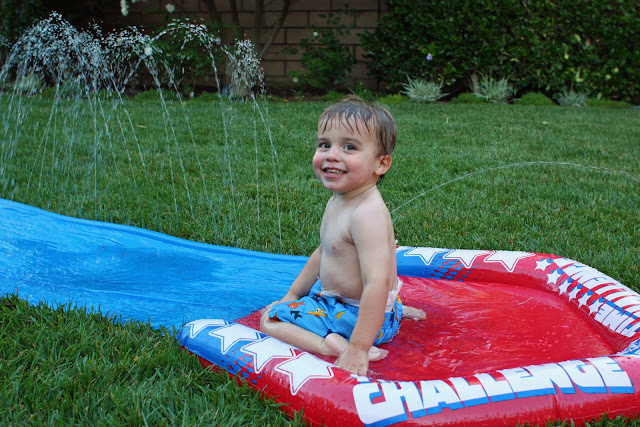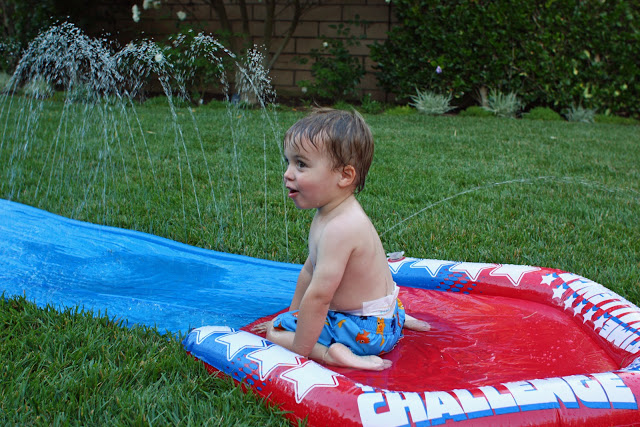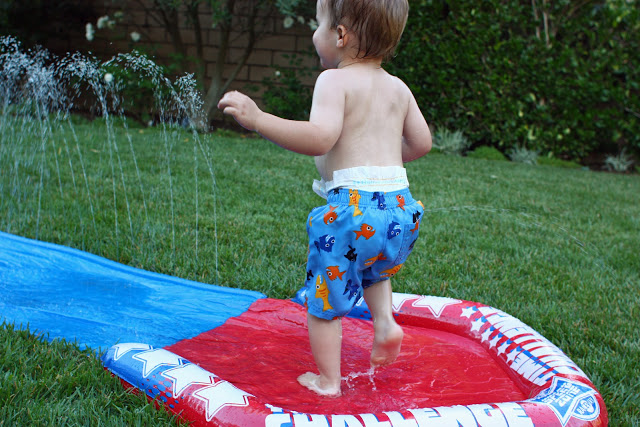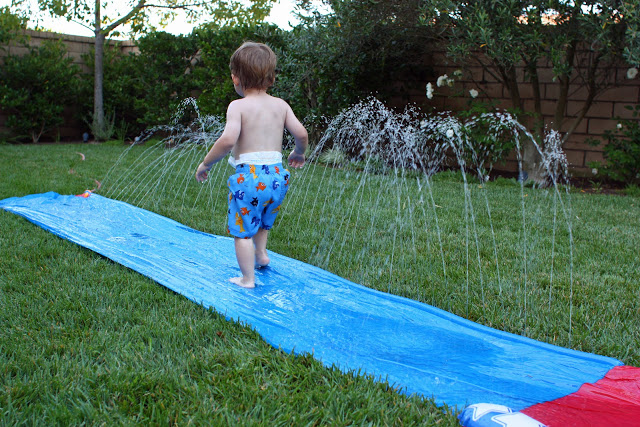 I think his trains have met their match.
Makes me so excited to have a yard! This boy and his mom are more than ready for one.
p.s. Is anyone else a nervous wreak watching the Olympics!? I get so stressed during the events (especially girls gymnastics). My hands start to sweat just watching them! I can only imagine what their parents must feel like!
p.p.s. Happy Monday. :)
xoxo, Erin