Happy Friday everyone! Had some fun in Forever 21 the other day. Oh my goodness. They have SO many cute things in right now! Spring colors are showing up. This is my favorite time of year to shop for clothes! Well. Other than in the Fall. And summer stuff is pretty fun too. And I am loving winter boots and scarves this year. Guess every time of year is my favorite time of year to shop for clothes. Go figure. :)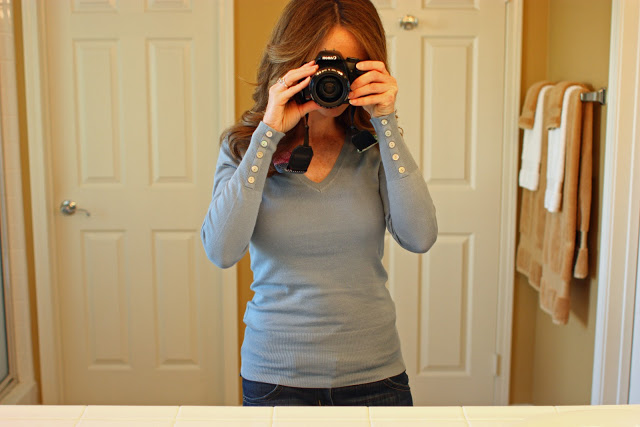 I bought this simple, classic V-neck sweater. Love the little buttons on the sleeves. It came in lots of colors – I was loving this soft blue. I can't remember exactly what I paid but I know it was under 15 bucks. Forever 21 baby! Love it. I found some other cute stuff that I'm excited to share but I don't have time to go through pics tonight. We have a lot of family coming into town this weekend (I'm so excited!) and to say I have a lot to get done before they get here would be an understatement. Here's a peek at the current state of my bedroom:
and my bathroom…
Ha! Am I ready for company or what!? :) I tore into my closet last week and haven't had two seconds to finish my little project. Because my little project turned into a not-so-little project. But have no fear!
I am armed and ready to tackle my messy situation! I just need to find some time to do it. Hopefully before noon tomorrow. It's all good. I work best under pressure. :)
And just in case I need a little inspiration, I picked up this beauty at the grocery store the other day…
Have you all seen this issue!? Looks so good. I picked it up and thought 10 bucks!? I'm not paying 10 bucks for a magazine. Then I flipped through the pages. And music started playing and the heavens opened. And I found myself thinking 10 bucks! Really!? That's it!? For this work of art!? Sold.
What will my kids do while I bustle around getting the house ready for our guests?
They always seem to come up with something. :)
Happy weekend everyone!
xoxo, Erin