Oh my goodness. It's only Wednesday. My week started off a bit crazy. Kole is sick. :( Hate that. I hate it for him and I hate it for me. Monday was L-O-N-G. He was so fussy and just wanted to be held and of course I had so much going on. By 5:30 I was completely exhausted. I'm helping Ellie with her report on Benjamin Franklin due the next day, dealing with Addie in one of her moods, entertaining and holding a very fussy Kole. I called Kenny at work and our conversation went something like this:
K – Hi babe. How is your day going?
E – I don't care what call you think you need to be on or what client you think you need to deal with, I need you home. By 6:00. I'm hanging on by a very thin thread right now.
K – Oh no. I'm so sorry. Should I pick up dinner?
E – No. I made dinner. In the middle of this chaos. Probably a big part of why I'm hanging on by a very thin thread right now. (Kole crying in the background)
K – I'll be home soon.
7:30 rolls around and Kenny walks in from work. Kole is in bed. Girls are on their way to bed. Kitchen is clean. I'm a zombie.
K – So sorry babe. I tried to get away…
E – You're dead to me.
Every have those day? Every day after I get the kids in bed and the house picked-up I feel tired. Monday night I felt like I was seriously going to die. It is very rare that I make a call like that to Kenny. I seem to be dealing with a string of tired/long/hard days with my kids right now. I know it's not a three kid thing or a boy thing or even a Kole thing. It's a one year old thing. I struggle with this age.
Newborn stage
and age 1 to about 2 1/2 are so hard for me. I love my babies and I know I will miss a lot of things when they are all in school. But some things I won't miss. Days like my Monday I won't miss.
The upside to my tough day is that since Kenny felt so bad he couldn't come home early he has been extra sweet and helpful. I'm happy to report he is no longer dead to me. :)
I switched a few things up around the house again. You know. In an attempt to deal with my life right now. Organizing and decorating are all about control for me. I can't control the craziness that explodes around me with my kids every day. But I can control some things in my environment. Like my Valentine mantel. Which I changed — AGAIN.
Not a big switch. Just back to the winter mantel with the heart in the wreath. And the heart garland. I like it. And I promise that I'll leave it alone. At least for a week or two.
Oh. And I moved the birds together. Because they are in love. At least for this month. :)
I knew my girls would be upset that once again I didn't have the candy and the heart wreath out, so I put the candy in this dish (a keepsake from my grandma).
Then I moved a few things around and added the heart wreath to my hutch.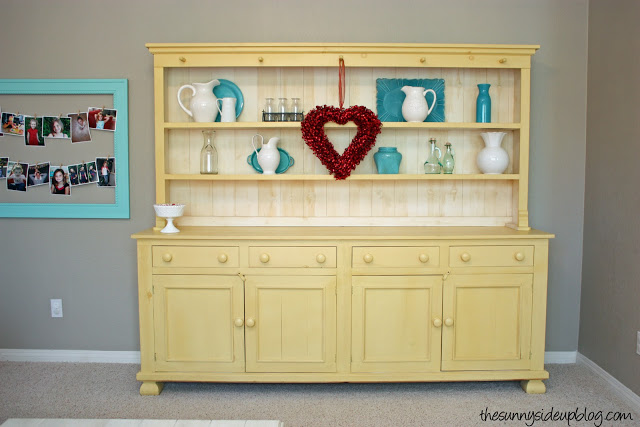 Now when people walk in the front door they immediately feel the love and can grab some candy on the way in! The girls are happy and so am I! Kole's happiness is a work in progress…
A quick Valentine mantel recap:
And all is right in the world again.
p.s. MUCH better day today. :)

Free printable of the paint colors throughout my home!
Enter your name and email address to get instant access to my paint colors along with other free organizing printables. More will be coming soon!
Exclusive to subscribers!