Happy Monday everyone! First item of business – winner of the Scentsy Giveaway! I sure wish I could say "Who wants a Scentsy? You all get one!!" Kinda like Oprah with her cars. "YOU get a Scentsy and YOU get a Scentsy and YOU get a Scentsy! But since I'm not Oprah, and since Megan probably wouldn't love me giving out over 300 of her candles, I guess I can't say that. What I can say is that I just had Kenny punch the numbers in a random number generator on his computer (that's right – I'm staying out of it) and the winner is… Jennifer who said:
"I have seen these but don't have one yet. I would LOVE one. I love for my house to smell good when someone walks in. btw Erin I love your blog and your ideas. Thanks for sharing!"
Thanks and Congratulations Jennifer! Send me an e-mail (link is on the side of my blog) with your information and I'll make sure Megan gets in touch with you. If you didn't win and are interested in buying your own Scentsy, you can click on the links to Megan's site in
the giveaway post
.
Ok! That was fun. Second item of business: Hair accessories. How I organize them that is. (This is my blog after all. Items of business aren't going to be all that business like around here.) A few of you have asked recently how I organize my girls hair accessories so here is my system…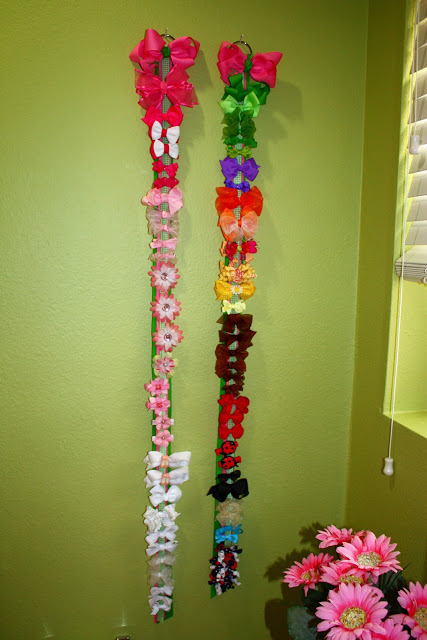 Several years ago I bought these two long ribbons to hang all of the girls' little bows and clips. I wish I could remember where I ordered the ribbons from, but I can't. They would be simple to make though – just long ribbon attached to rings with a bow at the top. You can't see in this picture but the bows at the top each have my girls' initials on them. Anyway – this is what the bows looked like three years ago when it was just me and the girls. Nice and organized and color coordinated. I like to call this time the "pre-Kole era". Back when things made sense and my whole life was color coordinated.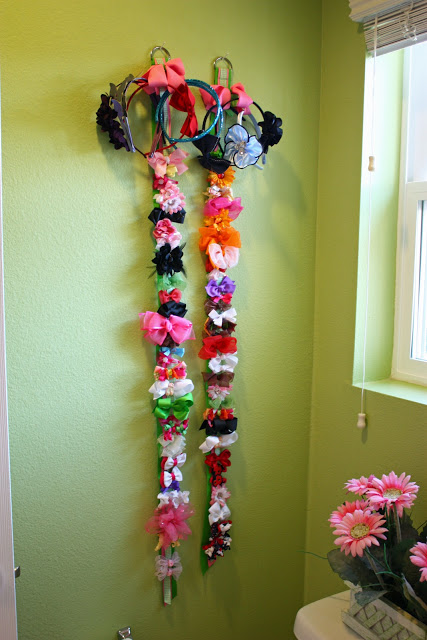 Here's what they currently look like. Post Kole. Still organized on the ribbons…just not nearly so neat and tidy. A bit like my life now. See – I needed a third. He has mellowed me. :)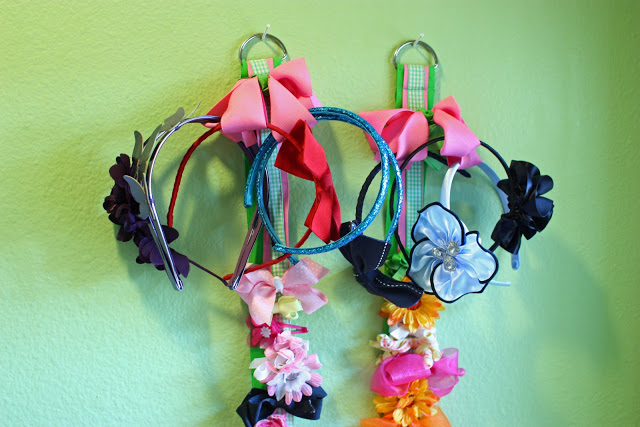 For now I just loop their headbands through the bows on the top, but this is only a fraction of the girls' headbands so I'm trying to figure out a better place to keep all of them together. Since my "post Kole" life is a bit hmmm…what's the word….insane! I haven't had time to deal with them yet.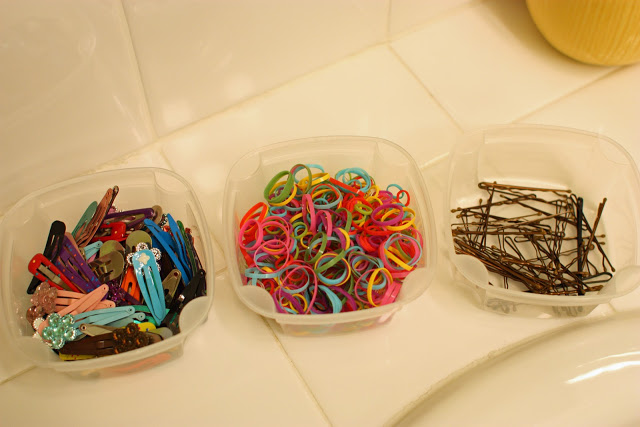 I organize their clips, small elastics and bobby pins in little plastic containers.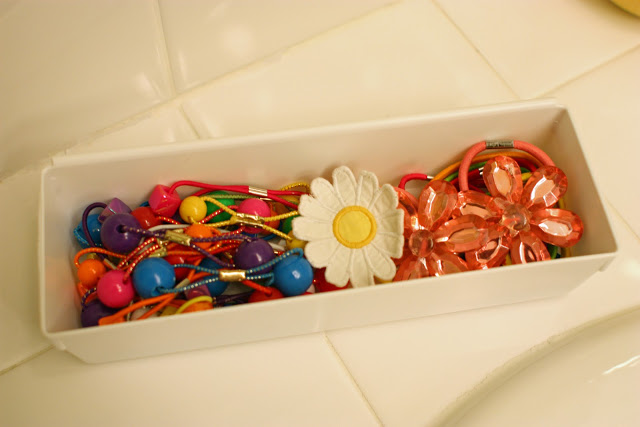 And use some longer containers for their bigger elastics.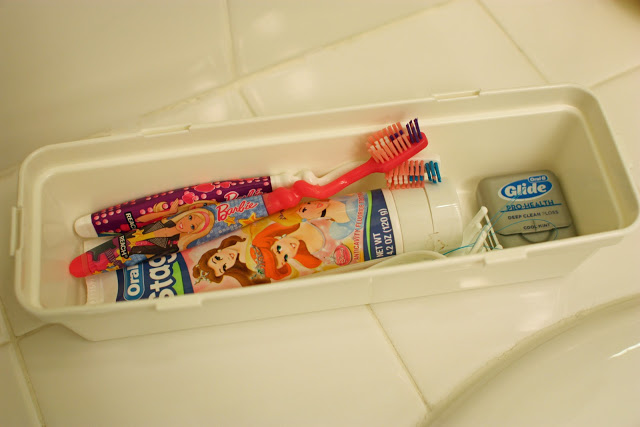 I also use a longer one for their toothpaste and toothbrushes.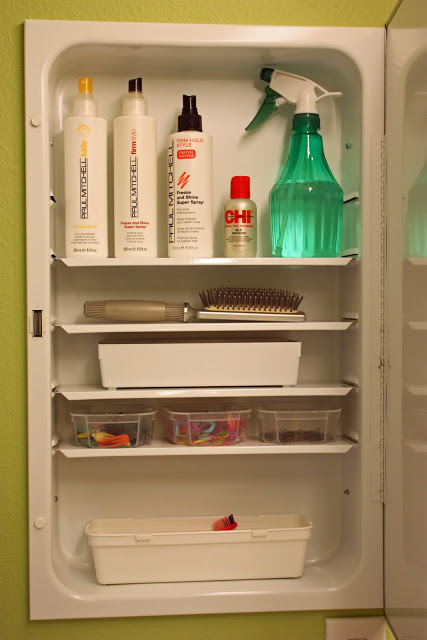 It all fits nicely in a little cupboard inside of their bathroom mirror.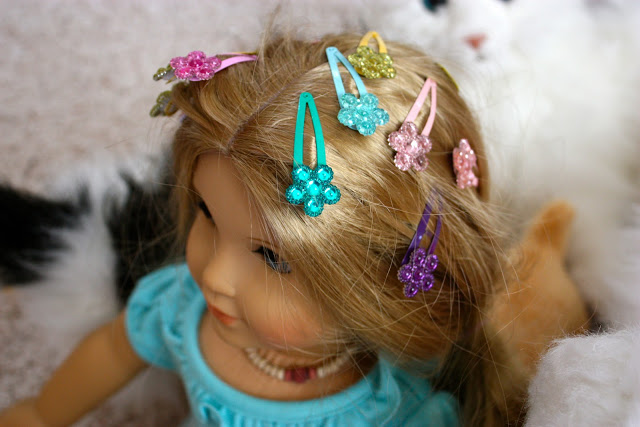 Accessories are easy to reach when it's time to do hair. Regardless of who is getting their hair done!
And since we're talking hair accessories, I can't resist posting my all time favorite picture of my girls in their bathroom…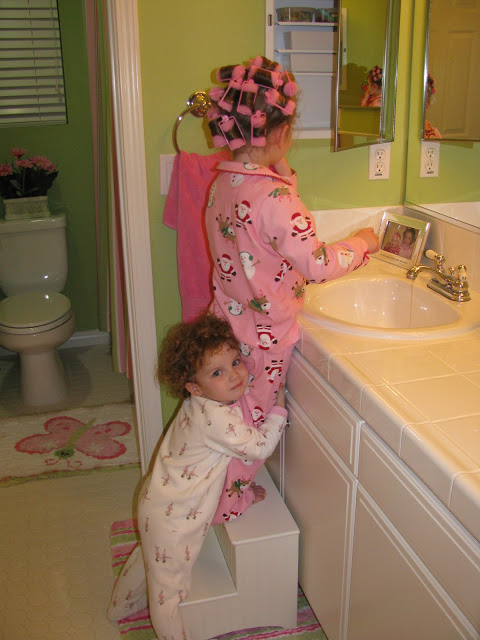 I remember Addison hugging Ellie waiting for her to be done brushing her teeth (she used to do this all the time). I walked by the bathroom one night and just happened to have my camera in my hand. Nothing like catching a precious, fleeting moment between your kids. I've always loved this picture.
Hope your week is off to a great start! Color coordinated or not. :)
p.s. You can see a mini tour of this little bathroom my girls share
here
.
xoxo, Erin