This post may be a bit picture heavy. There's been a whole lot of mantel switch ups going on around here!
Remember how my mantel look in December? And remember how I mentioned that one of my favorite things about it was that it would be so easy to transition into January?
Well it was! All I did was take off the Christmas garland and replace the silver Christmas tree with this pretty vase and winter-y pine cone twig from Z Gallerie. (On a side note, Z Gallerie is so hit and miss for me. Some things in that store I love and a lot of other things I can definitely do without.) Funny because I bought the pine cones during December knowing I would use them somewhere in my house in January. Then I hunted so many stores looking for the perfect vase to hold them. Couldn't find anything I liked anywhere and then I finally went back to Z Gallerie looking for something else. And there she was. My perfect aqua vase. She had been waiting for me there all along. :)
I love this vase. And the silver pine cone twig.
Which has some shimmery glitter on it that sparkles in the light.
And ties in so perfectly with my shimmery silver wreath.
And with my shimmery basilica pillar Pottery Barn candles.
A whole lot of shimmery is going on.
Kept the birds up. They've become fast friends. :)
So three cheers for an easy January mantel! I love this mantel decor because it is simple and clean. And I'm all about simple and clean. In case any of you didn't already know that about me. :) I think I also love it because we don't have winter here. This mantel decor brings a little winter inside. Even if it's 77 degrees and sunny outside like it was today.
In fact, I liked my quick and easy January mantel so much that I really wasn't ready to take it down yet. So I hung a heart from the wreath and called it my Valentines mantel.
My Valentines mantel and I were getting along just swimmingly. In fact, we were kind of in love. Until my girls came home and saw it. And they said – "Mom. That is NOT a Valentines mantel."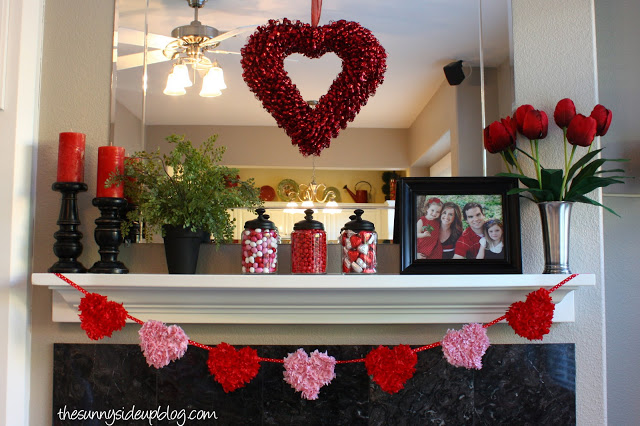 We can't have a Valentines mantel without the candy.
(Sorry birds. You weren't cutting it with the kids.)
So I combined a few things from my favorite Valentine mantel and the kids' favorite Valentine mantel and came up with this.
Less black. More white. And aqua.
The aqua looks a bit like a loner color on the mantel but ties in nicely with the rest of my house.
I tossed my tulips in a white pitcher. And gave my girls their candy.
Then I put up the heart garland that we made last year,
hung the wreath and switched my winter candles for some red ones.
And now my girls are happy.
Me? I'm kind of missing my vase and birds. I'm sure they'll find their way back soon.
Like after we've eaten all the candy.
Which won't take long. :)
Which one is your favorite?
xoxo, Erin