Last weekend Ellie had a friend's birthday party to attend. That's always hard around our house. My girls are glued at the hip so when one of them is invited to a party and the other one isn't, I usually have one pretty bummed out daughter. So to cheer Miss Addison up, I told her that we would have a special party. Just the two of us. A party to make her Valentine box for school. Addison decided we would wear our house shoes and call it our "Valentine box house shoe decorating party." So last Saturday afternoon Kenny took El to the birthday party. Kole took a nap. And Addie and I took up some serious Valentine box decorating. In our house shoes of course.
This child of mine is so different from her sister. I remember helping Ellie with her Valentine box for Kindergarten. Ellie was so happy to have my help. She would have let me do the whole thing if I would have wanted to. Not Addison. This girl wants NO help. She wants to do everything herself. She always has. She has a pretty hard working, determined, stubborn little spirit. That sometimes drives me straight up a wall. And other times I love and admire like crazy.
Ta da! Her Valentine box in all its glory. And don't forget to notice the house shoes. You can't have a "Valentine box house shoe decorating party" without the house shoes.
I was allowed to help cover the box in paper and to make the little hearts on the side, but that was it! Bummer for me. I love this kind of thing. I should have made my own box just for fun.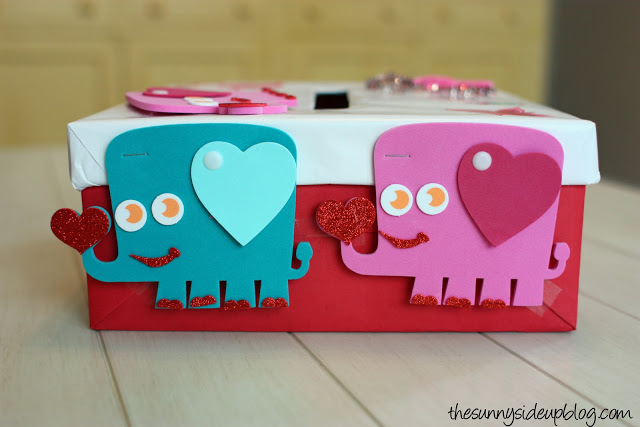 Aren't these little elephants on the side adorable!? Target! A pack of them for $5.00! And easy for Addison to put together. Love it!
I love them a ton. :)
Elephants on two sides and stickers on the other two sides, exactly the way my girl wanted it.
I also picked up these adorable matching sacks for my girls to carry their Valentines in. Target! $2.00 each! Love them. And I love Target. A fact that's worth repeating.
Here is the fun little friend I made for Ellie's box two years ago. SO easy to make.
And so fun that Ellie let her mom participate! Although I have to say that when it comes to regular homework – math, reading, spelling – I'm starting to appreciate Addie's "do it myself" personality more and more.
I know it's a bit early to be turning in Valentine boxes at school, but in Kindergarten at our school they do the cutest mail unit. They turn in their boxes and cards early and learn all about sorting and delivering the mail. Addison has the same teacher Ellie did and it has been so fun re-living everything again this year.
Happy Valentine box making everyone! Wear your house shoes if you work on one with your kids this year. It just seemed to make something good even better.
xoxo, Erin