Ok. You all know that I buy a lot of my tops from Forever 21. I get a lot of questions about how the clothes hold up because…well…they're cheap AND how I wash them so they don't fall apart because…well…they're cheap. So here's my experience with Forever 21 clothes (which I've been buying forever…since I was 21. No. Not tired of that one yet.) I don't do anything too special with my clothes. I toss them in the washer with the kids' stuff on a regular cycle with regular old Tide. I don't dry them in the dryer. I have a small clothes rack in my laundry room that I hang my tops on to dry. That's it. That's all I do. And yes. Sometimes I find a small hole in my shirt or a button missing, but they are always easy, minor things to fix/disguise. There has been a time or two that I have taken a Forever 21 shirt into the Tailors to mend and I've paid more for the mending than I did for the shirt! And I'm ok with that. I shop at Forever 21 for a reason.
Over the years I've developed a bit of a "clothes philosophy". I believe in spending good money on my jeans and my shoes. Jeans because there is nothing like a good pair of jeans that really fit the way they are supposed to. They make me feel better about myself (by tightening things that should be tighter!) and because I stay home with my kids, I'm in jeans 90% of the time. I keep a good pair of jeans for years so they are absolutely worth spending a some money on. I also spend good money on my shoes because like jeans, I'll keep a good pair of shoes/boots for years and I want them to be comfortable (especially since I prefer a bit of a heel). Jeans and shoes are neutral staples. Now tops are a totally different story. Shirts, sweaters, blouses – I get tired of them quickly. Styles change and each season it's fun to buy new things to wear. Some of my Forever 21 tops have held up ok and I've had them for years, but most of them I buy and wear for a season or two and then send them to Goodwill – with no regrets since I didn't spend much on them. I've found that shirts I've spent more on from stores like Nordstroms, Banana Republic, and Anthropology still end up not looking as good after multiple washes and have faded or torn or lost a button. I get rid of a lot of those after a season or two also. It happens to all clothes. Once in a while if I see a top I just can't live without, I'll splurge on it. But most of the time, I head to Forever 21. Spend 50 bucks and come home with four cute new tops to wear! Love it.
And speaking of cute new Forever 21 tops, how adorable is my sister-in-law in this orange blouse?
(Please ignore the poor lighting and the dirty dishes! Of course now you won't ignore them because I pointed them out to you. But I still feel the need to point them out to you. Why is that?)
When my family came to visit for Ellie's baptism we hit the mall. I sent Dayna straight to Forever 21 because they have fun stuff right now for Spring. She bought this blouse and wore it that night to Ellie's baptism. I was so in love with this top on her! And those shoes!! How perfect are they with that orange blouse!? Shoes are from Target. (Target – allow me to express my love for you once again.) Of course they aren't "wear all day chasing kids shoes." They're "wear to a one hour baptism where you will be sitting most of the time" shoes. But man they sure look good. Of course it also helps when you are tall and tan and drop dead gorgeous like my sister in law is. She would look good in a tent. I tell her all the time it's a good thing she's so nice because she would be very easy to hate. ;)
A better look at the blouse and it's true color.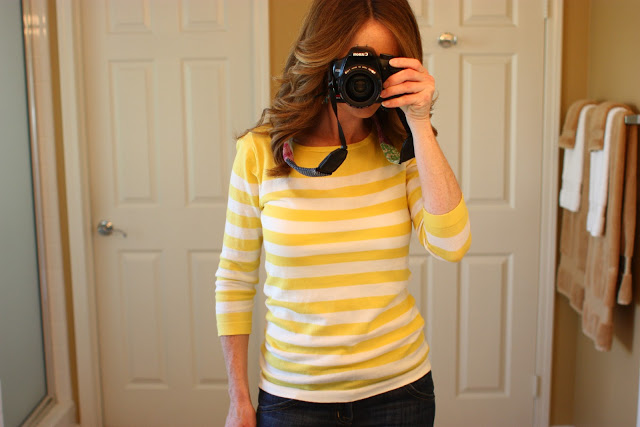 Here's another one of my new finds from Forever 21 that I am LOVING lately. I can't pull off orange with my hair and coloring like Dayna can, but I love to wear yellow. This shirt screams SPRING! HAPPINESS! SUNSHINE! I walked in the store a couple of weeks ago and Kole was DONE being at the mall. I knew I only had minutes left so I thought I'd just do a quick loop through the store and see if anything stood out to me. And there it was. This top hanging on a rack. I moved to it quickly thinking "please have my size…please have my size…please have my size." They did. Then I tried it on quickly thinking "please fit the way I want…please fit the way I want…please fit the way I want." It did. And so I bought it. And the two of us have been living happily ever after ever since.
It's casual and comfy and looks great just plain.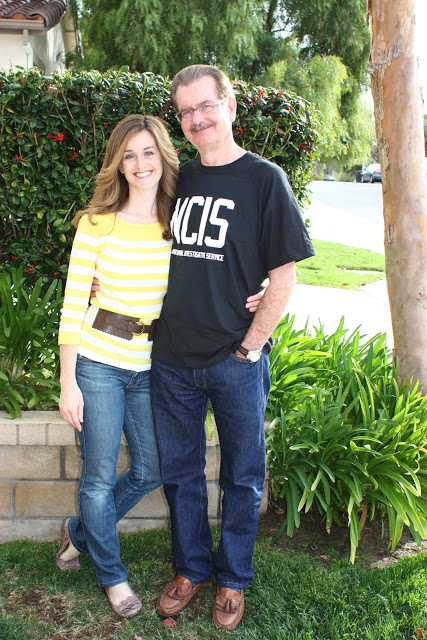 I also like it with this fun new Forever 21 belt. (Six bucks for the belt!).
My cute dad approves. He thinks Forever 21 is all the rage. And you can tell by his NCIS shirt that he is a fashion maniac. ;) Love you dad.
xoxo, Erin