Can you believe we are almost half way done with November!? This time of year always flies by and before you know it Christmas is right around the corner! I love it. :) Last December, however, I wasn't feeling quite so jolly. The month got away from me and I was scrambling big time towards the end of December to get my shopping done. Stores were crazy and I felt so rushed. Then I spent two painful evenings staying up all hours of the night trying to get everything wrapped. While Kenny munched on Cheerios. I was less than impressed. With both of us!
So here's a little something I did this year to help me accomplish just that.
Remember a while back I posted pics of my messy scrapbook room? I had big plans for this space.
I moved most of my scrapbook supplies into Kole's closet. He just loves sharing a room with me.
Then I turned my scrapbook space into a Christmas wrap station! It's actually a Christmas wrap and scrapbooking station because my goal is to do a little of both during the next month and a half.
Doesn't it look festive for the holiday!?
Here's how I created a space that will be perfect to wrap all of my gifts. Immediately after I buy them!
There are so many fun organizers that corral wrapping paper but I really wanted to just use what I had on hand. My little trash can was a perfect solution! Now all of my Christmas wrapping paper is in one place ready to go.
On top I put out some Christmas letter stickers I hope to use and a shiny Christmas tree to spruce things up!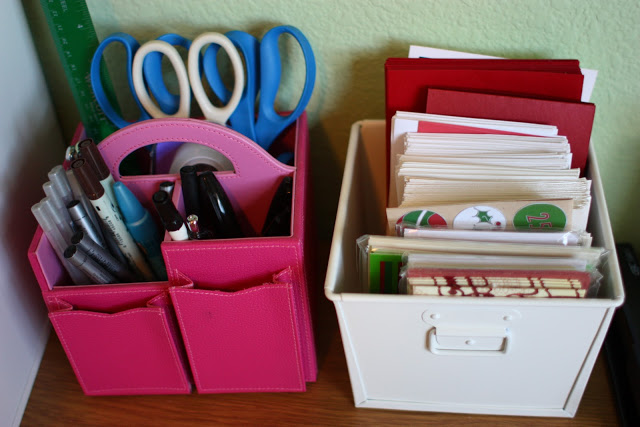 I filled some organizers with pens, scissors, tape, and Christmas cards so everything is ready to go when it's time to wrap.
I also hung some fun Christmas scrapbook paper…
and this Christmas picture collage I made of my girls a couple of years ago.
I set out my i pod with my favorite Christmas mix ready to play! The red album is a family Christmas album I started a few years ago and I'm hoping I can squeeze in a minute here and there to work on it. It never sounds appealing to work on this album after the holidays so I need to find the time to do it now while all things Christmas are so appealing! Hopefully this happy space will help motivate me.
I also brought a little Christmas cheer into this corner of the room!
Easy to do by hanging some Christmas inspiration from magazines on the wall.
On the other wall I displayed past Christmas pictures and last years' Christmas card.
Then I turned Kole's changing table into a place to store more of my wrapping supplies.
(It's not like he was holding still for me on this thing anyway!)
I already had these fun galvanized bins that match the room and I knew they'd be perfect to house more of my supplies.
Ribbon, gift tags, bows…everything I need to make my presents presentable. :)
This is still Kole's room of course.
Even though I seem to be taking it over one scrapbook (or should I say Christmas) supply at a time.
Now my gift wrapping supplies are all together and I have to say that I have loved this space! Not only is it a perfect spot to easily wrap all of my presents, but it also brings a little Christmas cheer to the upstairs of our house. I find myself wanting to turn on a Christmas tune or two and stay in here a while whenever I get the chance.
No more midnight wrapping parties for me! This year I am going to be ready for December.
BRING. IT. ON.
:)
xoxo, Erin