Kicking this week off with a little rain gear! I wore a lot of stuff like this at the beginning of the week while we were sloshing around in the rain. Obviously without the belly. (I was too wet to get a picture!) The picture above was taken two months before Kole was born and I have to say that looking back at it makes me pretty happy I'm not toting around the basketball this Fall. A basketball that soon became a watermelon which did bad things to my back, my personality, and my overall sanity. BUT. Still cute rain boots, right? A gift from my sister from Nordstroms for my b-day one year.
And speaking of cute rain boots, I'm still over the moon about Hunter rain boots.
These two also make rainy days more fun. This is an older picture too, but these boots still fit! And my girls still love wearing them. Rain is SO exciting around here because we rarely have a change in the weather. San Diego has no need for a weather person. You can pretty much bet that it will be in the low 70's and sunny in my neck of the woods. In July. And October. And January. And April. And every other month I didn't mention. So when we get a rain storm everyone gets excited and brings out their winter wear and people crash their cars (because we only know how to drive when it's 70 degrees and sunny) and all sorts of crazy things start to happen.
This is another fun gift from my sister. Last year for Christmas she gave me this Michael Kors vest (also from Nordstroms). I love it so much and am always bummed I don't get to wear it more so as soon as the temperature drops a few degrees I bust it out of the closet!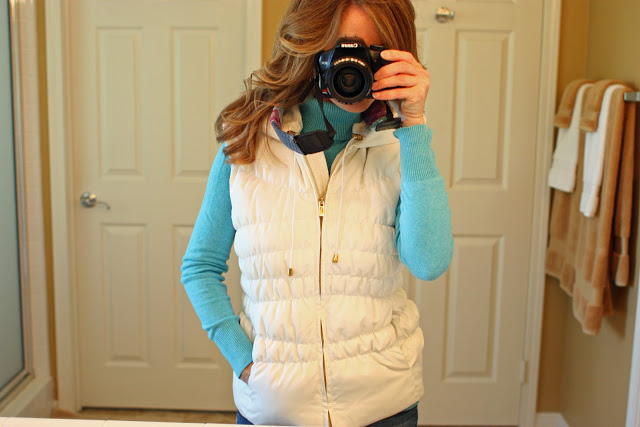 I wear it with just a plain colored turtle-neck underneath.
Or I'll take a fitted long sleeved top like this grey one from Express…
and put the vest on over it. I love how puffy and comfortable it is! Feels like I'm wearing a pillow.
A stylish, comfortable, warm pillow. :)
These scarves are only 22 bucks by the way! What a bargain!
Here is the grey one. I love the different shades of grey together, but this scarf will go with so many other fun colors too. See! A staple, right!?? Even if I'm sweating to death in it!
This is a simple green V-neck sweater from Forever 21 I bought last Fall.
And look how much more fun it is with my new cream ruffled pointelle scarf!
Now I'm wondering how I lived without these my whole life! And I'm so tempted to go back and buy more in different colors! But since I know that might be a bit much (especially since my cold weather days are few and far between) I'm thinking they would sure be fun Christmas gifts!
Kole agrees. He wants his in turquoise.
I wore this sweater and scarf with my Italy boots the first time, and then wore it again to the park last Saturday. Since my boots are not exactly park attire, I wore it with my Uggs.
Which are seriously almost falling apart because I wore them so much when I was pregnant.
My feet (along with my stomach and butt) were also starting to resemble watermelons.
The morning at the park was a fun get together for Addison's Kindergarten class.
The whole family was invited to come and play and visit and eat. Addison was so excited to take us to meet all of her classmates. She picked out her clothes, accessories, and hair style for the occasion. Ellie just wanted to be in whatever was the most comfy. Kenny decided to wow us all with one of his many Chargers sweatshirts.
And I was happy as a clam in my favorite color green and my new scarf.
Some might call us a bit predictable.
I like to think we are just a family who knows what we like. And are comfortable in our own skin.
And yeah. We're a bit predictable too.
:)
Have a great weekend everyone! God bless our Veterans!
xoxo, Erin