Fashion Friday! Man these posts creep up quick! The weeks are flying by. I can't believe we're at the end of September. Best three months of the year ahead! Woot Woot!! Let's get this party started with a whole lot of green…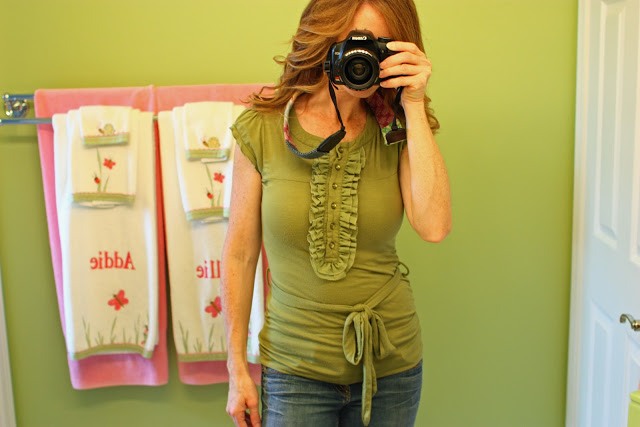 I've had this green shirt for about two years now and it's a favorite.
I've had these jeans for about four years now and they're a favorite. I've had the red shopping cart for about five years now and it's a favorite. l've had these shoes for about three years now and they are NOT a favorite. They are so worn out and I'm tired of them but they have the perfect heel and are really comfortable. I have been trying to replace them forever and can't find exactly what I'm looking for. Not a flat, not a heel – just a semi-heel. (Why is it so hard to find a semi-heel people!!??) I need something just high enough to keep certain pairs of pants off the floor. You'll all be the first to know as soon as I find a replacement. :)
These jeans are super comfortable and stretchy and I like the pockets on the back (they minimize a certain problem area of mine – ahem). The brand is called Silver and Nordstroms carries them. But they were cheap (for Nordstrom standards) – like $60 bucks! Anyone else own a pair of Silvers? Great jeans.
A few more shots in the green shirt because, well, I have some…
Long shirts like this green one come in so handy if you are still in the baby making years. I wore this one a lot when I was pregnant with Kole. I'd like to say that I was 6 months along in the pictures above, but I think I was more like 2 months along. I popped out so fast the third time around! My sweet niece (on my lap in the picture) turned 4 years old this week! Happy birthday sweet Claire! (I'm sure she reads my blog daily and will appreciate the shout out.) She is having a pony themed party this weekend and my sister and her husband are going to surprise her and bring a real pony to the back yard to give everyone rides. I am SO sad my girls and I won't be there! Times like this make me really bummed I don't live closer to my family. If Kole were a little older I would be on a plane in a heart beat. But I don't fly with one year olds. Cardinal rule that can't be broken.
And here's another great shot of the green shirt I discovered tonight. Looks like one of the girls grabbed my camera and shot fast while they had the chance! Kole is clearly upset because he heard about my cardinal rule and realized that he too won't be riding a pony this weekend.
Another Forever 21 top I've had for awhile! Wore this last weekend to dinner with friends. I liked this shirt so much that I bought one in purple too. :) Does anyone else ever do that? Find a shirt you like and buy it in more than one color? I try not to do it too much but with some shirts I can't help it. Especially when they are as cheap as this shirt was ($16). Funny though, I still find that I end up liking one color better than the other and that is the one I wear over and over.
Wore it with my Italy boots. Kole is as fond of these boots as I am. He's got Ellie's toothbrush in hand and is ready to give them a good cleaning.
Speaking of my little man, here he is modeling his camo.
He is a man on a mission. With a purse.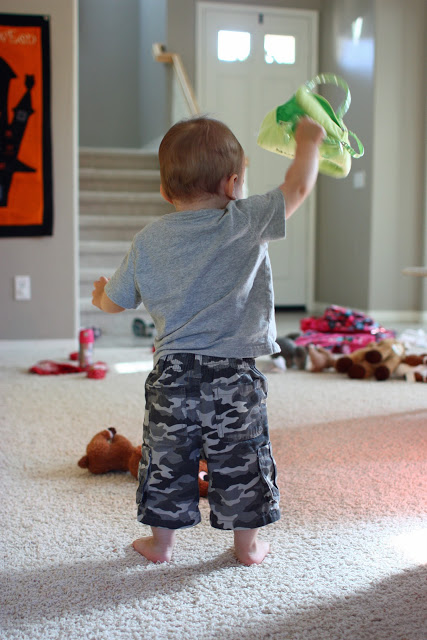 He likes the way his pockets minimize a problem area for him too.
What a stud.
A little more green! (You know how I feel about this color!) This is a fun skirt from Banana Republic.
I wore it to church last week with this white dress shirt and my black heels. The white bracelet/watch is
a favorite of mine from the Fossil Outlet.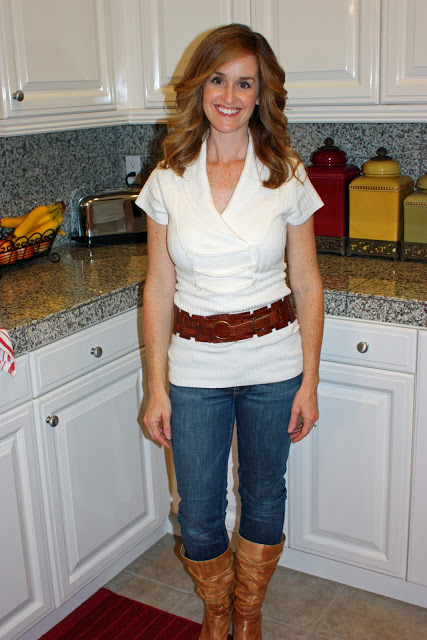 And just a few hours ago I had this on to head to a church activity. Kenny walked in the door from work and I threw my camera at him and said "Here! Take my picture fast! Now take these kids fast! I'm outta here…." It was a long day and I was so happy to escape with friends for the evening. We ate a delicious dinner and then learned all about how to put together 72 hour kits and how to make bread.
My mind may have wandered during the how to make bread part. Just a tad.
But it's ok. I know a really great bakery just down the street….
Happy Weekend everyone!
xoxo, Erin