I think we may need to name this "decor week" on my blog because I have so many fun changes around my house to share. Has everyone decked their house for Fall? So much fun, isn't it!? I'm sharing my Fall mantel today and was going to share more of my decor but this post was about to be so overloaded with pictures that I'm going to have to break it up and share the rest tomorrow…and maybe some the day after that. So! Without further rambling from me, here is my mantel this year for Fall –
I kept it really clean and simple. Clean and simple always appeals to me. I'm sure you're all so surprised to hear me say that. ;)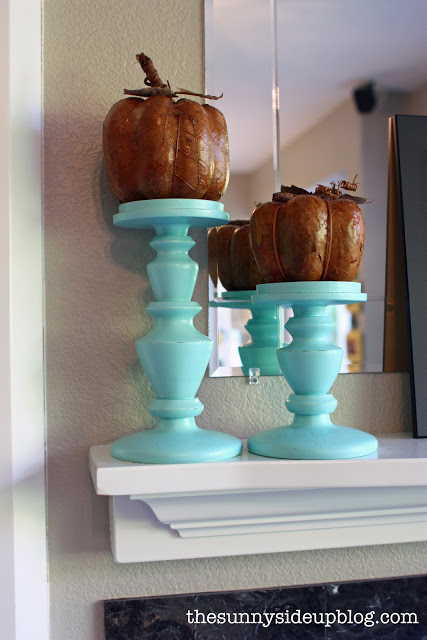 You probably remember these candlesticks that used to be cream. I painted them my new favorite shade of aqua that is popping up all over my house and added a couple of pumpkins. I love the aqua/orange combo. It speaks to me. Not sure what it is saying, but something good I'm sure.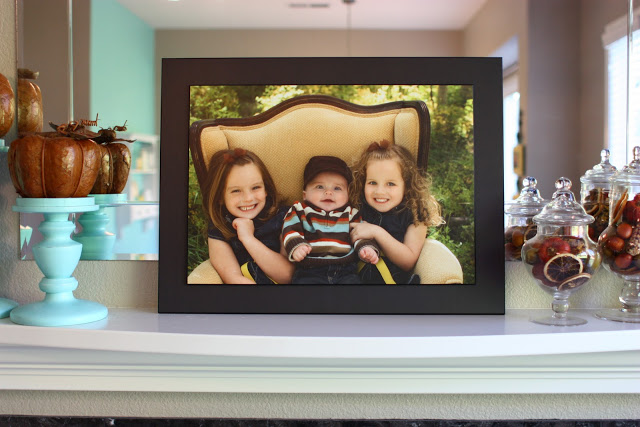 I put three more of my little pumpkins in the center. I don't think I'll ever get tired of this picture. I plan to have it displayed somewhere in my home for the next 90 years.
Which would put me living until I'm about oh.. 124ish.
I take my vitamins.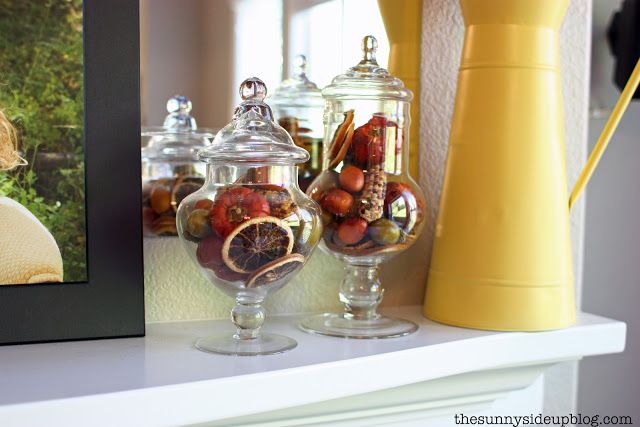 I had these apothecary jars on hand so I filled them with some little Fall goodies.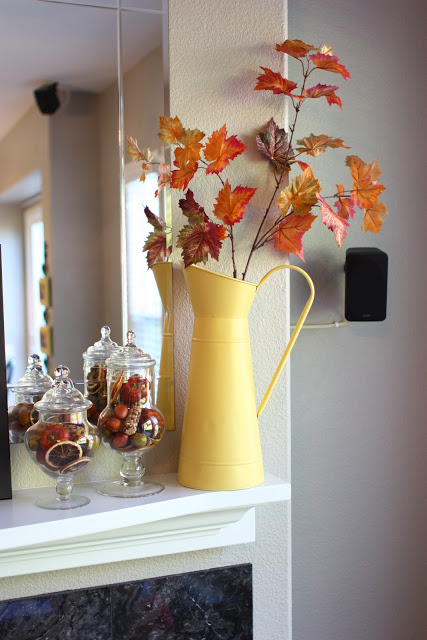 Then I spray painted this pitcher yellow (used to be red) and added a few leaves. The leaves are from the forest of trees behind our house. Kidding. They're actually from the beach that's behind our house. Kidding again. The beach didn't have leaves this year so they're actually from the craft store. I do my best. But Kenny and I have a little New York trip in the works! Maybe I can snag some real Fall leaves while I'm there and bring them back home with me on the plane. Or just live with my craft store leaves… my life is full of tough decisions like this one. Reminds me of a favorite quote by my husband — "babe – I'm just living in the real world so that you can float above it." :) I'll have to ask his opinion about the leaves….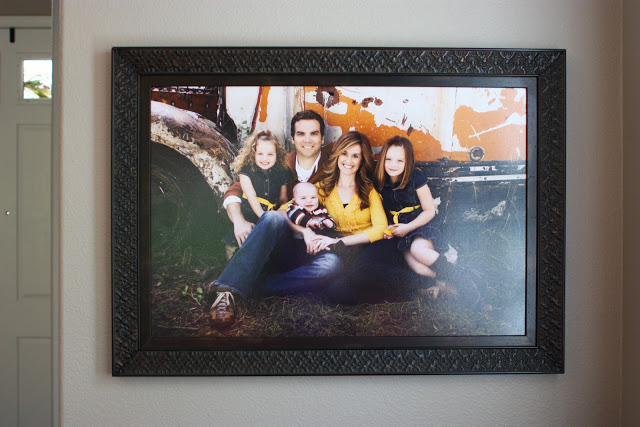 Our family picture from last year is so 'Fall' and works great with my new color scheme.
Now I have three areas that bring my new colors together. I'll do my best to sound like a real decorator and call it a "visual triangle" between the mantel….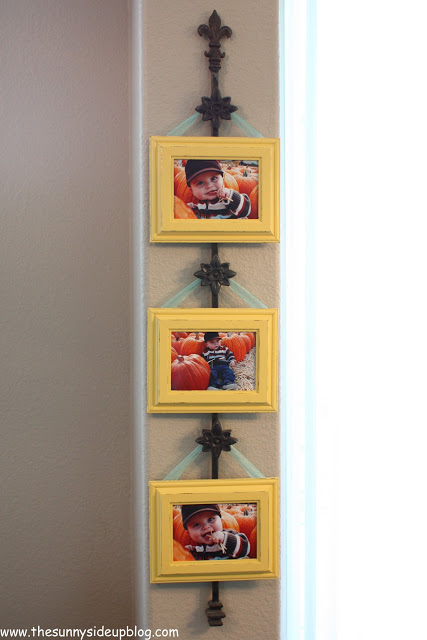 and the aqua wall/shelf. Aqua and yellow, yellow and aqua. Slowly replacing all of the red and black. Happy colors for a happy Fall. I like the world I live in. :)
p.s. Some of you asked what Fall shows we are watching. Well. That's a post in and of itself. We completed our Fall line-up (which includes a spread sheet of all of our shows and the days/times they need to be recorded) and came to the shocking realization that there was one night when we had four shows on at the same time! This was a major dilemma. Major. We could NOT agree on which ones to cut, so out came the DirecTV crew. I am not kidding. A little re-wiring and now the shows that record on our upstairs TV will also play on our downstairs TV. Problem solved. Like I said, my life is full of tough decisions to make. ;) But really out of all of the shows we record, my favorites are Parenthood, Modern Family, The Good Wife, and Blue Bloods (I'm usually not into cop shows but there's nothing like a little Tom Selleck on a Friday night). I also love TLC's What NOT to Wear and HGTV's Dear Genevieve. Kenny has his own line-up which is why we record so many shows. We've been known to have a busy week without much TV time and then knock out 4-6 TV shows on a Friday or Saturday night after dinner. That's our favorite date. Early dinner so we get a break from the bedtime routine and then home after the kids are asleep to watch our shows. Then at about 11:00 at night I start reading blogs and Kenny falls asleep on the couch. And I can see us doing that until we're about oh… 124ish. We both take our vitamins.
xoxo, Erin