The comments after yesterday's post were so sweet. They made me want to shout "non-cookers unite!" Which makes me smile because it reminds me of when I quit teaching school to stay home with Ellie. I was so burned out and exhausted at the end of each day. Kenny would walk in the door from work and I'd go on and on about how hard it was staying home with a baby. He took me as seriously as he always does and would throw his arms up in the air and yell "Housewives unite!" (Which didn't even make sense.) Then he'd laugh hysterically at himself and I'd do my best to NOT smile or laugh or make any indication that I was even slightly amused. I must have been slightly amused though because I can't even think about that now without smiling.
(Don't tell Kenny)
Anyway! On to the clothes! This was a bit of a boring fashion week and several days I forgot to take pictures. But I'll show you what I've got!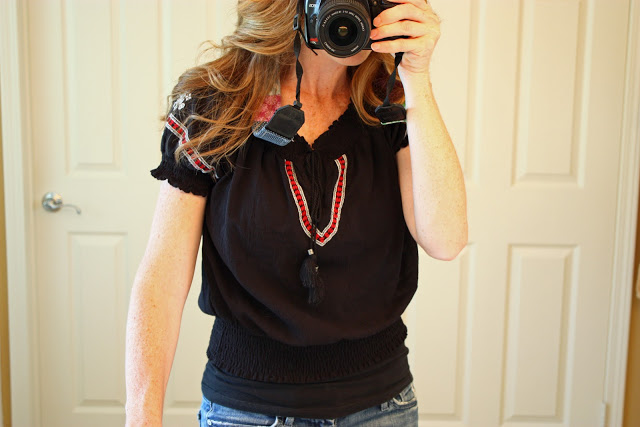 This shirt I actually wore last week. I like the sleeves and cinched waist. Bought it from Forever 21 and I always wear it with a black top underneath because it is so short.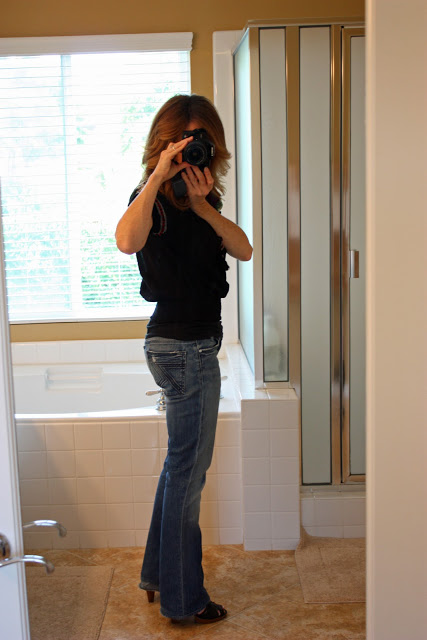 Wore it with my light colored Sevens. I love the pocket on this pair. I love the pockets on all of my Seven jeans. Have I mentioned that I love Sevens?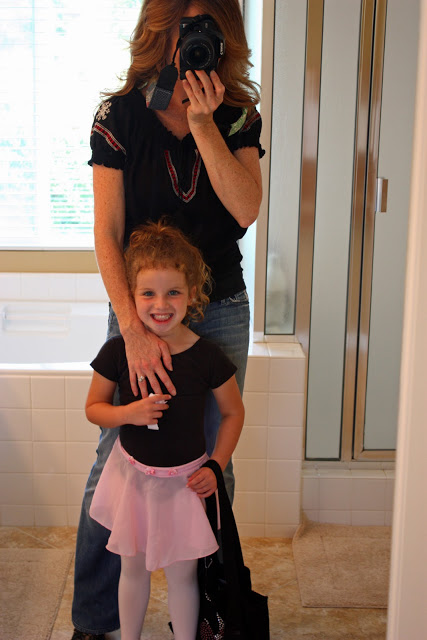 On our way to ballet! Addie said "mom, why are you taking a picture of the mirror!?" We had a nice little science/photography/fashion lesson. If you want to call it that. :)
I bought a new dress this week! At TJ Maxx of all places! I was hunting for more white pitchers there (kind of obsessed with them lately) and passed by this dress (for only 20 bucks!) on my way out of the store. I had Kole with me and he was so past ready for a nap. I knew I didn't have time to try it on.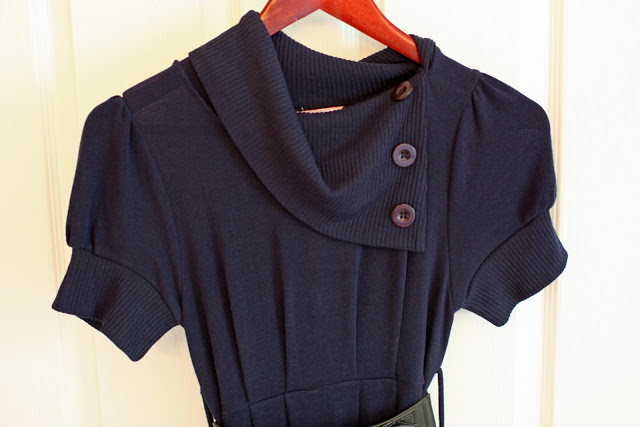 But I love navy and I loved the fun collar and of course you know I loved the belt. So I bought it without trying it on even though my number one rule with clothes is to ALWAYS try them on.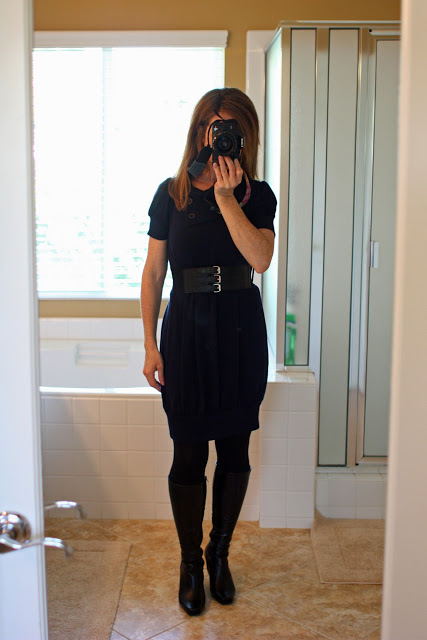 And of course I got home and tried it on and I can't decide if I like it!? It's a gunny sack dress and the belt sits high on my waist and while I do think it's different and fun, I'm not sure if it's very flattering on me.
But trying it on did make me excited to start wearing my favorite tall black boots again! Verdict is still out. I may return it. And buy more white pitchers instead.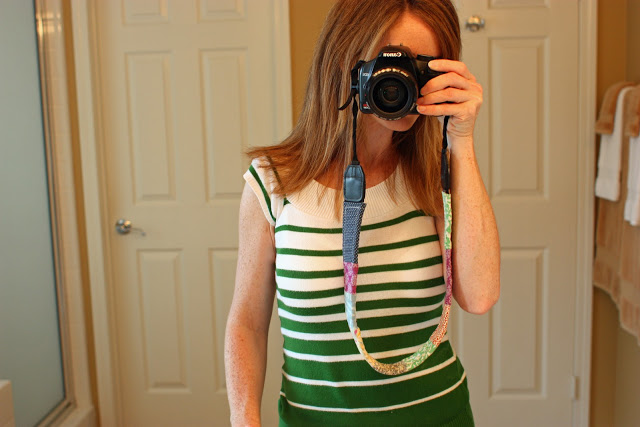 Wore another top from Forever 21 that I've had forever. Since I was 21.
(no, I'm never going to get tired of that one.)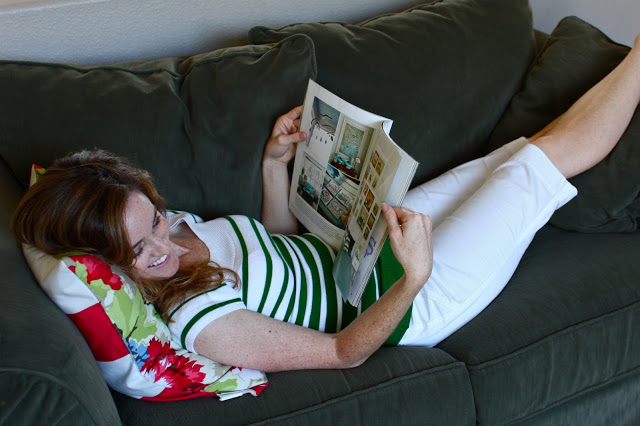 I usually wear this sweater shirt with my long white shorts from The Limited. These shorts are super cute as long as I wear a sandal with some kind of heel. They do NOT work with flip flops or flats. Funny how shoes change the look from classy to matronly. Don't underestimate the power of the right pair of shoes!!
Or the power of a good reading buddy.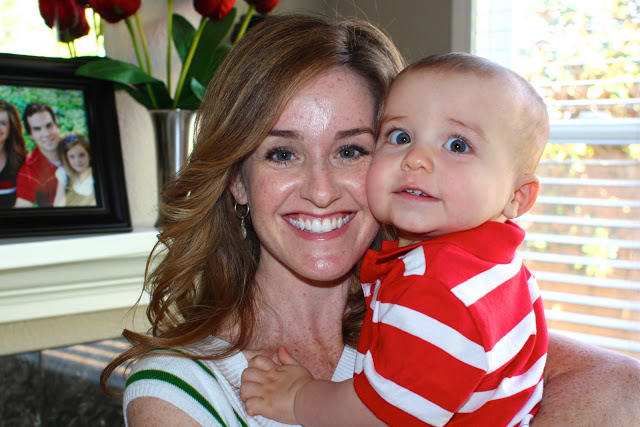 Or the power of a good reading buddy in similar stripes. This boy is by far and away my hottest fashion accessory this season. He makes every outfit look good. :)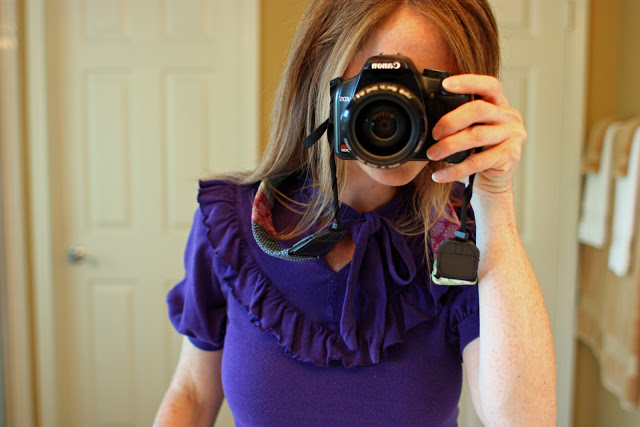 Another favorite top. This shirt is from Old Navy and I've had it for years! I'm surprised at how well it has held up.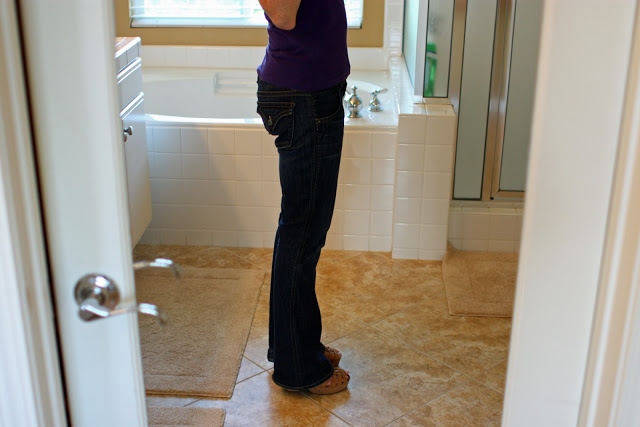 Wore it with my Citizens and wedges. I will never get rid of this purple shirt and I'll tell you why…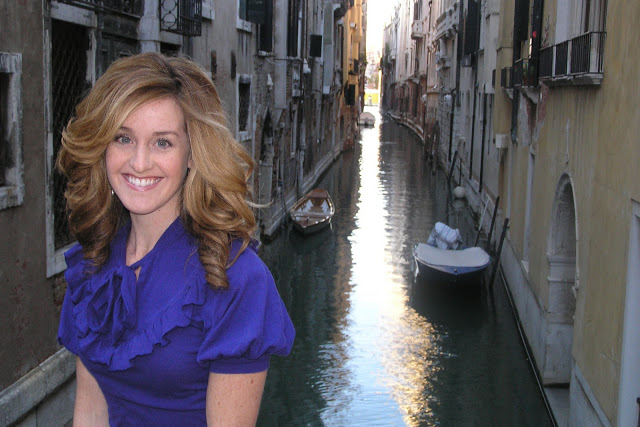 This is me and my purple shirt in Venice, Italy 2007. (Went a little crazy with the curling iron on that trip.) Kenny and I spent 10 days in Italy to celebrate our 10 year anniversary. I bought this purple shirt for the trip. Ellie was three years old and Addison was only one and I was SO stressed about leaving the girls for that long! I was also nervous about leaving the country. What if something happened and we couldn't get back to them!? What if we died on the plane!? What if they were so sad and heartbroken without me!? I was a nervous wreak for months leading up to the trip and for the whole plane ride there. We arrived late at night and I woke up the next morning feeling so much better. And we were in Venice, Italy!!! And my mom called and said the girls were fine! Hadn't even noticed we were gone! And I put on my new purple shirt (that felt very Venice-like to me) and we spent the whole day exploring the most beautiful city I have ever seen. And it was just the two of us! And I felt like I had been shot out of a cannon with no one to take care of but myself! And we were suddenly like newlyweds again! Laughing and holding hands. It was a magical day. In a magical city. Wearing my magical purple shirt. The whole trip was just… magical. So I have happy memories every time I wear this shirt and will never get rid of it.
Man. I could sure use a little Italy right about now. But a weekend will have to do!
Hope yours is magical.
xoxo, Erin