Sharing a few pics of the inside of my fridge! Kind of crazy, right? People who read my blog get to know me up close and personal. You not only learn about every little thing my family is up to, but also get detailed pics inside every drawer and cupboard in my house. Might as well take a peek in the fridge and see what we're eating this week! :) My fridge is a bit on the small side so it's really important that I make good use of the space I have or we run out of room real quick. I manage to keep it pretty organized by doing a mini clean-out every time I get groceries. And since I'm NOT so great at meal planning, I end up making a quick grocery run about every other day. Hence, the always clean and organized fridge.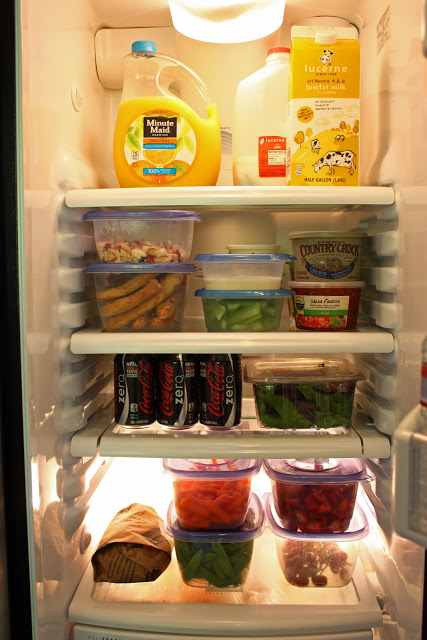 I use basic Gladware to store our food and leftovers (bought them all at Target last year). They come in so many sizes that I can always find exactly what I need. Plus they stack so neatly. Plus they're plastic – not glass. We don't do glass in this house. And I'm not just talking about keeping things unbreakable because of the kiddos. I am a total klutz and have been know to break a glass bowl or two…or twenty.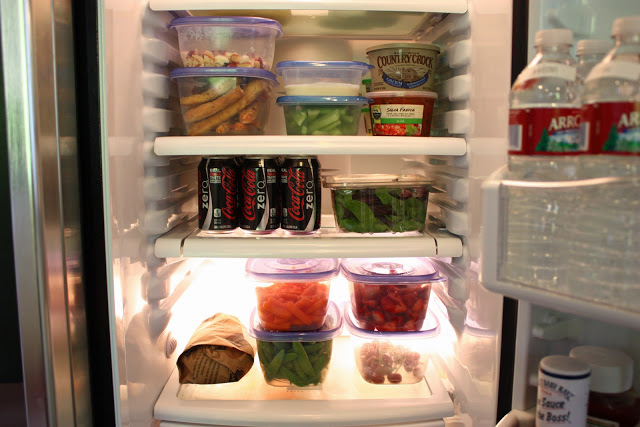 Some leftover pizza, chicken (I used in the enchiladas), Coke Zero because my husband is addicted even though he swears he isn't…. our usual. Now I'm going to quote myself from

a previous post I wrote on Healthy Eating

that explains the prepped produce in the fridge —
"I've found that the secret for me to stay on track with food is to prep everything as soon as I get home from the grocery store. If I wash and cut up the produce, wash the lettuce and make some salads it is much easier for me to grab something healthy when I'm hungry and in a hurry. If I don't get things ready to go, I just grab whatever is convenient (usually not healthy) because I don't want to take the time to prepare food."
(That was cool – never quoted myself before. I was just too lazy to type something I knew I'd already written…)

But it's true. If I have the healthy food ready to go, I'll eat it. If not, I grab junk. I know this about myself so I try really hard to wash and cut everything and put it in these Glad containers as soon as I get home from the store. Plus it makes it easier to grab a healthy snack for the kids after school and to get lunches ready in the morning.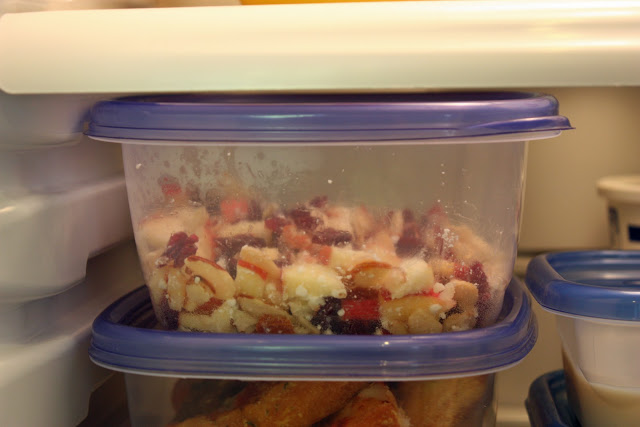 I also wash some lettuce and throw a few things together so I can have a salad ready quickly. You all know I eat my summer salad A LOT.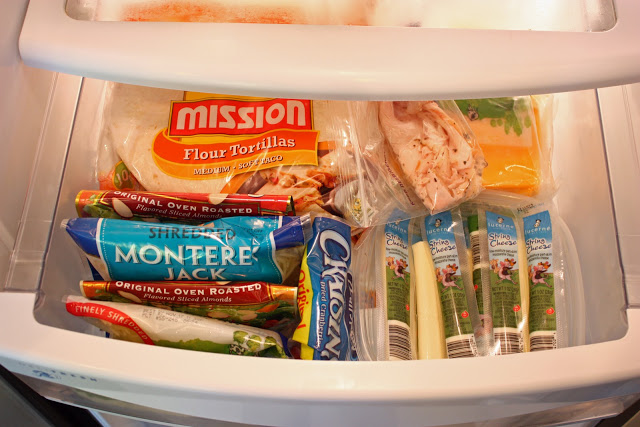 Top drawer holds our cheese, tortillas and my beloved peppered turkey. Which I also eat A LOT. I eat the same things over and over. I'm kind of boring that way. I forgot to take a picture of the drawer below this. Holds bigger items like corn on the cob, green peppers, cucumbers, etc.
Water bottles are on on the top door shelf!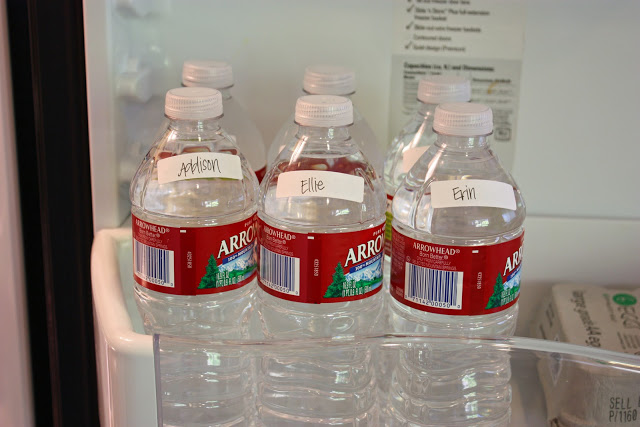 The girls and I drink a lot of water. A LOT. I'm typing that word A LOT, aren't I. If you've ever been a guest in my home you know that the first thing I do is get out my labels and assign you a water bottle. Then I give you a hug and say welcome! But water bottles come first. ;) I write our names on them and we re-fill them all week and then start again with new bottles with our names on them the next week. I started this because I always had water bottles for me and my girls were always drinking them. So I gave them their own and now we use these for every meal and snack. It's so much easier than dirtying cups right and left. Plus my little dishwasher (see previous post) can't keep up with that many dishes. He is only 17 months old you know.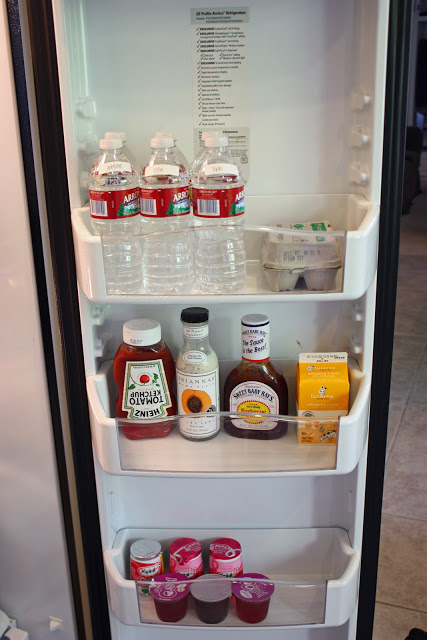 I'm out of mustard. Sorry. Just realized that looking at this picture. Crap. And I HAVE to have mustard on my turkey sandwich for lunch tomorrow. Guess we're getting groceries in the morning….again. I know it doesn't look like I have much here because I don't! I only keep what we use/eat. You will never see anything expire in this fridge!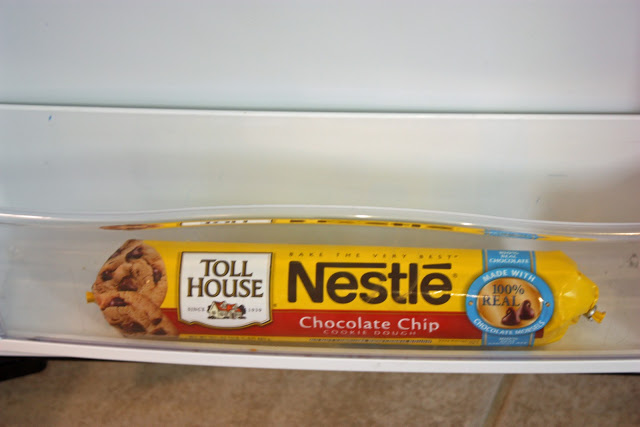 Especially not what's waiting for me on the bottom shelf. Looks like homemade cookie time! Erin style.
:)
xoxo, Erin