Just popping in for a quick hello today!
Our last week of summer is off to a good start! We've been on the go so much this summer that a week of lounging and catching up at home is just what the doctor ordered. Ellie is still on her dog kick so the girls have watched Lady and the Tramp a time or twenty.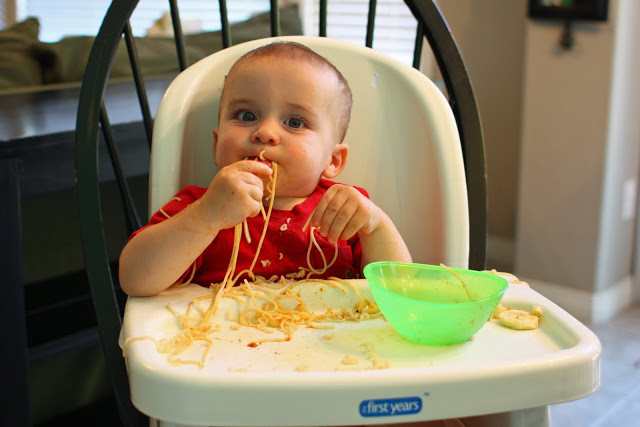 Kole is into as much trouble as ever. To say this little guy keeps me on my toes is an understatement.
In the beginning my house was simply "baby proofed," but we've taken it up a notch and I'm happy to say that my house is now officially "Kole proofed." We did take down the stair gates yesterday however, since he has mastered going up and down the stairs on his own in about a nano second. I LOVE having those gates gone! Feels like I can breathe in my house again.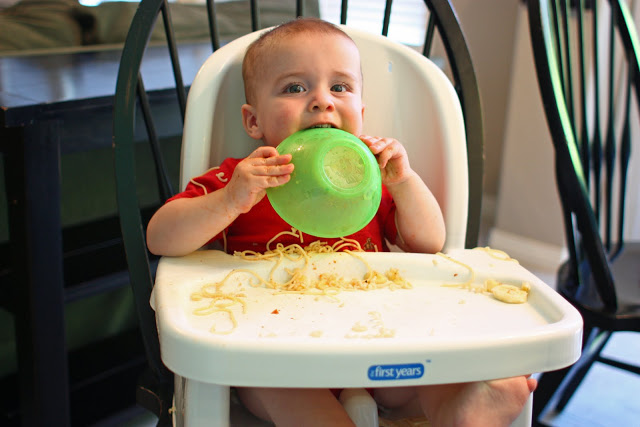 He is teething like crazy and chewing on everything. This morning I caught him right before he digested a purple crayon. He broke his right front tooth a couple of weeks ago. His sisters were in the tub so he pulled himself up to the side of the tub to say hello. The only problem was that the side of the tub was wet so back down he went, chipping his tooth off along the way. I swear he has aged me ten years in the last few months.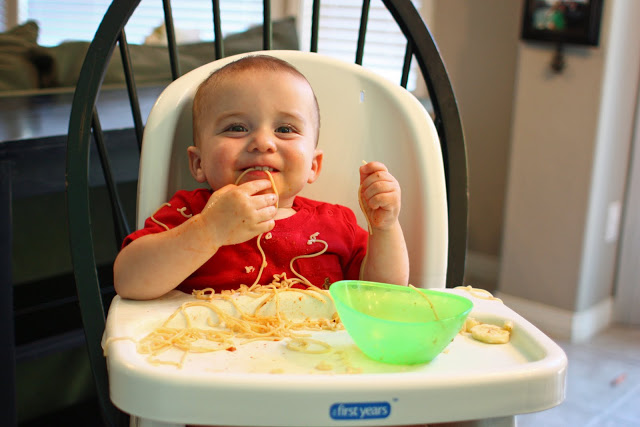 Aside from being quite the stunt man, my boy is also such a flirt! You'd never know the mischief he's up to if you met him at the grocery store or when we're out and about. He sits and smiles coyly at anyone who will glance his way and he especially knows how to work it with the ladies. He is becoming more of his daddy's boy every day.
Go ahead buddy! Toss that dinner all over the place. You and I both know that your irresistible tooth-chipped smile is your 'get out of jail free' card.
I started a little project yesterday. Actually a big project. I'm completely re-arranging my girls closets and how I organize their clothes. We're still house hunting, but are busting out of space in our current house so we've decided it's time to rent a storage shed.
I'm moving everything that was in our guest room closet (old formals, dance costumes, Halloween costumes, etc.) into boxes and moving all of Ellie's clothes in. My girls need their own closet space so badly. Especially since we also use their closet to hold/store toys.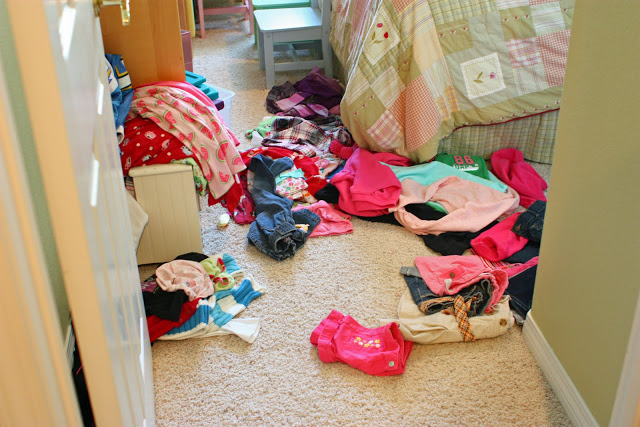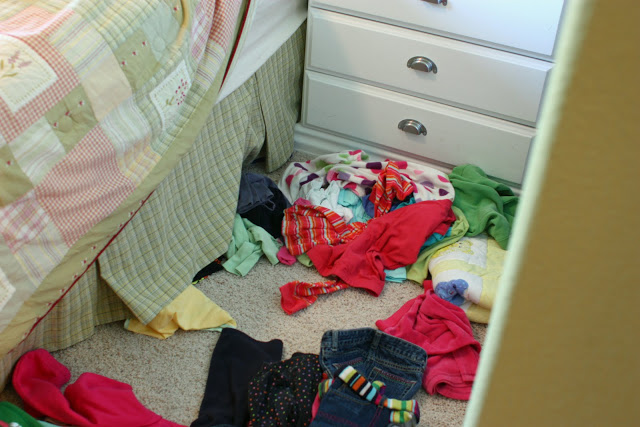 Kenny went upstairs last night to read to the girls when he got home from work and gave me quite the look when he saw the mess I'd made. I smiled and said "it always gets worse before it gets better!" :)
So, without further delay, I'm off to organize!
p.s. My kitchen shelf re-do was featured….twice!! I am so excited and honored that these fun bloggers included my shelf in their list of favorites out of the hundreds who linked up. You can check it out at Tidy Mom and Tip Junkie and also see some other fun projects they featured.
Have a great Tuesday everyone!
xoxo, Erin