I'm so excited to share my newly painted and decorated kitchen shelf with you all! I didn't take many pictures along the way since this was my first time painting a piece of furniture and I was in total concentration mode. I did manage to take one picture of the shelf on a blanket in my garage before I started painting it…
So are you ready for the final before and after?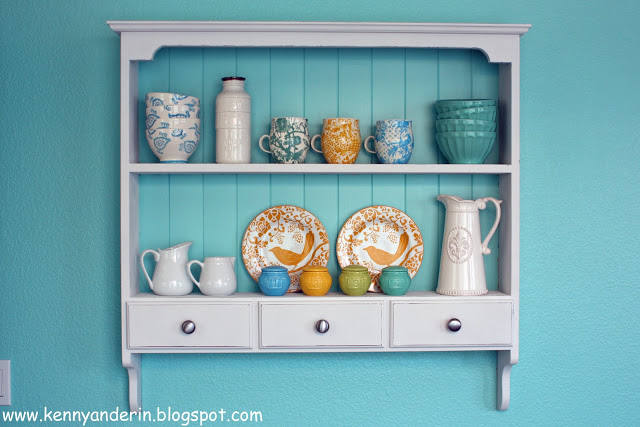 So what do you think!!?? Better? Worse? Something in between!? I have to say that I love the change because I am SO tired of all of the red and black in my house. I've been in the mood for something a little lighter and brighter for a while now.
Little spice jars are from Anthropologie. They were so small I needed something behind them. These yellow bird plates from Pier One were perfect!
White pitcher from TJ Maxx. I've been collecting white pitchers forever now. LOVE them.
Milk bottle measuring cups from Anthro. Blue bowls to the left of them are from Home Goods.
And the cups and bowls to the right are also from Anthro. I may switch out the blue/green bowls because they are so similar to the paint color.
And sometimes it looks like aqua. Either way – I'll take it!
xoxo, Erin