Hope everyone had a good weekend! Ours was a productive one. I decided to paint a wall. My house is driving me crazy because I want to re-do everything BUT as I've mentioned before, we are house hunting. We may find a house we love in two days, or we may find a house we love in two years. I kept putting off decor changes thinking that as soon as I started making a mess of things we would find our dream home. Then it hit me. As soon as I start making a mess of things we'll find our dream home! So I'm tearing into this house with high hopes that it will all be for nothing! :)
I didn't know where to start, so I just slapped some paint samples on our dining room wall and picked the one I liked best!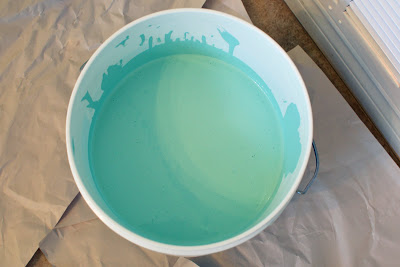 The color is called Jamaica Bay by Behr and I got it at Home Depot – I hate Home Depot by the way. But I love this color! When you hold something blue against it, it looks green and when you hold something green against it, it looks blue. It's a great sort of aqua color. I have to say that Kenny and I are NOT DIY people. If we want new furniture, we buy it. If we want something painted, we hire a painter. But this wall was such a small space that I figured we could figure it out on our own. At least I hoped we could.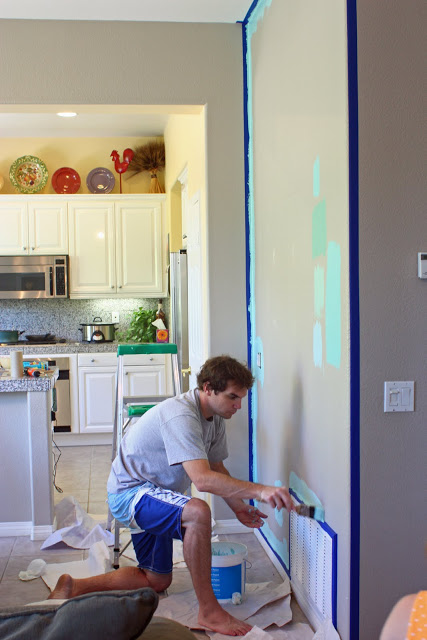 I taped everything while Kenny had the girls at swimming lessons and then when they came back I put Kole down for a nap and we all got to work! Kenny painted a little…..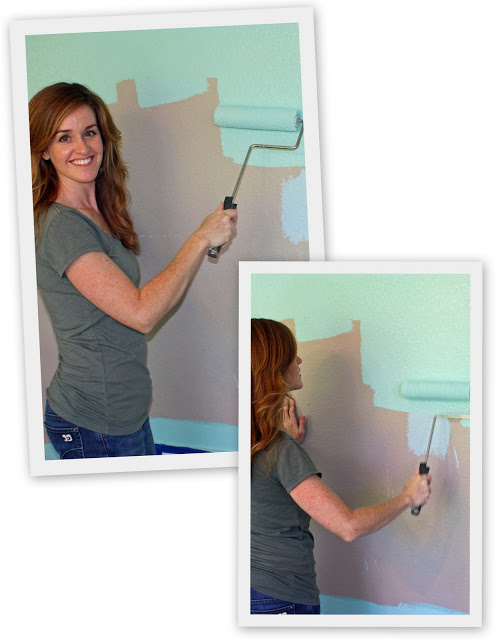 I painted a little…..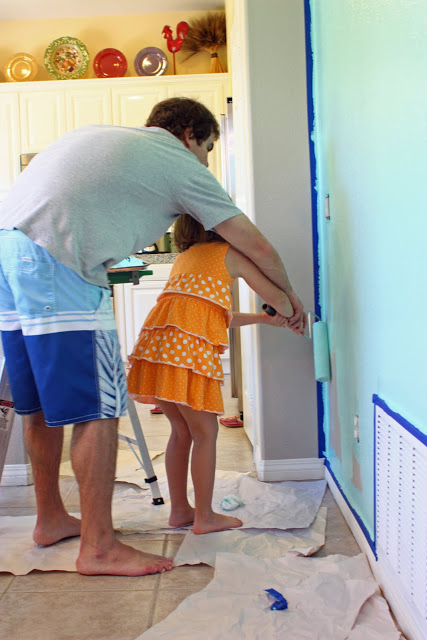 Even Ellie painted a little. Addison opted out because the thought of getting paint on her well thought out outfit was too much to bear.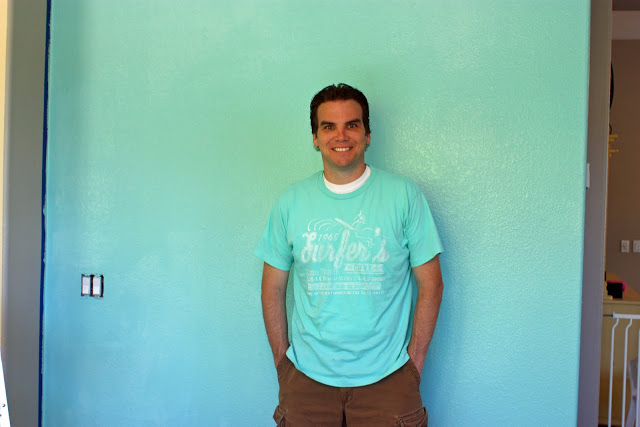 Two hours later Kenny showered and came downstairs in this shirt. I decided it was a sign. A sign of what, I don't know. That we'll find a new house soon? That this color is the bomb? That I should paint more walls and buy Kenny more shirts in aqua? All to be determined. For now, we are getting used to this change. I walked downstairs this morning, walked around the corner, and WHOA – there's a bright bluish greenish wall! Now I just need to make a few other changes so that it doesn't look so out of place. But I have to say that I'm very proud we painted ourselves. Maybe I'll become a DIYer after all! Can you be a DIYer and hate Home Depot???
And here is another question for anyone kind enough to answer it….
Kenny and I are planning an adults only trip to New York in the fall and are trying to choose which Broadway musical we want to see. We've seen Les Miserables on Broadway and Wicked and Phantom in L.A. (Wicked was the best!) so now we're thinking either Lion King or Mary Poppins.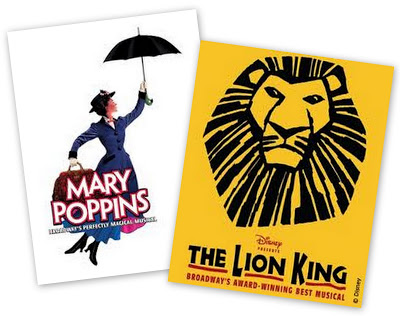 Has anyone seen either or both of these? Any opinions on which one is better?
Thanks so much! Hope your week is off to a good start!
xoxo, Erin