Oh that was too much fun hearing from so many of you! I've loved checking in with my blog throughout the day and reading all of your sweet comments. Thank you so much for your opinions/advice about the plays. It's clear we need to just see them both! Now I need some advice on how to convince my parents that it is imperative for them to watch my children for a day or two longer than planned. :) I'll keep you posted on how that goes…
For today I wanted to share something that I meant to post at the beginning of summer, but then all of the sudden it was summer and most of my planned posts flew right out the window along with my sanity.
I've found that one of the hardest daily tasks with little ones is simply GETTING OUT THE DOOR. It requires so much time, energy, and just stuff! Every summer I write a simple "get out the door list" and tape it to my back door. It's a run down of every possible thing I might need for our summer outings.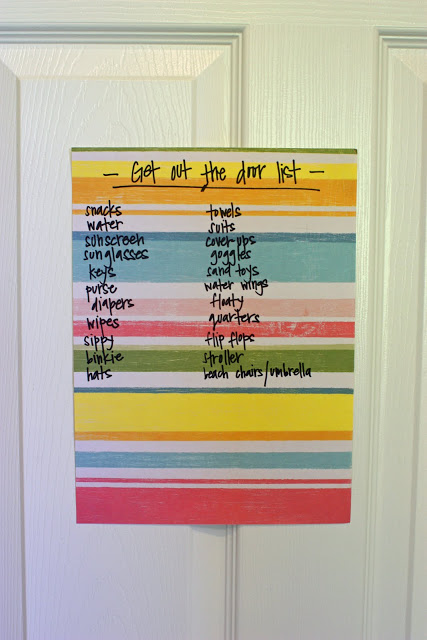 Some of the items listed are for when we are heading to the beach (quarters for parking) or the pool (goggles and water wings), but a lot of these items I need to remember every day in the summer for any outing we are going on (sunglasses, snacks for the kids, diapers, etc.) It's so nice to have a list to glance at quickly when we're in a hurry to get somewhere – just to double check that I have everything. Then I don't have to think about all of the stuff we need to take and I can deal with Addison's meltdown over which pair of sandals to wear, Kole's last minute diaper change, or Ellie's attempt to sneak 15 toys into the car along with her.
MENTAL ENERGY PEOPLE.
I only have so much of it.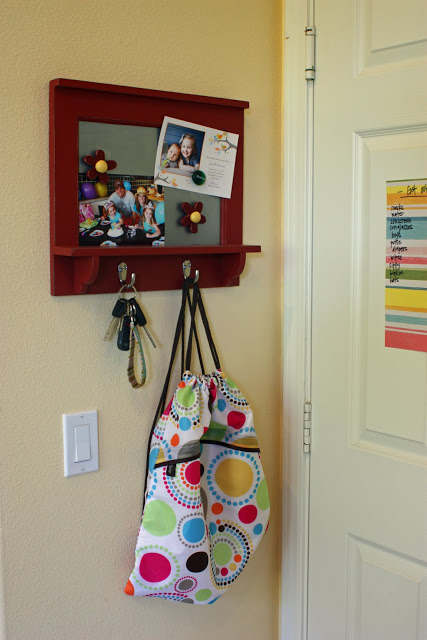 I also keep this bag hanging by my keys so I can quickly grab it for snacks and water…
and this bag sits in our garage by the door. As soon as I wash swim suits, cover-ups, and towels I put them in here so they are ready to go.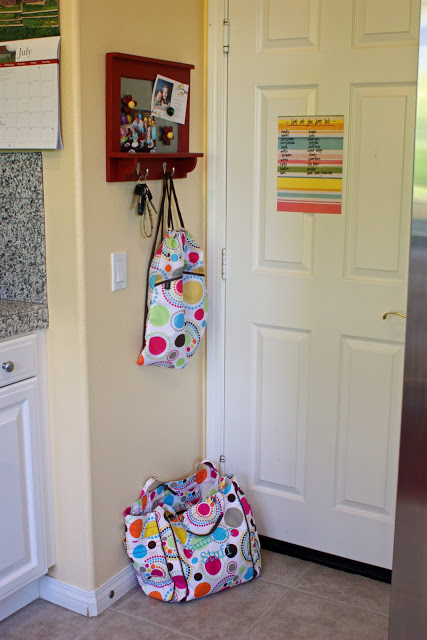 Anything I can do ahead of time makes life that much easier when we are trying to go somewhere.
I'm always amazed at what a feat getting out the door can be!
xoxo, Erin