My mom is visiting. It has been LOVEly and my weekend felt especially fabulous. The reason?
Three kids + three adults = sanity.
Seriously. What a difference two more adults make! One adult is in charge of Kole (full time job), one adult is in charge of the girls (they are a package deal), and the third adult is in charge of the cleaning, laundry, and cooking. Things are so MANAGEABLE. Mom is staying the week and I'm already so not excited for the following week when she heads home and Kenny heads back to work and I am completely out numbered again.
Just a few things we've been up to —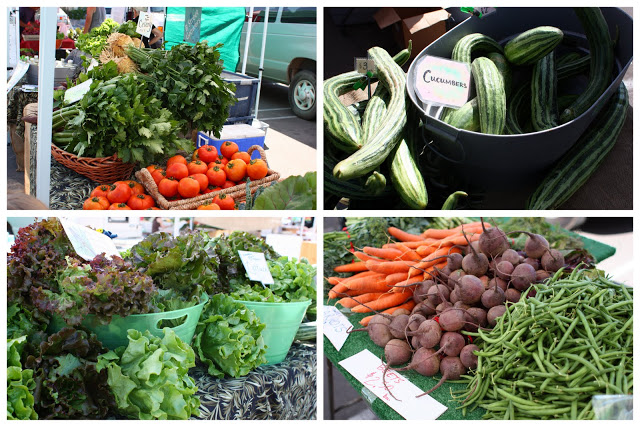 Took the kiddos to a local Farmers Market this weekend. Love Farmers Markets. I would have taken more pictures (so many fun things to see) but I was too busy managing daughter #1 —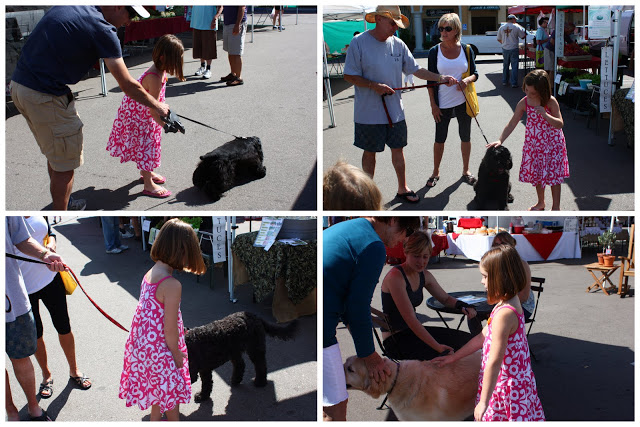 who decided she needed to pet EVERY dog we came across. Seriously. Every dog owner at that market Ellie introduced herself to. "Hi! I'm Ellie — can I pet your dog? What kind of dog is it? What is its name?" I was just along for the ride saying over and over "hi! I'm sorry…is she ok? Thank you so much! She's kind of obsessed right now… beautiful dog… so where are you from?" Met some really nice people. And Ellie was in heaven.
My cute mom with the kiddos. What is up with Kole in this picture? Mr. Serious. You can't really tell, but he is crossing his hands. He does this ALL the time. Whenever he gets in the stroller or car seat he crosses his little hands and his feet. His way of saying, "I'm ready to go mom — my time to chill." I get the biggest kick out of it.
————————————————————————————————————————————-
El finished up her lifeguard camp at the beach. She had such a blast! This camp will definitely become a new summer tradition. The kids learned about ocean safety, did exercises, played beach games, swam, and spent a day snorkeling at La Jolla Cove. She made a lot of new friends and is so bummed it's over. So is mom. I loved seeing her have so much fun at the ocean every day. Although I won't miss the sandy mess that exploded in my car each afternoon as soon as I picked her up. You'd think after living by the beach for nine years that I'd be more chill about the mess that always follows a trip to the ocean. Nope. Maybe in another nine years?
———————————————————————————————————————
A little bunny has been living in our front yard. Every time we pull up to the house my girls spot him and hop out of the car to try to catch him. Of course he scurries away as soon as he hears them.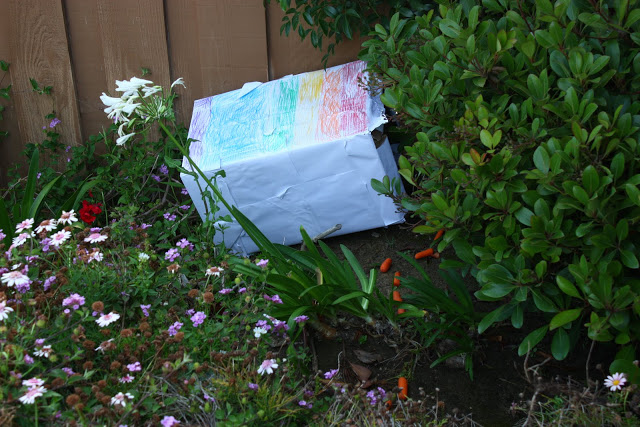 Finally the girls ran in the house and grabbed Ellie's dog house she decorated for her stuffed animals. Then they sprinkled a few carrots around it…
and carefully crept away leaving a perfect bunny trap.
We check every day to see if we've caught the bunny. Nothing yet, but I'm sure it's just a matter of time. Cross your fingers for us. :)
——————————————————————————————————————-
p.s. Grandma, thank you so much for the new dresses and for coming to visit us in San Diego! Thank you for playing with us in the yard, fixing us snacks, taking Kole so we can play without him knocking all of our dolls over, watching princess movies with us, and showing us dogs on the computer (again and again and again). Also thanks for helping mom. She is much more relaxed when you are here. :)
xoxo – Ellie & Addie
xoxo, Erin