Thanks so much for the great tips after my last post! I really appreciate your comments. A lot of food for thought. :) (yeah – it's late and I'm tired)
I've eaten SO GOOD – for like three days. And now I'm ready for some peanut m&m's. My mantle is calling me! Kidding. Kind of. A couple of health problems I have that need tweaking: (whenever I say the word "tweaking" I think of Tom Hanks in You've Got Mail. Love that movie. Love the way he says "a project that needs tweaking"….) Anyway, my problems, aside from the obvious one that I can't stick to the point. First of all – the water thing. I love water and I feel lucky that I don't like soda. Aside from a major minor obsession with root beer during my pregnancy with Kole, I never drink the stuff. BUT even though I drink water with every meal/snack, I know I don't drink enough of it. To be honest, the reason I don't is because it is so inconvenient having to use the restroom every time I turn around! Most days I'm running errands with at least two of my kids and it's so much work to drag my whole crew into the bathroom. Lame excuse? Maybe. But it's the truth. My other problem is that I don't eat a lot during the day. I get busy running errands, taking care of the kids, working off of my trusty to-do list, etc. A lot of the time having to stop and fix something to eat just feels completely inconvenient. So I don't do it. Then I get the kids in bed and sit down. And I eat dinner. And I eat a snack. And another one. And another one. Quickly I realize how hungry I am from the day and I eat too much. SO. More water (less errand running?) and more frequent, healthy meals/snacks during the day. And definitely more You've Got Mail watching.
Several of you have e-mailed me about my workout routine (how I fit exercise in and what I do) so I'll post about that sometime next week (even though it's nothing too exciting). :)
Sharing a few pics I came across tonight that I took of Ellie and Kole in December –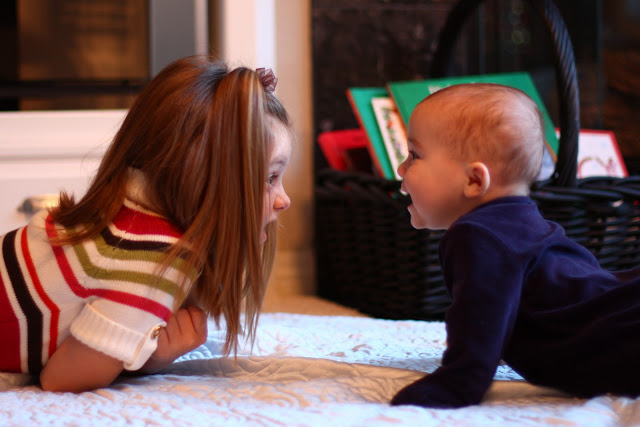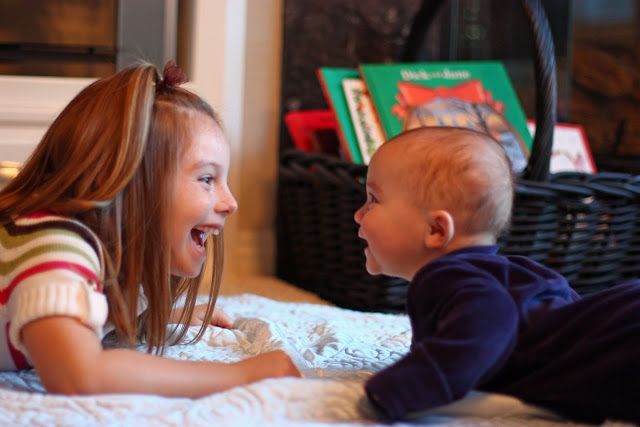 She is my best little babysitter! Honestly, even though having three kids is crazy (complete madness at times) in some ways it feels so much easier than when I just had one and even two. I think the age difference is MAJOR. My girls are just such a huge help. They keep Kole completely entertained and out of trouble. I probably hear five times a day "Mom! Kole almost put a barbie high heel in his mouth! Mom! Kole almost got stuck. Mom! Kole almost tipped the chair over!" Key word here being "almost." They are extremely cautious and diligent with him and I rely on their help a lot.
Speaking of my best little babysitter Ellie, the other night I told her she had WAY too many "friends" in her bed and she needed to take some off. (She has been sleeping in our guest room lately) I went to tuck her in and found her toys off of her bed (yes) but instead of being put away back in her room, they were strategically placed all around her.
Dolls and ponies enjoyed the view from the window.
Disney figurines took on the Twilight Series. (psst…Eclipse is the best!)
Additional ponies spent the night with classics like Lord of the Rings and A Tale of Two Cities. Can't go wrong there.
And it seems the dogs were left to choose between Constitutional Law, Securities Regulation, and Comprehensive Criminal Procedures.
Poor poor dogs.
Have a great weekend everyone!
xoxo, Erin