{House Station #1}
{House Station #2}
So you may remember my little nightmare spray painting project? Now that the painting is behind me I'm quite enjoying my newly black baskets. They are just right for my next house station – our "reading station."
Big basket is holding all of our Christmas books…
and I have a little hidden nook in the corner of my living room holding the rest of my baskets.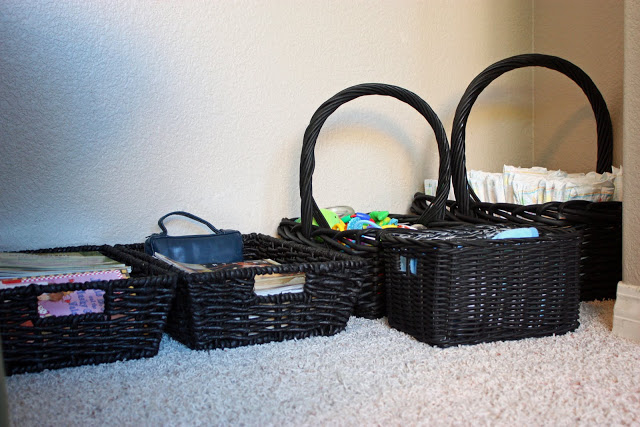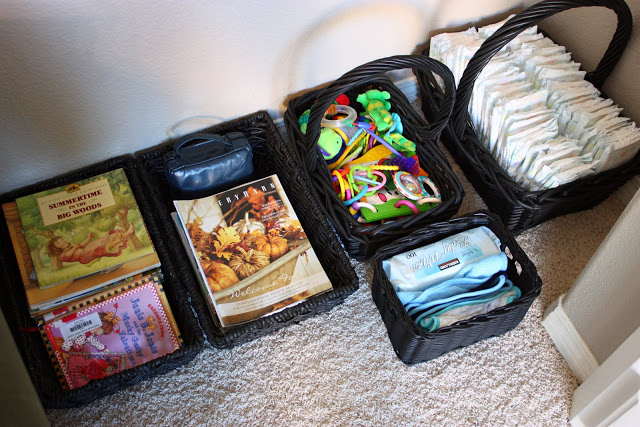 Far left basket holds the girls' books (especially for books on Ellie's reading level). Next basket is for my reading material. And then the last few belong to Kole — diapers, wipes, and baby toys.
Part of the
M.O.M
system suggests having a "read and review" basket. A basket to hold books, magazines, and other information that you want to read and review when you have a minute. Things that are not time sensitive, but that you would like to read at some point. Part of Ellie's homework each night is to read quietly to herself for 15 minutes. I decided to set up a little reading station and implement a new evening routine for me and the girls so that Ellie and I can both get in our reading time.
Each night after homework, we set
our timer
for 15 minutes and have DEAR time. (I called it DEAR time when I taught school – stands for
Drop Everything And Read
. Anyone remember that?) The girls pick out a book or two they want to read and I pick something out of my read and review basket and we all read together. I try to time this when Kole is taking his last nap of the day. I set a goal to read each night with my girls for two reasons. One, I want them to learn that reading is fun and mommy loves it too! And two, if I don't have a set time like this to go through my read and review basket I never will. I always have good intentions to read in the evenings, but most nights I end up blogging instead. :) This has been hard for me! It's so tempting for me to clean when I have a free 15 minutes of quiet time. But when I do
"drop
everything and read"
I'm always glad I did. :)
xoxo, Erin