Did my hair this weekend. The rain ceased and so did the pony tail…temporarily any way.
I also mastered the best position to stand in when taking a full body self portrait. Side view with one leg bent is the most flattering hands down. Try it. Then try taking a picture straight on. WORLD of difference. I think from now on I'll just enter rooms sideways. :)
My hair actually doesn't look that much different but I did cut a lot off and it FEELS different.
Plus it's easier to straighten at this length to mix things up.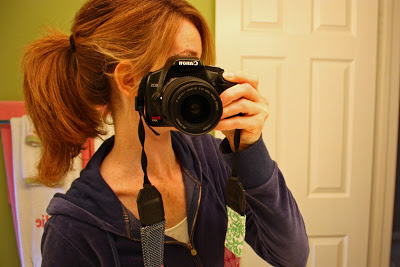 And much easier to wear in a pony tail. It was getting so long before I cut it that pony tails were giving me headaches from all the weight of my hair. Pony tails are an essential part of my life these days so all in all – I'm liking the new do. Kole doesn't care for it though. He misses having so much hair to grab in his tiny little fists. I won't miss his fists pulling my hair. And I won't miss taking pictures of my hair. Self portraits are way harder than they look!
Aside from doing my hair this weekend we also took the kiddos to the Pumpkin Patch.
We've gone to this Patch for several years now so it has become an October tradition. It's more like a mini carnival with a few pumpkins thrown in than an actual Pumpkin Patch, but seriously, my girls look forward to it all year. So while Kenny and the girls did
their usual routine at the patch,
xoxo, Erin