Yesterday was a wet, rainy day. I'm quite enjoying the wet, rainy days we've been having lately.
I got the girls ready and off to school and then Kole I did a little house work, exercised, and made chicken enchiladas so that everything would be ready at dinner time.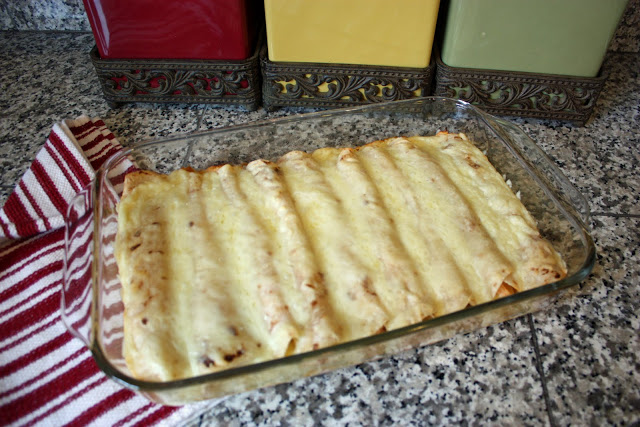 That's right. You heard me. I cooked and I'm feeling pretty good about it! So good in fact that I think I'm done for the week in that department.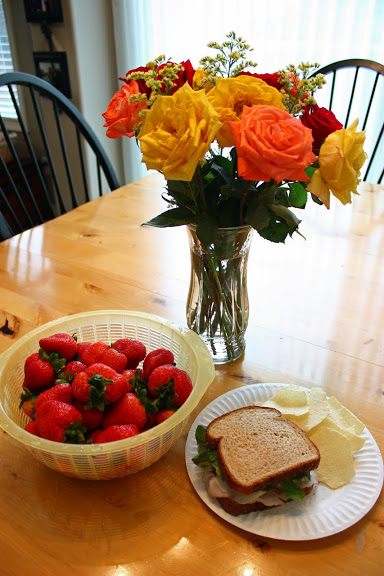 Then I ate lunch – the same thing I eat for lunch every day and have for oh… about 10 years. My turkey sandwich and baked lays and strawberries. I have such a weakness for baked lays chips! I like to convince myself that since they are "baked" I can eat as many as I want.
And then I did a little organizing. Rainy days are the very best days for organizing. :)
I finally finished my new system for any and all paper in this household! Feels so good! I've also set up several different little "stations" throughout my house I'll share over the next week or so. Here are a few of the stations in my kitchen…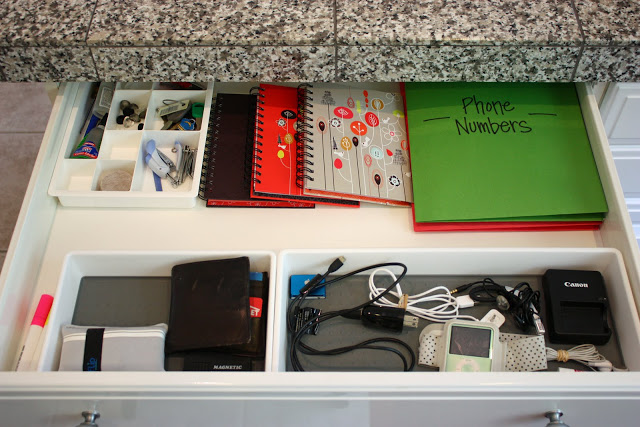 This drawer was always our catch all drawer for paper. I used to have about 10 folders in here attempting to make sense of our paper work, but now that I have a new paper system, this drawer is just for a few miscellaneous things.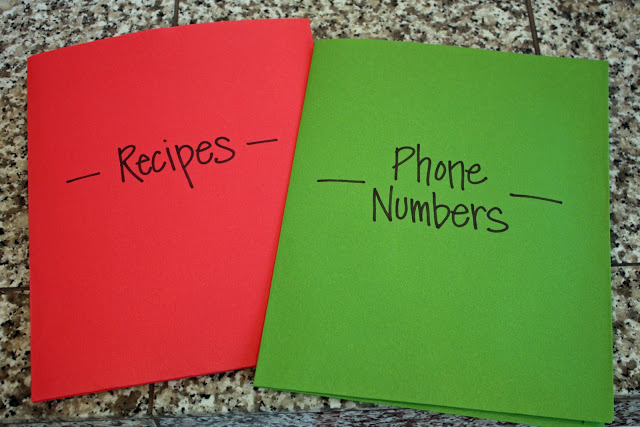 The only folders I kept in this drawer are the folders that hold all of our phone directories/numbers and the folder I have for all of my recipes. I know. There are so many better ways to organize recipes, but for someone who only uses a few recipes, this little red folder works just fine.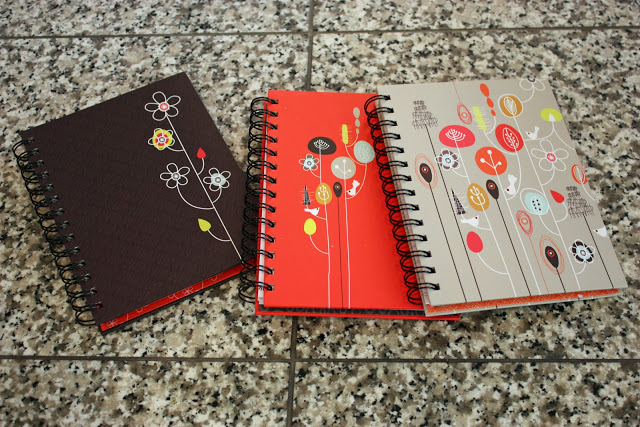 This drawer also holds these cute little notebooks I got in the dollar bins at Michael's (I'm such a sucker for those dollar bins! And for cute little notebooks). I use one of them to jot down all of the girls latest quotes, one of them to jot down songs I like (I'm always listening to music and writing down songs I want to download) and the other one I'm using to write down little things about Kole at 3 months, 4 months, 5 months, etc. so I have that info. for his scrapbook. Very handy indeed. :)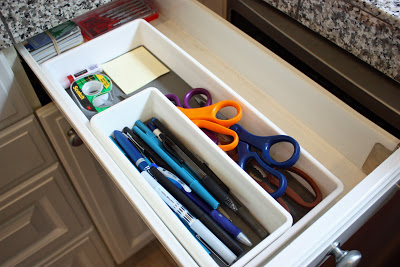 Simple pen/scissors/tape drawer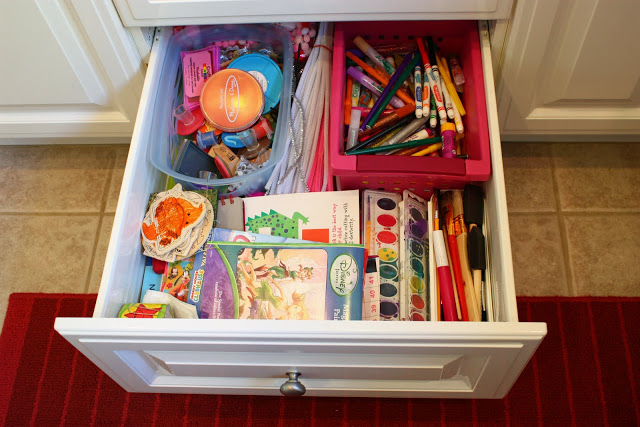 A little drawer for our arts and crafts station. We have several through out the house. I'd love to have all of this stuff in one location, but the girls like to create downstairs and upstairs and I've just found it's easier to keep supplies in both places.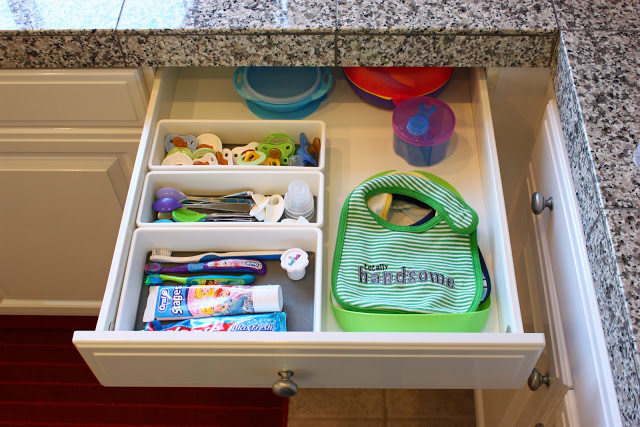 Baby station which holds all of Kole's bibs, spoons, binkies, etc. This drawer is right by the sink so I also use it for tooth brushes and tooth paste. Once I get my girls down the stairs in the morning we are so NOT going back upstairs. If they come down to eat and then go back upstairs to brush their teeth before school I'd loose them to their toys. They are too easily distracted so in the mornings we get completely ready upstairs, come down to eat and then stay down until it's time to go. Which means brushing their teeth in the kitchen sink. Works for us.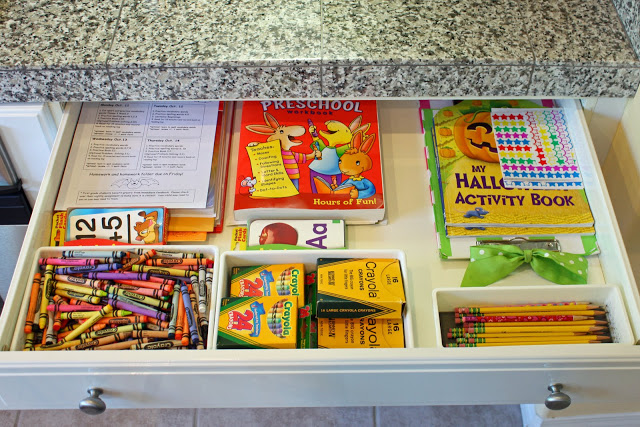 And last but not least, our homework station. I have had this set up for several weeks now and I'm loving it! It's so nice to have everything we need for homework in one drawer. Ellie's stuff is on the left, and Addison's is right next to it. There are always plenty sharp pencils, and plenty crayons for coloring. Pretty stressful homework at this age. :)
It's raining again today and aside from running a few errands, we don't have much on our agenda. Love days like this. Think I'll switch gears and catch up on a little laundry and scrapbooking.
Happy Tuesday!
xoxo, Erin