Ok – I am BEYOND excited that my posts are inspiring some of you to organize! It feels so good, doesn't it!? I'm quite addicted to say the least. :)
Seems I have another past time. I cooked again! Twice in one week! I know. Somebody stop me. ;) I had leftover diced chicken from the enchiladas so I threw in some General Tso's sauce to make cashew chicken. The broccoli was over cooked because I was a bit preoccupied taking pictures of it, but all in all, a decent quick meal that involved the stove (not the microwave). And pots and pans. Feeling good about that!
Someone asked me if I would share how I organize my girls' hair accessories and I had these pictures from past posts…
I hang all of their bows in their bathroom on a couple of long ribbons I bought on-line years ago. Wish I could remember where I bought them, but they would be so easy to make.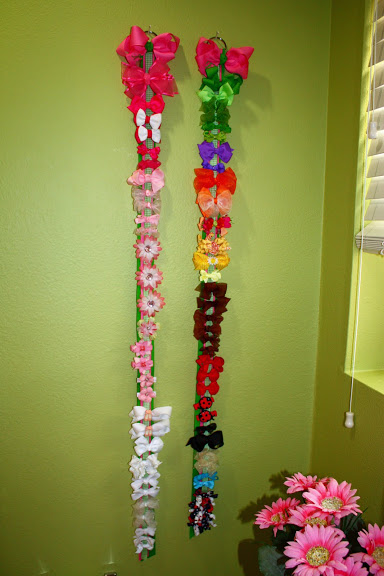 Their hair bows don't look quite this neat and color coordinated at the moment because lately my girls have been getting into them to use for their dolls hair. :)
The rest of their elastics, etc. are in little plastic containers on their bathroom shelves. I have some of them in my bathroom too because when I do Ellie's hair I use the straight or curling iron so she gets ready with me.
Hope that helps! Gotta run. I'm heading upstairs to go through my closet to find something fancy schmancy to wear to a dinner this weekend with Kenny, attorneys, clients, and more attorneys. Probably a good thing I have something that will force me to give up the sweat suits I've so enjoyed this week. :)
Hope you all have a great weekend!
xoxo, Erin