Last weekend was The Power of Moms Retreat in Dana Point, CA (about 45 minutes up the coast from San Diego) that I mentioned on my blog a while ago. My friend Ann and I went and had such a great time! Seriously. This moms retreat was so much fun. If you ever have the opportunity to go to one of these I definitely recommend it! Two days of staying in a beautiful hotel, eating delicious food, and the best part – making new friends with other moms and learning SO MUCH about how to be a better mom.
Here's the inside of our hotel room –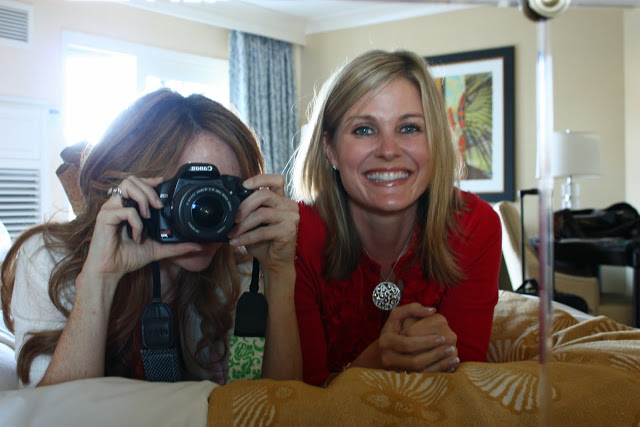 and here's my cute roomie –
and here's a picture of the outside of the hotel. It was right on the beach and the whole setting was just breathtaking. I'm so annoyed at myself that I didn't take more pictures, but we spent a lot of the time in the conference room taking notes like crazy! I have pages and pages of ideas that I'm so excited to implement and try out with my kids. BUT – this week has been crazy getting back in the swing of things and I have been recovering from a cold that just doesn't want to go away. As soon as I feel better and have time to try out everything I learned at the retreat with my family I will share what is working with all of you!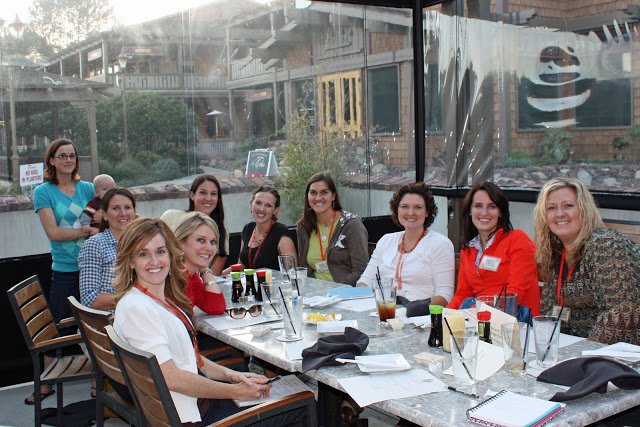 Some of us at dinner. Every time we ate we sat in mini groups and discussed "table topics." Topics on things like "being enough and finding joy in motherhood," "meaningful family traditions," "tips for keeping up with your home (and involving your kids)," etc. Moms are a smart bunch and it's amazing how much we can all learn from each other!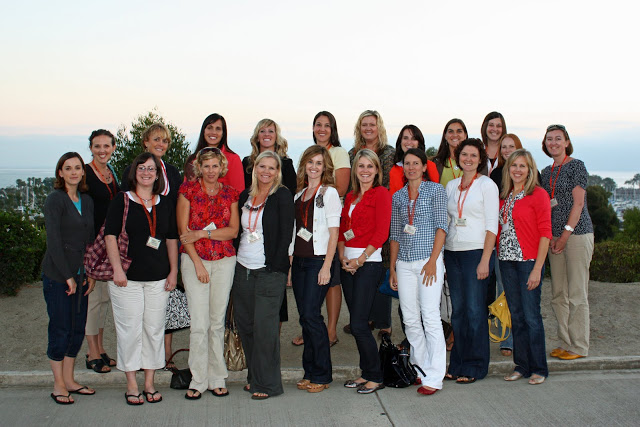 The whole group! It was so much fun getting to know all of these fabulous girls! We've set up a Google group to keep in touch and are already planning a reunion for next year. Ann and I voted that the next retreat should also include some spa time! :)
After this weekend I came home feeling so incredibly grateful to be a mom. There is nothing like motherhood. Nothing as exhausting. Nothing as rewarding. Nothing as wonderful. Being a mom is the best and it was so nice to spend time with other moms who feel the same. It was also so nice to have some time to share and learn great ways to be an even better mom. And of course, it was also so nice taking a break from being a mom!
I was a little nervous leaving Kenny with all three kids (first time I've done this since I had Kole) but I have to admit, he was pretty impressive! He sent me a text after his first night and said that all three kids had slept through the night and everything was under control so I shouldn't worry and should have a great time. He had the house (for the most part) clean when I came home and the girls were talking non-stop about how much they missed me and the fun weekend they had with daddy. Then when Kenny and I went to tuck Addison into bed that night, Kenny put his hands in his pocket and pretended to pull something out. He explained that Addison was having a hard time the night before because I wasn't there to give her hugs and kisses at bedtime. Kenny had thought quickly and pulled from his pocket what he told her were "hugs and kisses" from mommy. Addison felt much better and asked him to hold onto them so she wouldn't lose them. After Kenny explained all of this to me, Addison threw her arms around me and told me that she was so glad I was home. We hugged for a long time and I totally started to cry! I had just come from a weekend where all we talked about was motherhood and how amazing it really is and then to come home to a reunion like that just felt overwhelming. I promised myself to hold onto that moment and remember it the next day while taking my fourth Tylenol because of my sweet, little Addison.
And speaking of the next day and needing Tylenol, Ellie proudly came walking down the stairs in this ensemble…
(Yikes!)
Me: "Wow Ellie! That's quite an outfit you came up with!"
Ellie: "I know mom! I picked it out myself and daddy let me wear it all weekend while you were gone! I wore it to the grocery store and to the gym and to…."
Nice.
What was I saying about Kenny being impressive??? Good thing mom's back in town.
xoxo, Erin