A few readers have asked for tips on garage organization so the last time I swept my garage out I took some pictures to share. When we first moved into this house I didn't touch the garage much – I figured it was Kenny's domain. But after a couple of years the randomness of all of our stuff piling everywhere totally drove me crazy! I spent two whole days gutting out and cleaning the garage – I still remember Ellie waddling around in her little walker the whole time I cleaned. :)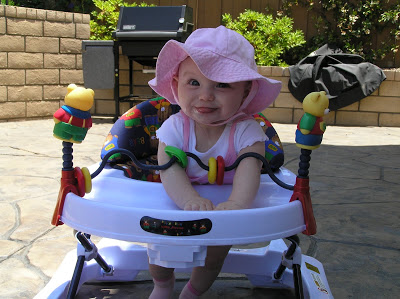 (Ellie – 2004)
So – I organized everything in 2004 and since then have just worked hard to keep things clean. I usually sweep out and straighten the garage about once a month while the girls are blowing bubbles, picking flowers, or riding their bikes in the front yard. If I don't do this, things get messy in a hurry. Garages are such catch alls for any and everything! It's an area you definitely have to stay on top of if you want it to stay organized.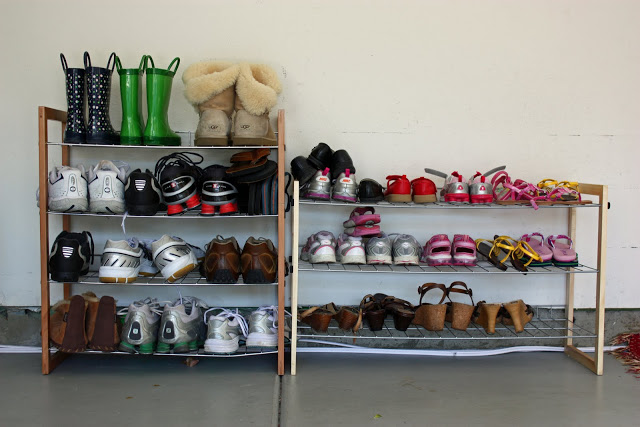 Most of our shoes are in our closets, but we have these by the garage door to hold most often worn shoes – especially for the girls. We never wear shoes in the house (best way to keep your carpets clean!) and the girls know that before they can come in the they need to take off their shoes and put them on their shelf (top is Addison's, second is Ellie's). Straightening all of the shoes on these shelves is also one of the little jobs my girls do to help out.
Space for more important things like Christmas trees, bikes, baby joggers, and the Barbie Jeep.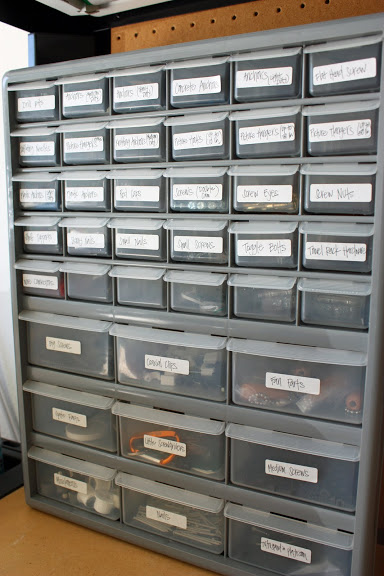 Oh.. and I also organized all of the loose nails, screws, etc. And I labeled them. And I put them in alphabetical order although they've been messed up a bit since then. When Kenny came home from work and saw this he seriously wondered if something was wrong with me. Now years later he KNOWS something is wrong with me.
Kenny won't admit it, but I know he loves not having to search all over the garage for a toggle bolt or a drill bit when he needs one. :)
**Re-organized shoe station here.
xoxo, Erin