Kenny was gone all day today so it was just me and the little ones. I had such a good Saturday! We didn't leave the house. Not once. It was SO nice. I went into an organizing frenzy. We learned about this organizing system at the Power of Moms retreat that I am so excited to try out. BUT…to do it you need a place to put several file folders, organized cubbies, etc. I have NO SPACE left in this house! I feel like we are busting out of this place. So after doing some serious analyzing, I found a space that could work on some shelves in the closet under our stairs. BUT… I already had holiday decor there. So I moved the holiday decor upstairs to my closet which led me to re-organizing all of my closet including going through all my clothes. Then I had to move stuff I had in my closet to the closet in the guest room…which was already full of other stuff so I re-organized that closet…and moved some of the stuff in it downstairs. This went on and on and by the time the day ended I had cleaned/organized three closets, four kitchen drawers, and three other areas that needed to be straightened and sorted through. I also decorated the whole house for fall (it's looking so festive!) and put up all of my outside decorations. Purple and orange lights and pumpkins are now covering my yard – love it! I can't turn the lights on until next weekend though or my neighbors will get mad at me again. They always give me a hard time for starting the outside holiday decor so early. I just can't help it. It's too much fun. :)
So what did my kids do while I tore apart my house?
First they colored and decorated ornaments for our Halloween Tree. (Addison found Ellie's pumpkin princess costume from a couple of years ago and hasn't taken it off. She has to have the whole thing on at all times including the hair accessory and shoes.)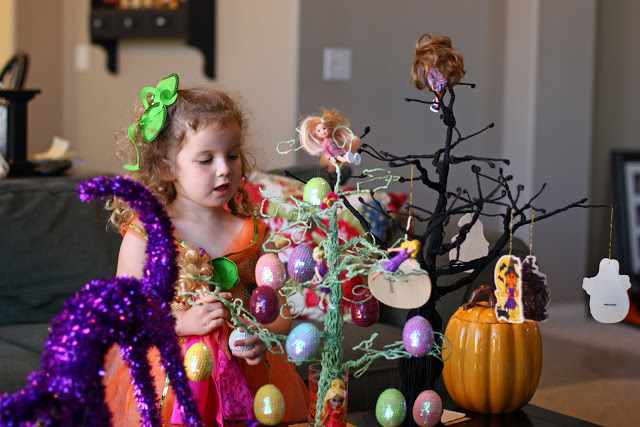 Then the girls had a fabulous time playing with all of the mess I made. They brought down all of their barbies and polly pockets and princesses who had all sorts of fun "living" in my various decorations.
And Kole? Well, I was busy so I sort of just turned him over to the girls…
Sorry little dude. I'll make it up to you someday. How about a Thomas the Train on me? No pink involved….unless the princesses want a ride…. ;)
xoxo, Erin