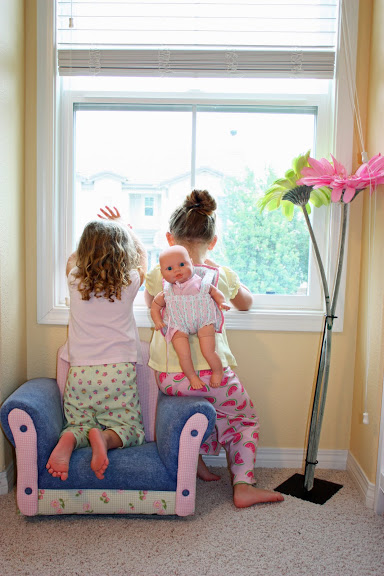 {girls waiting for daddy to come home from work}
I'm so glad the weekend is upon us! So are my girls. All week long they count down to Saturday because daddy will be home to make waffles and play with them. :)
Just wanted to answer a few random questions from some of you…
What hair product do you use on Addison's curly hair?
–
Matrix curl life (spiraling spray gel)
…much to my sister's dismay because she thinks I'm crazy to use expensive hair products on my 4 year old. But this stuff is so great. I can spray it on her hair when it's wet or dry and it will define her curls.
-I got the folders in the
School Kits
I ordered by
Becky Higgins
. The School Kits came out a couple of years ago and I don't think you can get them anymore, but she has mentioned on her blog a few times the possibility of doing a new School Kit in 2011.
Where did you get the beautiful white vase on your kitchen counter?
-A couple of years ago at Home Goods. Love that store. And I'm glad you like the vase. :)
What are you doing with the red boxes you bought at the Container Store?
-I'll show you everything I did with my Container Store finds in a post soon… much to my sister's dismay who is sick of my posts on organizing.
Sometime when I get a minute this weekend I'm going to put a link on the side of my blog with my e-mail address. Then if you have a random question you can e-mail me and I'll be able to get back to you a lot sooner…much to my sister's dismay who hates it when I answer people's questions. Ok. That one I was kidding about. (love you Car) :)
Hope you all have a great weekend!
xoxo, Erin