Hope everyone had a good weekend! Ours was great – feels like we're finally getting into more of our normal routine since Kole joined the family. After waffles Saturday morning the girls threw on their suits and Kenny took them to the beach. I was going to go with them, but Kole was DYING to hit the Nordstrom Anniversary sale, so the two of us headed to the mall.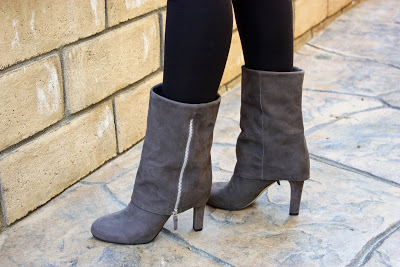 I had been eyeing these boots in the catalog and couldn't resist. LOVE THEM! So does Kole. He was so excited about my boots that he feel asleep for the rest of our outing. He is my all time favorite shopping companion. I modeled my new boots for Kenny and he loved them too. Right up until I made him take a picture of them. We have an unspoken understanding in our marriage. He puts up with all of my picture taking/blogging/scrapbooking and I tolerate his over the top football addiction… and his inability to hang up the bathroom towel after he showers.
After we returned from the beach and mall, Kenny and I left the kids with their favorite babysitter and went to see Eclipse. LOVED IT. Almost as much as my new boots. Then we came home and had a BBQ and ate on a blanket in the backyard. The girls were loving their Saturday. Ellie was flying high and kept saying how Saturday was her perfect day because it included all of her favorite things – waffles, beach, babysitter, and hot dogs.
Ellie is such a little joy to have around because she is always so happy and easy to please. She loves being together as a family and looks forward to the weekend all week long. She's always drawing little pictures of the five of us and hanging them around the house.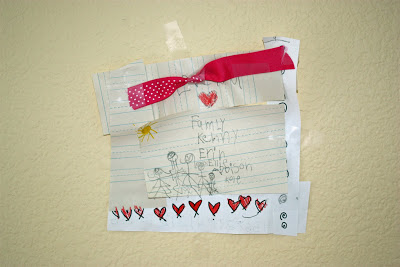 I was especially impressed with this one. The detail in the drawings, well planned journaling, the sun in just the right spot allowing your eye to flow towards the picture, hearts bordering the page and framing everything so nicely, and then the perfect pink ribbon embellishment – just enough without overdoing it. This work of art clearly screams scrapbooker! A girl after my own heart. :)
Addison, who usually puts new meaning to words like patience and choose your battles, has been quite a little sweetheart lately. She can usually be found in her room putting together outfits or
reading books to her dolls.
xoxo, Erin