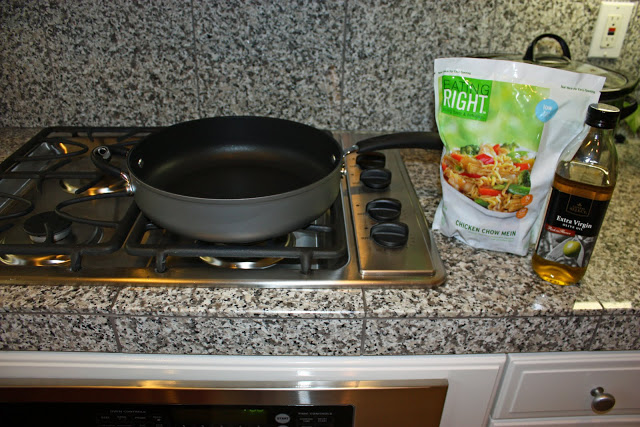 So I'm making an effort – once again – to cook more. Bought a new frying pan to help motivate me to cook, but all that did was motivate me to take a picture of my new frying pan. :)
(and I know, heating up frozen chicken chow mein doesn't count as really cooking, but I decided to break the pan and myself in slowly over the weekend)

I know this is a crazy time in my life to set a goal that has so far been completely unattainable for me, but I have got to get my act together. This is the one area in my life that I feel like I am failing miserably as a wife and mother. I've mentioned before that we were blessed to have so many meals brought by friends when I was recovering from surgery. Kenny was LOVING having a home cooked meal when he got home from work and my girls were eating more of a variety of food than ever before. We were also eating together as a family more often (when Kole would allow it). When the meals stopped Kenny was so sad – almost depressed! He teases me and we joke a lot about my inability to cook dinner most nights, but all joking aside, I know he would love coming home to a real meal once in awhile. He is having a crazy, busy, stressful year at work for a number of reasons and he has really carried the load around here lately. First he had to deal with his stressful job, the two kids and an extremely hormonal pregnant wife. Then I had the baby, almost died, and he had to deal with his stressful job, the three kids and an even more hormonal injured wife. He has had a lot on his shoulders lately and I feel like this is one thing I can try to do for him. So I made a meal plan for the week. (yes – that's right – me – a meal plan) I'm cooking Mon. Wed. and Fri. I spent forever at the grocery store this morning getting everything I needed, spent way more on groceries than I usually do, and then cooked during Kole's afternoon nap while the girls played (the only calm time in my day). Laundry and cleaning didn't get done and while we did eat together as a family, the girls plugged their noses and only ate a few bites. Bedtime was pushed back, I'm exhausted and the kitchen is a mess.
Is it worth it to me? No. Would I have been happier with a turkey sandwich or Lean Cuisine and a clean kitchen? Yes. But Kenny quite enjoyed the meal and I quite enjoyed seeing him enjoy the meal and so I will press on! And if it takes buying a whole new set of Williams-Sonoma pans and cooking utensils and really cute, stylish dishes and taking pictures of all of them to keep me motivated, well then so be it! Time to take one for the team. :)
xoxo, Erin