Haven't posted for a few days – I've been too busy cooking! ;) First let me just say thank you so much for your sweet comments on my last post. Not only for all of the great recipe sites (which I've been checking out and will be incredibly helpful) but also for your words of encouragement. I've always known I have the best blog friends in the blogosphere. :) And speaking of a really sweet comment, here's one I got a couple of weeks ago:
"Maybe I can ask this question under organizing? It really deals a little more with time management. How do you do your hair? It always looks so nice and styled, healthy, and pretty. When you were writing about being in a funk, I identified with wearing my hair in a pony everyday because it takes extra time to do my hair and I just need girlfriend advice. Like do you wash it at night after the kids are asleep? in the morning and let it air dry then blow dry the style, straighten and add a little curl with the iron? how long do you think it takes you to do your hair? I mean I think it takes me over 15 minutes just to fully blow dry. Is there a product you really like? I guess I wanted to ask an expert in style and time management! Thanks for your blog, I really enjoy your honesty, tips, ideas, and love for life! God bless!"

Amy, thank you so much for that comment. It made my day! Especially since I am in a total hair rut right now and ready to chop it all off. I'm sharing this comment on my blog for two reasons: first: because Amy, I didn't know how else to answer you, and second: because I get asked two questions all the time. One is "how do you do your hair?" and the second is "how long does it take…how do you have time to maintain it?" Many of you have asked me about my hair on this blog and I haven't answered anyone so I thought I'd take the time to do that now. :)
So. Here's how I do my hair. (BTW – I thought about taking pictures of the 'hair steps' I go through to explain this, but there was no way to do it without taking pics of myself with the tripod and looking and feeling like a total dork)
My hair is naturally curly. So is Kenny's which is why we have kids with hair like this: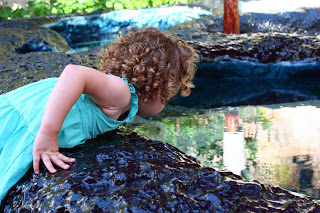 If I just let my hair dry on its own it would look like this:
(Halloween 2008 – Kenny and I dressed up as ourselves from High School. Oh yes. I really did wear that dress!)
Great for the late 90's or for Halloween. Not so hot for right now.
So right out of the shower the first thing I do is put some Enjoy straightener (purple bottle) on my hair. I've tried lots of straighteners and I like this one the best. Then I blow dry my hair straight one section at a time. I pull it all on top of my head with a clip except for the bottom section. I blow dry just that part, then I blow dry the middle section, then the top. I have really really thick hair. So thick that I have to get it thinned every time I get it done just to keep it from being out of control. So straightening it takes me 15-20 minutes. Then I section my hair off again and take my curling iron (a regular 1 inch) and curl each piece like I'm curling it in a ringlet, but a loose one. When I get to the top section I just slightly curl my bangs, etc. off to the side. This takes me around 25 minutes to do. When I shower, do my hair, and put on make-up I'm looking at spending at least an hour. There is NO WAY I could maintain this everyday.
So here's my little secret. I don't wash my hair that often. I know. Gross. Yuck. You're all probably totally disgusted, but I've always told it like it is on this blog so why stop now.
Because my hair is naturally curly, it holds curl really well so I can go to sleep at night and wake up and have my hair look pretty much like it did the day before. I shower with my hair piled in a clip on the top of my head and then just put a curl or two in it to touch it up, put on some make-up and go. Takes 20-30 minutes instead of an hour and a half. If I'm exercising really hard I have to wash it more often and then I rely on a pony tail. But if not, I can go for days. In fact, I like my hair a lot better on the second or third day than on the first day I wash and style it (the curls look looser and aren't as full). I usually wash and style it 2-3 times a week. Sometimes I'll shower and blow dry it straight right after I put the kids to bed and then get up and curl it in the morning. Other times I shower and blow dry it early, then get the kids up and ready for school, then curl it while they're eating breakfast or something. So THAT is how I maintain this hair style and the funny thing is, because I can get this style to last for days, this is the EASIEST hair style I've had by far.
(This looks like about a third hair day – looser curls)
Which is why I don't know what to do with it. I'm kind of tired of it, but I'm nervous to cut it because I don't want a style that is more work. San Diego is humid and my hair does NOT want to go straight here so straightening it is a high maintenance do for me. Short hair is hard because I have to style it every day. It kinks in the night and can't be salvaged.
I've had my hair short:
I've had my hair in between:
I've had my hair long: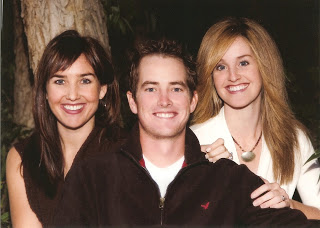 I've worn it straight and curly. Layered and not layered.
Short bangs:
And nothing has been as easy for me to maintain as my current style has. So I'd love a little girlfriend advice from all of you! Should I change it (and if so, any suggestions?), or should I leave it as is?
Oh! One other thing. In the past I used a really expensive curling iron, and then I bought a cheap $10 one from Target to take to Italy (Kenny and I went for our ten year anniversary and I needed one that would work in European outlets). My hair curled so well on our trip with the cheap one that I stopped buying nice ones and haven't spent more than 10 bucks on a curling iron since!
(maybe they're frying my hair and I don't know it…)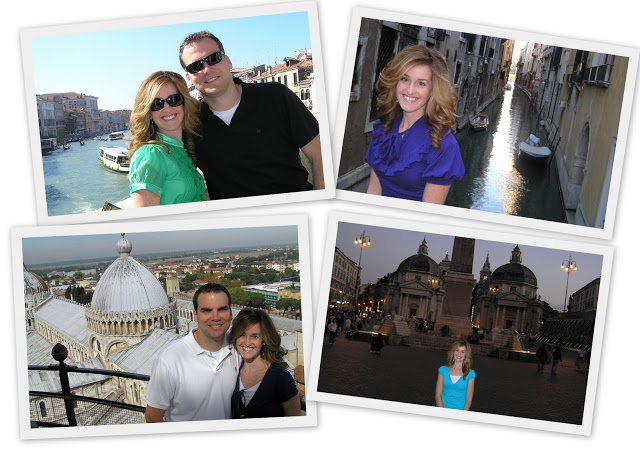 {Italy 2007}
Hope I answered everyone's hair questions and hope you aren't too disgusted. (speaking to the whole five of you who actually made it through this long, boring post)

Wishing you all nothing but good hair days in your future! :)
xoxo, Erin