was a better day.
My sweet Ellie finished up her last day of Kindergarten. Her class celebrated by wearing their pajamas and bringing a favorite toy. Ellie must have tried on over ten different pj's the night before until finally selecting her watermelon ones to wear (because those are the ones Addison wore for her pajama day).
Wonder how long I have until these two don't want to look alike?
She also put her doll Eva in her pajamas the night before so they could go to sleep and wake up ready to go! She had such a great year. Made wonderful friends, had wonderful teachers
(pictured above)
, and grew in so many ways. I'm so proud of my baby – who clearly isn't a baby anymore.
Yesterday I tried to put my house back together after pulling everything apart in a moment of weakness. While I did that, Kole enjoyed lots of fun time with grandma.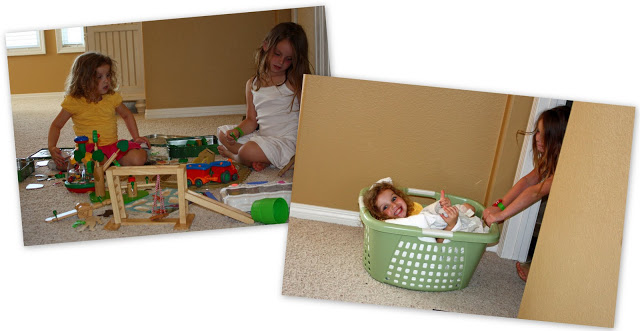 And the girls amused themselves in ways they usually do.
Then I decided I needed a break from organizing so Kole and I caught up on our recorded So You Think You Can Dance episodes. Kole loves So You Think You Can Dance.

xoxo, Erin