I'm in a funk.
Must be the "I just had a baby and am sick of being over weight, over worked, and overly tired" funk.
I'm tired of seeing myself in the mirror in the morning. I've been more in the mood to see…I don't know…Natalie Portman. I doubt Natalie Portman would have her hair in a bun and no make-up on. She probably wouldn't be wearing maternity clothes that are too big or regular clothes that are too small – neither of which look good. I can't imagine Natalie Portman covered in milk spit up and she definitely wouldn't have huge dark circles under her eyes. Yup. Natalie Portman is who I want to see in the mirror right now.
Kole is 11 weeks old today and this is always about the time I get in a post baby funk and want to do something drastic – like cut my hair short and dye it black. Ok – maybe not that drastic, but I'm in the mood for a change. I can't though. I know better. I did drastic things to my hair when both of my girls were around 11 weeks old and both times came home crying and then called my hair dresser the next day to fix it. I also know better (after reading my letter…again) that retail therapy won't cure my funk. But I have to admit, knowing that didn't stop me from buying a new purse, wallet, and shoes the other day. Staying away from clothes since trying on clothes right now will only turn the funk into pure depression.
I have to say that Kole has been the BEST little baby. And I have honestly loved having a baby in the house again. It's just what having a baby does to ME that I don't love.
My mom came into town again (cue cheers in the background!) so I decided that while she's here and I have some extra help with the kids I'd rearrange a few things and do some organizing. Hoping that helps with the funk since chances are, I'm not going to wake up tomorrow and see Natalie Portman in the mirror.
My sister called today and when my mom told her I was organizing again she said that if I did another organizing post she'd stop reading my blog. Hmm. Guess I'm losing one of my favorite followers.
Here are a few pictures of the mess I started making today. When you're organizing, things always get a lot worse before they get better.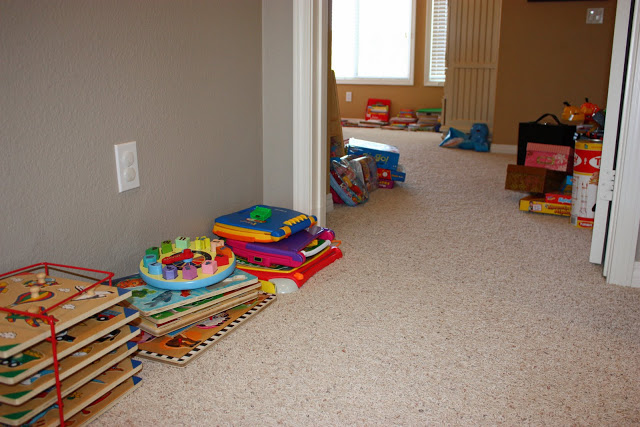 I started pulling so many things off of shelves that I had to line the halls and outsides of the rooms with all of the stuff so we still have room to walk.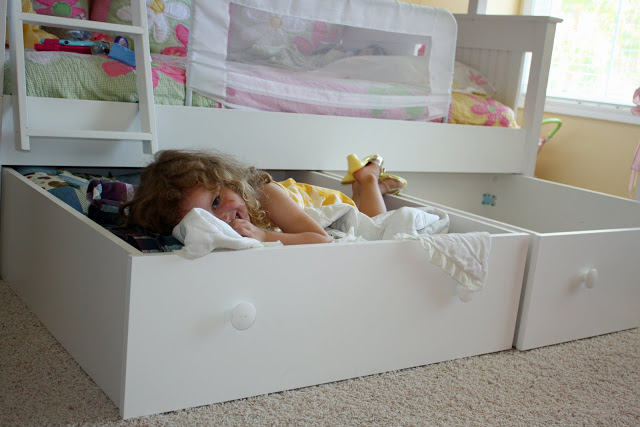 Addison, as always, was a huge help.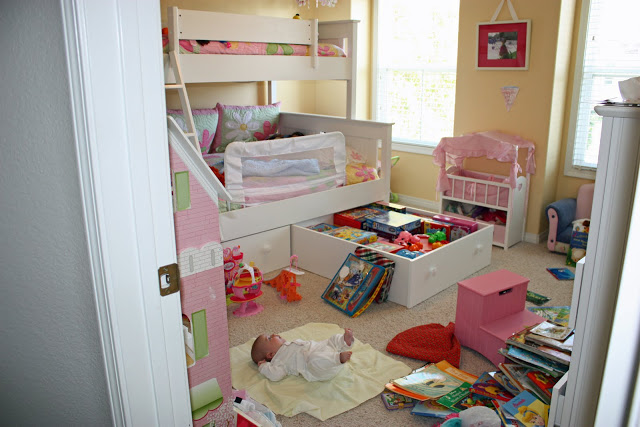 My little guy is another helper that is always close by. Don't know if this project will cure my funk, but it's worth a try.
No "after" pictures yet. Are you still around Carly?
xoxo, Erin