After just recovering from having a baby and then having major surgery I have been on the receiving end of a lot of help from others. Last Friday Jessica Turner did a great post on tips for when you're preparing meals for others. We had meals coming to us for over two months and I learned SO MUCH from my friends. Things that really helped our family that I want to make sure to do when I'm trying to help a family in need. These are some of the kind things people did for us that I want to remember…
-If you're the person in charge of scheduling meals, schedule them for every other night. People always make such a delicious big meal and there are almost always leftovers. It's so nice to have the meals spread out so you can enjoy and eat everything.
-Call ahead and let them know about when you'll be by. Obviously when people are bringing you food you are so appreciative that you don't care when they bring it, but everyone was so kind to call or e-mail me and ask when a good time for us was or what time did I usually feed my kids. I ended up being so grateful for that because then I wasn't upstairs bathing the girls or feeding Kole right when they came by. It also allowed me to, ya know, have the spit up wiped off my shirt ahead of time.

-Take something for the kids. So many people either made "kid friendly" meals for us or if they didn't, they brought sides that my kids would like…rolls, fruit, some plain pasta with butter, etc. This was so nice. I never would have thought to do that. Little kids are always picky (mine are the worst!) and it was great to feed them with the meal too.
– Take-out is a great option. I had several good friends and neighbors who knew restaurants I liked and picked up take-out for us instead of cooking a meal. This was such a treat! It was also a light bulb moment for me. Why have I not been doing this all along!? Kenny will be bummed because the times I take others meals are some of the few times I actually cook. But let's be honest here – something I've cooked isn't helping anyone out anyway.
-Team up with a friend. Some of my friends made a meal together. One made the main dish and another did the salad, bread/rolls/rice, and dessert or vise versa. Great way to still take a nice meal even if you don't have time to make everything yourself.
-Wait until things have calmed down. One thing my friends and I have talked about is how nice it is to have a meal brought by awhile after you have had a baby. (I was REALLY blessed this way because we had meals brought after I had Kole and again after I had surgery.) Right after you have a baby your family is usually in town and you are on a high from meeting your sweet newborn. Then reality check. All of the sudden the baby is 6-8 weeks old and fussy and your family and help are gone and you haven't slept well for 3 months (because end of pregnancy is so freakin' uncomfortable!) and you feel like at any moment you may lose it. This is always a nice time for someone to bring a meal. :)
-If you don't have time to make a meal, you can still do something to help. So many people sent me flowers or brought by dessert or treats. Friends brought by magazines to read while I was on the couch recovering. One friend sent me my own copy of New Moon. :) Another brought by my favorite lemonade, some cookies, and a Care Bear DVD for my girls to watch. So thoughtful! I turned on the movie for the girls when Kole was sleeping, ate a cookie, drank some lemonade and instantly felt better. Friends brought coloring books for the kids and picked up groceries and things I needed from the grocery store and Target. Another friend dropped off her 12 year old daughter several afternoons to play with and entertain my girls. Such a huge help to me and something my girls really looked forward to. I can't tell you how many times I got home and found something like this on my doorstep –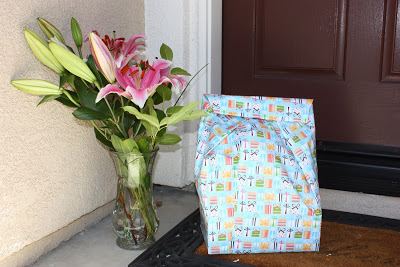 some type of treat or little pick me up gift. Everything meant so much to me and was such a huge help. I made a note to myself that if I don't have time to make a meal for someone, there are lots of ways to help and show you care.
**side note
-Last little lesson I learned…when people are going to be bringing in a lot of meals to your house, teach your family appropriate, appreciative behavior. One night a friend was bringing dinner and had called to tell me she was running late. Kenny got home from work and I said "so and so is bringing us dinner but is running a little late so we can wait to bathe the girls." Kenny (totally kidding around and being his usual sarcastic self) made some joke about how she really needed to be on time because he was hungry. I rolled my eyes and he laughed at himself and we didn't think a thing of it. So 20 minutes later my friend arrives and Ellie answers the door and says "Why are you so late!!? We're hungry!" I could – have – died! As soon as my friend left I pulled the kids aside and reviewed what is and isn't appropriate to say when someone brings a meal. Then I pulled Kenny aside and reviewed what is and isn't appropriate to say in front of the kids. Nice.
Taking someone a meal is such a generous thing to do. The meals people brought us seriously saved us over the last two months (and they all tasted so good!). We were beyond grateful and incredibly touched by the kindness that was shown to our family. I can't wait to return the favor by remembering the tips above and doing the same for someone else. There are a lot of good people in the world and I thank God every day that I'm surrounded by so many of them.
xoxo, Erin