First, I have to share my happy news. Kole only woke up ONCE last night. What? What's that I hear? Angels singing? Isn't that simply the best when you wake up in the morning and look at the clock and realize your newborn has slept longer than ever before? Such a great feeling. Of course he won't do it again for a few days because now I expect it and newborns thrive on unpredictability. I actually think he's sleeping better because I've recently enrolled him in my "baby boot camp" – but that's a post for another day.
Speaking of other posts, I'll start working on one that explains how I do my blog header and sidebars (since several of you asked so nicely). But for now I just wanted to share a little story behind this photo shoot –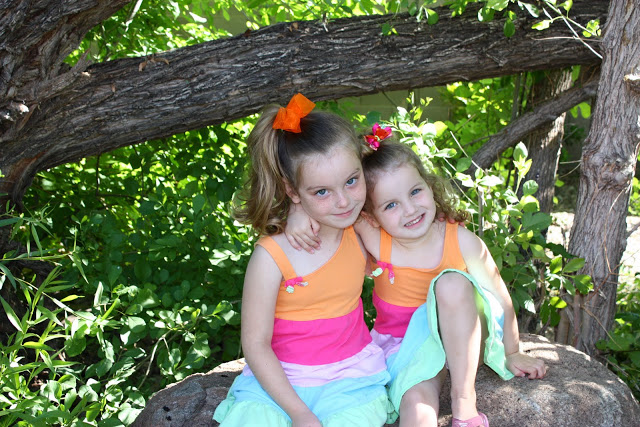 (the girls insisted on getting a picture with Lexie – a favorite doll that was once my favorite doll when I was their age)
One morning last week when I was doing Ellie's hair I decided I was so sick of ponytails (which is all I've had time for lately) that it was time to mix things up. So instead I did her hair in a side ponytail. Because I'm wild and crazy like that. Anyway, Ellie was not impressed. She didn't like her hair and wasn't shy about letting me know it. I told her to leave it alone because we were heading to see some friends and after we came home she could take it out. She stomped off into the other room mad and a few minutes later while I was doing Addison's hair, she slipped this note under the bathroom door –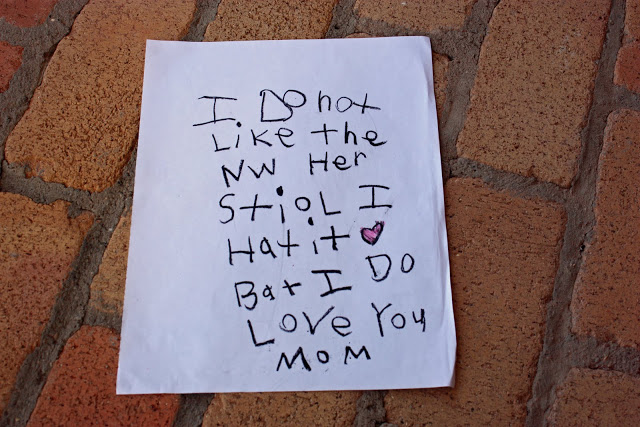 Translation: I do not like the new hair style. I hate it. But I do love you mom.
Made me smile. Glad to know that even when I've made her mad she still loves me.
No matter how hideous I do her hair.
xoxo, Erin