I'm tired. My chubby little boyfriend is wearing me out. He just turned 8 weeks old today and is starting to wear 3-6 month clothes. He's also starting to smile. Mostly at trees and lights and the fan, but still – he's smiling.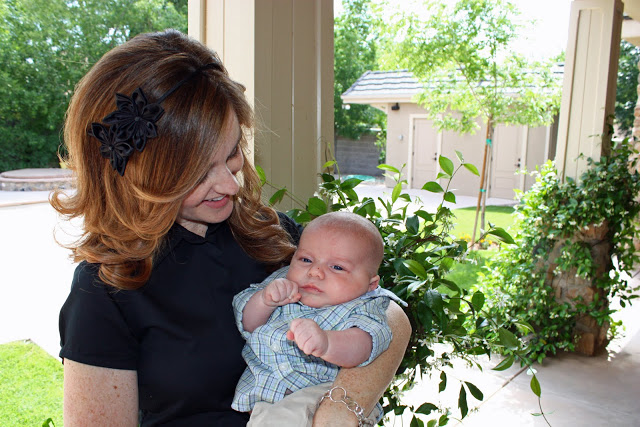 I love this little guy so much. Love his sweet little feet, love his fat rolls, love his head that's always smothered in baby lotion but FOR THE LOVE I've got to get some sleep. Kole is usually up only a couple of times in the night, but it seems like each time we're up, we're up for awhile. You know how it goes – feed the baby, burp the baby, change the baby's diaper, finish feeding the baby, baby spits up all over sleeper, change the sleeper, baby is now alert and awake, walk/bounce/rock the baby back to sleep, crash in bed, baby is up and ready to start over again all too soon. Gotta love a newborn. Good thing he's so adorable – with those sweet little feet, fat rolls, and head that's always smothered in baby lotion.
On another note…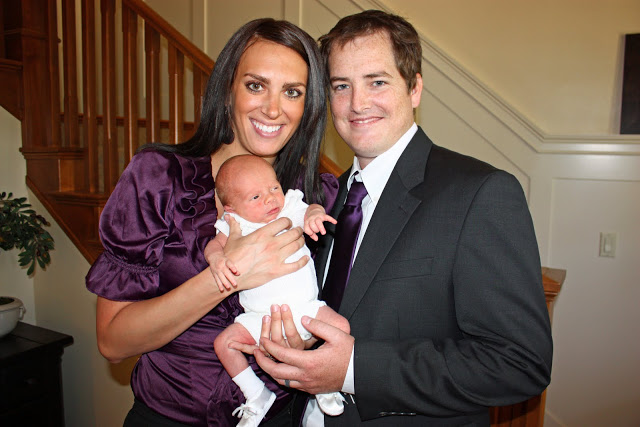 my brother and his wife blessed their sweet newborn in church last weekend because both families were in town. Love this picture of the three of them. Dayna doesn't look like she was ever pregnant only ten days later. Her full term belly looked like me at three months. I thought it would be so fun being pregnant at the same time. Yeah…not so much. I told her I really wanted to like her, but she was making it awfully hard.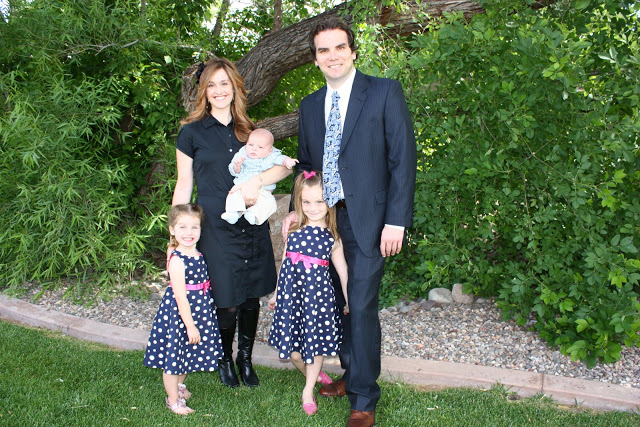 We took our first family picture with
Kole
just before heading to the blessing. What a morning that was getting all five of us dressed and hair done and ready to go! It's always funny to me how completely crazy Sunday morning is trying to get ready for church. I'm usually shouting out orders from my bathroom – "Ellie! get your shoes on…Addie! why are you changing your dress AGAIN!? Kenny! Round up some snacks and coloring books." All while curling my hair, putting on my earrings, and brushing my teeth at the same time. Adding a newborn to the mix makes things even more interesting. Then you get to church and quietly sit down and everyone looks so calm and put together. And the hymns are so peaceful and soothing. And I spend the rest of the meeting trying to unwind from the hectic morning. I do have to say though, that there is nothing like holding a sleeping baby in church. Watching
Kole's
little newborn faces while he slept made it much easier for me to unwind from the hectic morning on this particular Sunday. And my brother gave his son a beautiful blessing. And I cried (not that crying is anything new for me these days).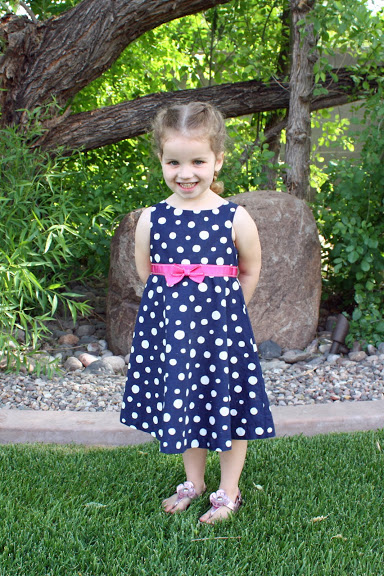 Addison and her real smile… a little better than the one she pulled in the family picture.
Aside from my mom's surprise party and the blessing Sunday, we spent most of the weekend in the pool (or lounging nearby the pool).
xoxo, Erin