Just sharing a few more pages from Ellie's book. I'm finally caught up! Now hopefully staying on top of it won't be too difficult. (If you're new to my blog, the first half of her book was posted
here
.)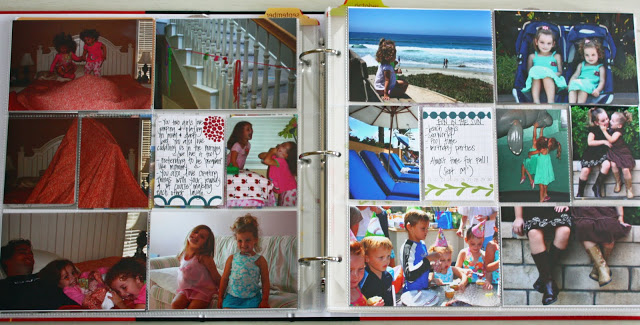 I added 8×10's to a couple of layouts. A fun, easy way to highlight special pictures like these from Halloween.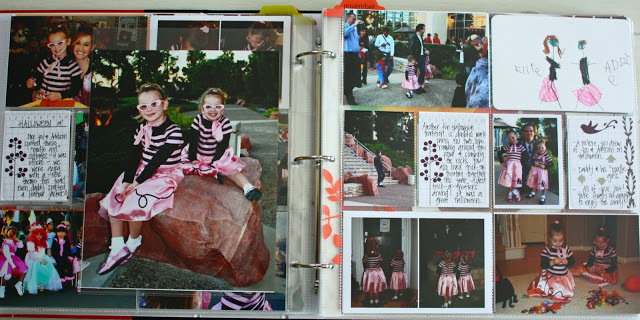 I had an extra 4×6 slot at the top right so I had Ellie draw a picture of her and Addison in their poodle skirts. I think the blue faces add a nice flair. :)
I used some of the extra matching 12×12 paper that came with the kit as a background for Ellie's turkey.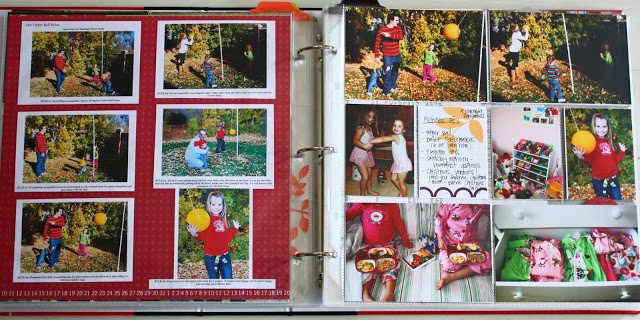 I also used it as a background for the pictures I printed from this blog post on "Our Tether Ball Rules."
Smaller page protectors work great when I don't have as much journaling.
These journaling inserts were printed from my "Photo Shoot Gone Bad" post. Then I had Ellie write some journaling on the 4×6 cards. I asked her what she thought of when she saw these pictures and she said, "daddy acts funny when the Chargers win." :)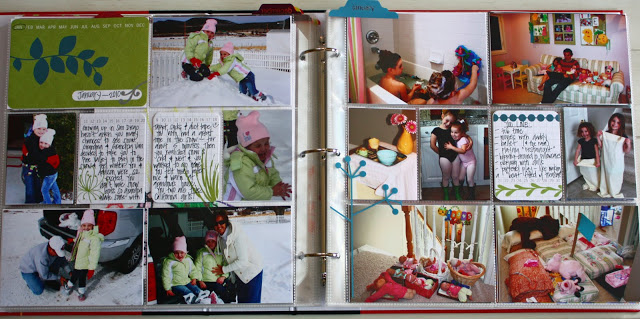 Our minute in the snow and some random things Ellie loves.
Ellie's 6th birthday at home…
and at Disneyland.
These are February pictures including the mail truck her grandpa made for her Kindergarten class. I also added the hearts she made her daddy and a letter she wrote us for Valentine's Day.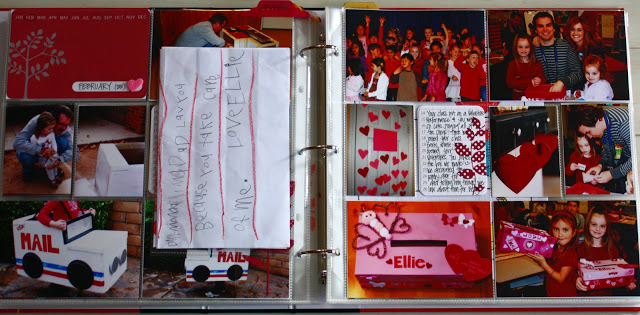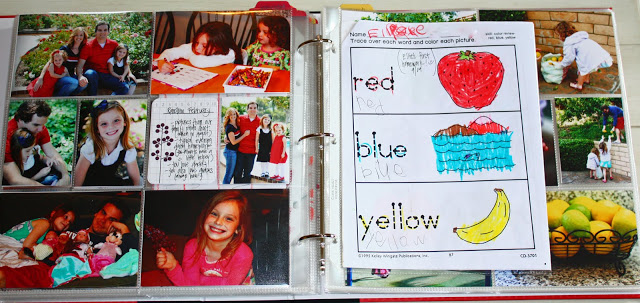 Since one of the random pictures on this page was of Ellie doing homework, I added her first Kindergarten homework packet. This is one of my favorite things about this book. I finally have a place to store pictures AND additional artwork and memorabilia. Everything is all together – organized in one place. Love it!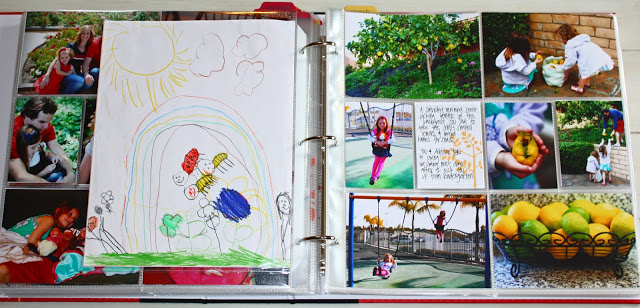 I've been keeping her book out on our living room coffee table and it has been viewed many times.
The girls LOVE looking through it (especially because it's full of recent pictures) and Ellie is so excited that it's her own book. Seeing how much she loves it totally motivates me to stay on top of it and continue to do this for my kids. Now I have one month before the baby comes to get caught up on Addison's. I'll try to post some progress each Tuesday to keep up with
Jessica Turners Project Life Tuesday
. Sorry to those of you who get tired of this topic!
When I set a goal to start these books
I said I would post pictures of my progress on my blog along the way to keep me motivated… and it's working!
p.s. Thanks again for all of the nice comments on Ellie's book when I first posted it. You have all been so kind! Several of you have asked me questions about my scrapbooking system (what I'm doing for family books, etc.). I'll answer some questions in my next post since right now I'm in the mood to watch Chuck. Kenny keeps laughing so it must be a good one. :)
xoxo, Erin