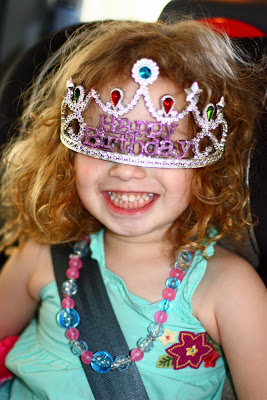 (
Lovely picture. Addison was being…well…Addison.)
We moved Addison from her toddler car seat into a booster seat this weekend. I don't know why that was the change that did it, but all I've been thinking about since then is how big she is all of a sudden.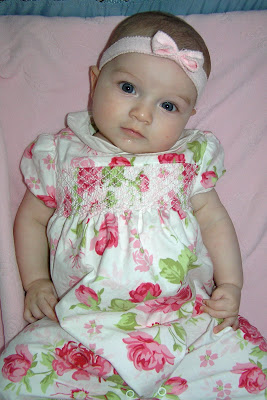 Didn't she JUST look like this? Like yesterday? Every mom says…"it goes by so fast" and
when you're in the everyday trenches of being a mom to little ones – no – it does NOT feel like it is going by fast. In fact, some days go by painfully slow. But, alas, one day you move your baby into a booster seat in the car and there you go. All of a sudden she isn't a baby anymore. And it suddenly feels like it IS all going by fast. Too fast.
I've been remembering a lot of things lately as I get ready to have another baby. Things like how good Pampers Newborn Swaddler diapers smell (before baby wears them of course), how much STUFF babies require, and how NOT fun the last month of pregnancy is. Mostly though I've been remembering things about when my girls were babies. I remember being so overwhelmed with love for Ellie that I was nervous about having another one. How could I ever love anyone as much as I loved Ellie? It didn't seem possible. And then I had Addison. I'll never forget the first night I spent with her in the hospital. She was sleeping next to me on the little rolling table bed and woke up and started fussing. I began talking to her and she just stopped. And her little head turned toward my voice. It was so obvious she knew me. And right then and there I was smitten. Completely overwhelmed with love for her. I cried and cried. And it was then that I totally understood how women can have six or more children and love each and every one of them more than life itself.
There are a lot of challenges that come with being a mom to little ones – the sleep deprivation, the constant clean up, the sibling rivalry, the struggle over every little thing from getting the kids dressed in the morning to getting their teeth brushed at night. But in between all of that you have these wonderful little moments. Quick fleeting moments when you make a connection, when your kids are laughing together, or when they say or do something so incredibly sweet. And you know it's all worth it and you remember how much you love being a mom.
I love sharing these happy moments of my day with Kenny each night. So fun to have someone else who gets it. The other person who loves your kids as much as you do. When we're hanging out each evening we always talk about what Ellie said that was so funny or what Addison did – that most likely wasn't funny at the time but now that it's over – is pretty funny. ;) We talk about things we're worried about – Addison is a horrible eater – is she getting any nutrition at all? Ellie has a hard time staying focused in school – is she picking up on everything she needs to learn? Then we talk about how proud we are of them, how close the two of them are to each other, how much we love them and want the best for them.
I'll be honest. I'm really nervous to have a third. Not nervous about the same stuff that I was nervous about with my first two. Not at all nervous that I won't love this little one more than life itself. Not even nervous about having a boy (although maybe I should be!). Just nervous about the juggle. Will I be able to handle three? To keep it together? Will I still have enough time to be a good mom…and have a little time left over to be me? Will I ever organize, scrapbook, exercise, or blog again!!?? Sounds silly I know. But it's doing those little things that I love some of the time that allow me to be a good mom the rest of the time.
My goal is to just take it one day at a time. That's really all we can do as mom's, right? Focus on and remember the good. Be grateful each morning for a new day to spend with my little ones who mean so much to me. Life is good. Being a mom is great. And if remembering this doesn't help me survive, at least I won't be pregnant anymore!!!
(Cue the cheers in the background…) :)
xoxo, Erin