Tis the season! For LOVE. And for making a Valentine box. Was Valentines not the BEST holiday when we were all in Elementary School!? I have great memories of decorating my box every year and being SO excited to get Valentines from everyone. I remember the year my dad helped me turn my Valentine box into a typewriter (I loved typewriters and wanted to be a journalist when I grew up). We went all out – conversation hearts for all the keys – it was cool. I remember how fun it was to deliver Valentines to neighbor friends. The thrill of leaving the Valentine on the porch, dinging the doorbell and running and hiding…do kids still do this? I remember in 4th grade a boy had a crush on me and he would throw candy at me when I got off the school bus because his stop was after mine. (I hated it – I was always SO embarrassed). For Valentines he threw a rainstorm of candy and stuffed animals. I thought I was going to die. My sister laughed her head off. Aside from that memory, my Valentines memories are great ones. Fun to think about Ellie starting to make her own Elementary School Valentine memories. She doesn't ride a bus so we can hopefully avoid crazy candy launchers.
While she got to work attaching stickers to her box…
I made this little fella.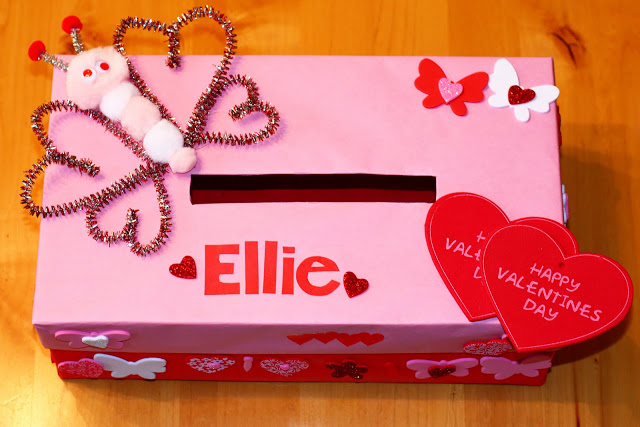 And soon her box was done. She was SO excited about it. Today she got to stamp and sort mail, model the mail truck, and wear a hat and carry a bag of letters around to deliver.
I officially want to go back to Kindergarten.
xoxo, Erin