K – I'm having a hard time with this whole boy thing. I'm excited about having a boy, but not having much fun shopping for one. I went to the mall last week in an attempt to get some sleepers/clothes for our little guy and came home with these:
matching tutu skirts and flower headbands for the girls. A little Valentines Day surprise – cute…right? Anyway, this isn't the first time this has happened. I venture to the stores on a mission to buy stuff for Kole and come home with more stuff for the girls. I hope I'm a good 'boy mom' because so far I'm failing miserably.
So here's my dilemma. I'm having the hardest time finding new crib bedding I love. After Addison moved out I turned half of the nursery into my scrapbook room. I'm not willing to give that up.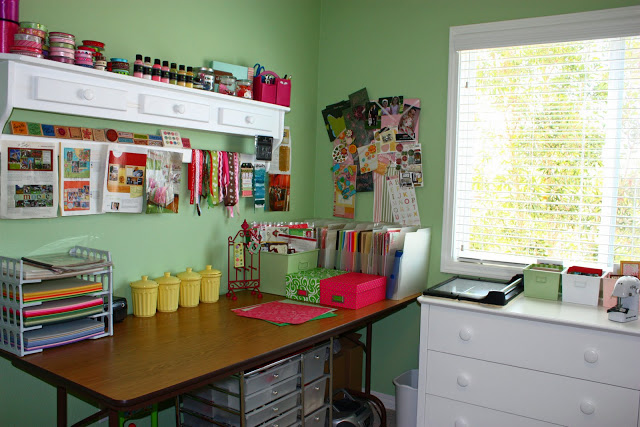 The other half of the room still looks like this:
Nice and girly. I don't want to change my green paint because I love it and I'm not buying new crib furniture for my last baby so I just want to find some cute boy bedding that has green in it and will go ok with the rest of the girl looking room. I know. Poor third kid. We're hoping to be in a bigger home within a year or two though and when we are, I'll go all out with an all boy room – no scrapbook supplies included. But until then, I just need some boyish crib bedding he can sleep in for now. He should have something that looks like it was meant for him since he'll be playing in a pink playroom and sharing a pink and green butterfly bathroom with his sisters (and wearing pink tutu skirts if I can't get my act together).
I've looked around in a few stores here and on-line at a few places, but I'm not finding anything I love with green in it. Everything has too much blue and will clash with the paint. This one from Pottery Barn Kids will work…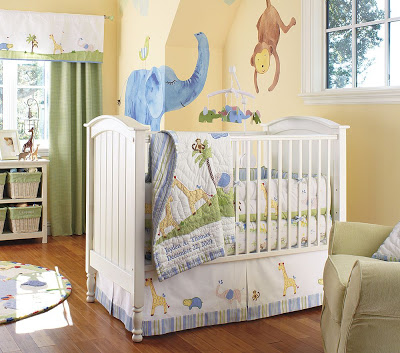 but I'm not in love with it. So my question to you is: do any of you know of any websites with cute boy bedding? Any San Diego stores I might be missing? Your help will be much appreciated!
(especially by Kole) :)
xoxo, Erin