I'm awfully sorry that I've neglected you lately but I've had a busy couple of weeks. You see, Kenny and I try to take a trip each year without the kiddos and while we didn't have the time to head to Virginia like last year (my favorite place to be in the Fall), we did find a way to escape for a quick weekend to Denver, Colorado. Where the Chargers were playing. Of course. The deal was that if I went to the game with Kenny, the rest of the trip would be 'Erin' style. This meant lots of Christmas shopping, eating out, exploring the city, and … being the first in line to see "New Moon." And that's just what we did.
The game ended up being really fun. Because the Chargers won. And we were surrounded by Broncos fans. And they didn't like us much. But we didn't care. Because we won. And we were wearing huge parkas that we borrowed from my parents. Because we don't own parkas. And we were freezing cold. Even though underneath our parkas we were wearing four layers of clothes. But the game was still really fun. Because the Chargers won. And Kenny was so happy. Which always makes me happy too.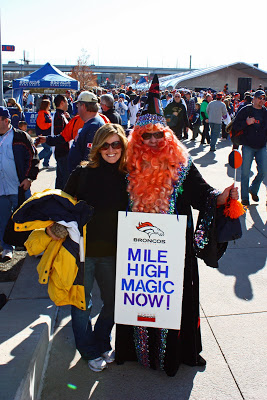 While in Denver we also mingled with strange Broncos fans.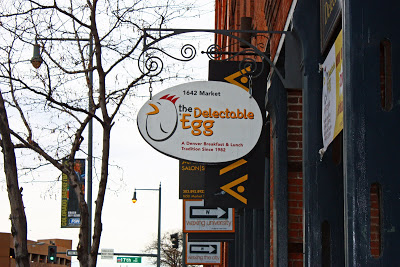 And ate breakfast everyday at The Delectable Egg. I would eat there every morning for the rest of my life if I could. And I don't even love eggs. But their Belgian waffles were amazing.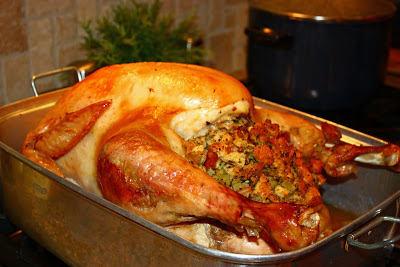 Then it was back to Southern Utah to spend Thanksgiving with our families where we had a wonderful holiday with loved ones and enjoyed eating lots of yummy turkey. Speaking of eating, dear blog of mine, that is another reason I haven't posted lately. I've been way too busy eating. Recently eating has become quite a priority for me, and I'm all about priorities. I seemed to have timed this whole second trimester during the holidays thing just right. I am hungry all the time and lucky for me, there seems to be delicious food around all the time. The other night I had downed a whole burrito and was starting on someone else's leftovers when Kenny called from the couch "come here babe…I want to cuddle with you for a minute." I know what he really meant was "C'mon babe. Put down the fork and step away from the kitchen. Slowly now…you can do it…"
It's all good. I am full of gratitude and plump and happy. And hope that after this weekend the rest of you feel the same.
xoxo, Erin