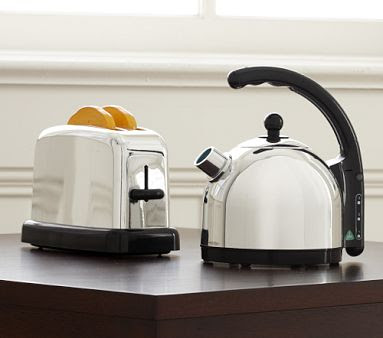 Just a couple of fun things I ordered on-line and wanted to share. If you're like me and have little girls at your house this tea kettle and toaster from Pottery Barn Kids are sure to be a hit for Christmas. The tea kettle makes the sound of water boiling and tea being poured out when you tip it. The toaster is just like a real toaster with fake toast that pops up when it dings. Addison LOVES these. Every time I've taken her to PB Kids she has played with them the entire time we're in the store. When I went to buy them they were sold out in the store so I had to order them on-line. They are a bit pricey (30 each) so if you were just going to get one, I'd go with the tea kettle. The sounds it makes are SO REAL…it is the coolest toy for little girls who are into tea parties. You can order them here.
If you're into scrapbooking I'm sure you've heard about Becky Higgins' new "Project Life." Last year she came out with a new way of scrapbooking with her "Project 365" where you take a picture a day for an entire year. I didn't buy it because for me, this blog is our family scrapbook, and for my kids' books I didn't want to have to commit to a picture a day. Well this year she tweaked it a little. The concept is the same – you're just putting in pictures with a little journaling – but you don't have to commit to a picture a day. You can do a layout with pictures from the week and then the next week fill the page with pictures from a b-day party, etc. I bought two of them thinking I'll have one for Ellie and one for Addison and this next year I'm going to try using these for their individual books. I just can't keep up with scrapbooking for them and I don't think things are going to get any easier with one more child in the mix! (and another baby book to get done) The thought of just having to organize pictures (which I take a million of anyway) and do a little journaling in an album that is already all put together is so appealing! Plus it just seems like an easier way to showcase the everyday stuff instead of all of the "events". The pictures can be totally individual and random. Then I can be creative and scrapbook for our holiday books and whatever else I want when I have time and am in the mood…while hopefully staying on top of my kids' albums. Plus everything that comes in the kit is just so cute and fun! If you're into digital scrapbooking, Becky is making a digital project life too. I personally prefer the paper stuff…it's all about the supplies for me. :) Anyway, if this sounds like something that may work for your family or kids' albums you can learn more about it
here
. I'm very excited about this!
Who says you have to be in stores to have fun shopping!? :)
xoxo, Erin