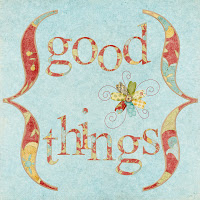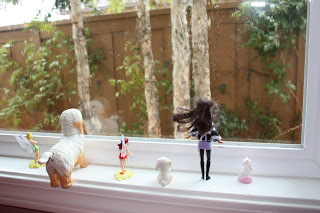 Yesterday was the best day. We woke up to POURING rain – I'm talking torrential downpour. It was dark, wet, windy and cold. I was so not in the mood to bundle the girls up in rain gear and send Ellie to preschool. (Stuck indoors with hyper-active children… I remember all to well from teaching school what rainy days are like!) Plus I wasn't in the mood to take off my pajamas. So I didn't. I kept Ellie with me and the three of us stayed home. All day. We never left the house. Usually this isn't possible with my little ones because they get stir crazy and start to drive ME crazy, but for some reason the stars aligned and everyone was happy and in the mood to be home. We watched the rain (so did Ellie's "friends"), made Valentine cards, watched a movie together (Return to Neverland), and then the girls played together while I cleaned, did laundry and a little scrapbooking. Kenny came home from work that evening and we all looked just like we did when he left. It was a perfect pajama day and I went to bed that night feeling very lucky to have spent such a fun day at home with my girls.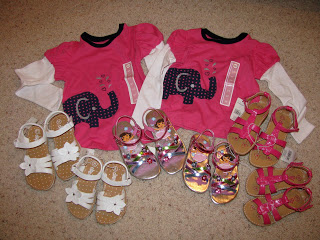 Spring sandals are in! I love Target sandals for my girls. They are so cute and so cheap! AND how cute are these shirts for $5 each. Love them! I'm still actually debating if Target is really a good thing since I go there for paper plates, cereal and toilet paper and leave with new clothes and shoes for the girls, a pair of earrings, new scrapbook supplies, seasonal home decor, organizing bins, and ANOTHER pair of pajama bottoms. We have a love/hate relationship with Target at our house. I (the buyer of all things too cute to pass up) love it. Kenny (the family financial planner) hates it. Don't worry babe. Target just may have a surprise or two for you as well.
The sound of popcorn popping. Great sound. Means the girls are in bed and it's time to sit down, pull out my laptop, turn on the tv, and chill with Kenny.
The smile on Ellie's face when I pick her up at pre-school.
Listening to Addison playing pretend
. Especially when she puts all of her little "friends" in time-out. Clearly she has spent a great deal of time there herself.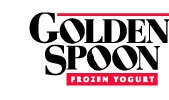 LOVE LOVE LOVE
Golden Spoon

yogurt
. A hangout I frequent often. I banned the place for awhile after my Coach sunglasses were stolen there. I left them on the counter, stepped outside to check on my girls, and when I came back they were gone. They were an anniversary present from Kenny and I was SO mad. But…sunglasses have been replaced and I couldn't stay away from Golden Spoon for long. The place calls my name. (
New York
Cheesecake is to die for!)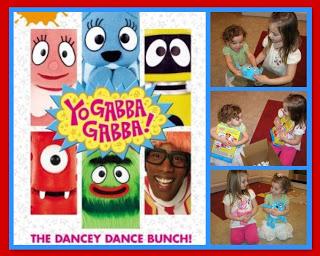 So we've had
a bit of an obsession
at our house. The show: Yo
Gabba
Gabba
. The plot: there is none. The music: terrible. The characters: hideously strange animal/alien things. The host: strange, skinny black man in awful orange wig. The problem with all of this (aside from the obvious): my girls love it! This show is so bad I never know whether to laugh or cry when it's on! It came on once at the end of a Little Bear we had recorded and Addison fell IN LOVE with the characters. She has assigned us all one to be…she is
Toodee
(the blue cat/dragon), Ellie is
Foofa
(the pink flower thing), Kenny is
Muno
(the one-eyed red guy), I'm
Brobee
(the green one "because mommy loves green"), and Dayna – my sister-in-law is
Plex (
the yellow robot). Addison worships Dayna. Are these names for real? Anyway – the show is awful but I get the biggest kick out of seeing my girls when it's on. They are GLUED to the TV or they are up dancing along with the weirdos. So…because Addison learned to go potty and Ellie was such a good helper my cute mom mailed them their own
Toodee
and
Foofa
dolls. They were
ecstatic
. (thanks mom!) Guess I'm stuck being
Brobee
and watching this strange show a little longer…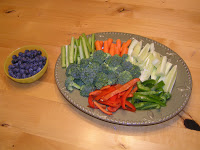 Girls…these are vegetables. And a blue fruit we don't usually eat. I'm
TRYING to feed my girls more veggies
. It's not going well so far… Addison exclaims "pee-yew stinky diaper!" every time she sees them on her plate (that's what she says anytime she doesn't like something). Oh well. I feel good about making an attempt and plan on being
persistent
. I don't scare that easily.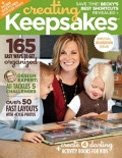 The current edition of CK (my fav scrapbook magazine). First of all my idol Becky Higgins is on the front – AND get this… it's a special organization issue.
I was beyond giddy when this came in the mail!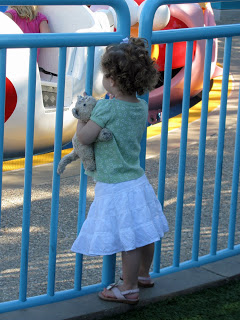 Along with Addison's
Gabba
Gabba
obsession she is also in love with
this outfit
. This green shirt and white skirt are all she wants to wear anymore. Has to put it on first thing in the morning…then if I have the strength… I fight her to get other clothes on to leave the house. Then the second we're home again the outfit goes right back on. Most days (if it's warm enough) I just let her wear it. She has had this on everyday for the last month. I'm so sick of this outfit! I have to wash it at night when she's asleep. Good thing? Not really right now, but I'll save this outfit and I'm quite sure that someday I'll look back on it as a good thing.
So I love zoning out and letting my mind wander. Something about the random randomness of my thoughts always makes me happy. I tend to zone out at various times throughout the day. (Often happens whenever Kenny starts a discussion including words like taxes, finance, or bills) Some may call this being spacey, but I like to think my mind is extremely complex and always needs to be in motion. :) This happens whenever I'm on the treadmill, which is why I like treadmills so much. A few random thoughts during this morning's jog…
Is today only Tuesday? ….I have GOT to call and find out what I need to do to get Ellie registered for Kindergarten ….wait – today is
Koni's
b-day! Crap. Forgot to send a card. Why didn't I write that on my to-do list? Oh yeah, I did. I just didn't read my to-do list….I wish I looked like Natalie
Portman….
thank goodness for this song (
So What
by Pink) because it's the only thing keeping my feet moving right now….I need new gym shoes….is American Idol on tonight?….I should wash sheets today….my new camera is probably too big to carry around with me everywhere….wish I knew how to wink….why am I thinking about winking?….love it when my mind wanders….I should put this as a good thing on my blog.
xoxo, Erin