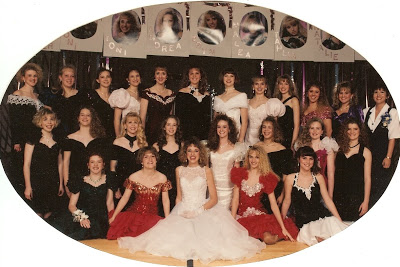 So the other day my friend
Malea
posted this lovely
Jetette
Review group picture on
Facebook
. ("
Jetettes
" is the name of the dance team I was on in High School) Everyone was tagged in the photo and we were all having a lot of fun chatting on-line back and forth… laughing about this picture and the good
ol
' days of dancing together. We were such a close group of girls and always had a blast together. I mentioned how great it would be to see everyone again and then Lindsay had a fabulous idea. The current
Jetettes
are having their review (end of the year performance) in March. What if we all head to St. George and get together to catch up and then go to the review? Next thing I knew we were planning our first ever
Jetette
Reunion! I'm so
freakin
' excited for this!!! Some of these girls I have stayed in touch with, but a lot of them I haven't seen in years! Everyone is booking plane tickets and making plans for the party! We're meeting at my mom's house for dinner, a
slide show
, game and plenty of time to catch up, and then heading to the review. Our drill team advisor is even going to stop by and is reserving us seats at the review. I can't wait to see everyone again! I have so many fun memories of all of our practices, competitions, half-time performances, bus trips and get-
togethers
. I'm counting down to our reunion.
We are going to party like it's 1994!!!
Thought I'd post a few pictures of us that year together…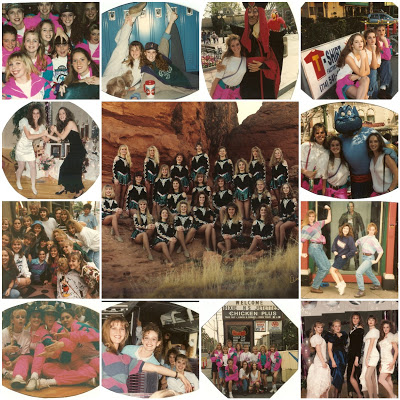 Side note*** Nice that we aren't dancing in any of my pictures (I think we spent more time messing around). AND nice that my pictures are all grotesquely cropped because they are from my old scrapbooks (why did we do that?).
xoxo, Erin