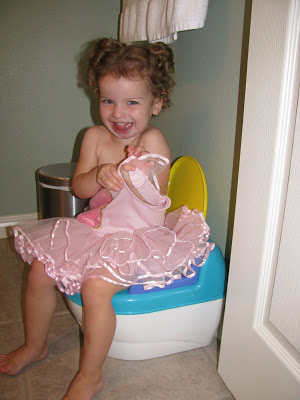 Add – I think the clothes have to come off BEFORE you sit on the potty.
I'm in for a long day. I've been putting off potty training Addison for some time now. The painful memories of potty training Ellie are still fresh in my mind. And this is Addison. Remember this post? She is my Jekyll/Hyde child. Sweet and delightful one minute – stubborn and mischievous the next. She started showing signs of being ready in October, but we were traveling a lot. Then of course I had to wait until after the busy holiday season. Our trip to Disneyland was my next excuse. Alas, I'm out of excuses. It's got to be done. I am NOT looking forward to this.
I'm all set with our potty chart and stickers, bubble gum (Addison's all time favorite treat), and LOTS and LOTS of my Resolve Carpet cleaner. Wish me luck. I'm gonna need it.
xoxo, Erin