Where can you go to see great fireworks, get chills singing the National Anthem, eat WAY too much nacho cheese, hug and celebrate with random people you've never met, and scream louder than you ever have? A Chargers playoff game. Kenny and I just got back from the best game we have EVER been to! The Chargers played the Colts for their first playoff game here in San Diego and the crowd was absolutely wild. It felt like a party the second we arrived at the stadium. The game went into overtime (17 to 17) and then the Chargers scored and won the game. What a rush!!! Our voices are gone and we are flying high. GO CHARGERS!!!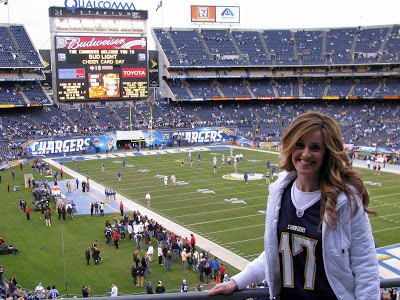 Just arriving at the game…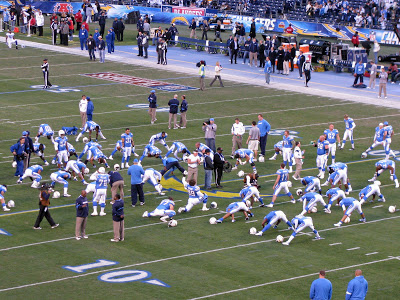 Kenny likes to be plenty early to see the players warm-up. He has his binoculars in hand and his mini radio with one earpiece in so he won't miss the game
commentary
. He takes this very seriously. :)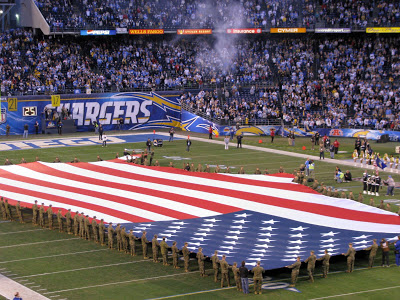 I love the pre-game ceremony. I always get goosebumps seeing the flag, singing the anthem, and hearing the jets fly over head. They also had amazing red and blue fireworks.
Game time!!! At first I was just excited for a date night and some nachos (love football food!) but by the end of the game I was a die hard Charger fan!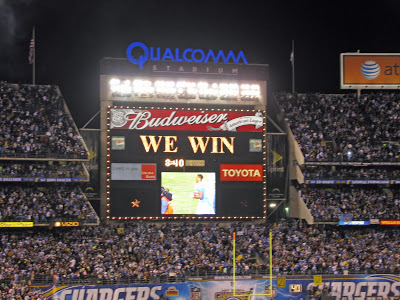 The scoreboard at the end flashing WE WIN WE WIN WE WIN!!!
Qualcomm
was such a party of people screaming, dancing, hugging and high
fiving
that I didn't want to leave! I'm so hoping they win the next game so there might be another playoff game here that I can go to. I had a total blast tonight! K – so I guess I'm starting to understand my husband's football obsession a little more. Just a little. :) GO CHARGERS!!!
xoxo, Erin