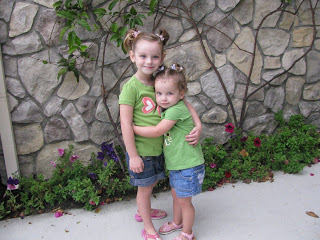 My girls and the color green – two very good things.
Move over Addison! So when I had baby #2 I lost my scrapbook room. That was a sad thing for me, but at the time it didn't matter too much because I was so busy and overwhelmed with baby #2 that I didn't have time to scrapbook anyway. Now that my baby isn't as much of a baby anymore (Ellie will tell you – she's a toddler) I'm finding I actually have a free minute or two every once in awhile to (gasp) do something for me!??!! I decided to do some rearranging in Addie's room and make it into a nursery/scrapbook space. Turned out better than I thought and I'm hoping it will inspire me to start scrapbooking the countless number of pictures I've been taking.

What was life like before
i-pods
? They really are such a good thing. They can make anything fun…cleaning, exercising… also a great way to tune out fighting children.
Ellie has been really into favorites lately and we've had
this conversation
countless times this week:
Ellie – "mom…guess what!?? My favorite color is pink, my favorite animal is a unicorn, my favorite food is cupcakes, my favorite friend is Amy, my favorite dress is my blue one, my favorite place to be is a swimming pool with a slide, my favorite princess is Pocahontas……..
What's your favorite color mom?" (FYI – that would be green)
She's a girl who knows what she wants.

My husband is having a great time right now
(despite the Chargers loss this

afternoon!). In fact, I'd say he is having the weekend of his dreams. It consists of football, football, and of course – more football. Kenny met my brother, dad, and
brother
-in-law in Denver Sat. morning for a guy weekend. They go each year to see the Chargers (Kenny's team) play the Broncos (Austin's team). The game was so intense! They are having a blast and I'm happy that Kenny is getting some much deserved down time. (Don't get too cocky Austin…Chargers are gonna come back strong!)
So while Kenny was having a great time at the Charger game, I was busy with my triple action
Resolve Carpet Cleaner
. Moved all of my scrapbook supplies into Addie's room….forgot to move my
Color box
ink pads high enough that the girls couldn't reach them. Yes – I walked into quite a sight last night. I was downstairs unloading the dishes and I had the monitor on so I could hear the girls playing upstairs. I was just thinking wow – they're playing together so nicely…haven't heard anything for awhile. Then I heard Ellie say "Oh Add – I love that color on you – purple is so pretty." Huh? I walked upstairs and into Addie's room to find everything COVERED in ink. Their bodies, clothes, and worst of all – my carpet. It was a rainbow…pink, purple, green, yellow. I was livid. I chewed the girls out and threw them in the tub (both crying) and then went to work with my Resolve. I thought we would for sure be replacing that carpet, but amazingly enough, after about 30 minutes of scrubbing the carpet looked great. I can't count how many bottles of this stuff I've gone through since I've had kids. I love it – I should do their commercials.
***funny side note – when I was scolding Ellie and horrified that my carpet was forever going to be a rainbow of colors she said "sorry mom" and I answered with "sorry isn't good enough! You know better!" Then when I was scrubbing the floor and they were in the tub I heard Addie say "sorry Lolly" and Ellie answered with an angry "sorry isn't good enough Add!" Despite the situation I had to laugh.
xoxo, Erin