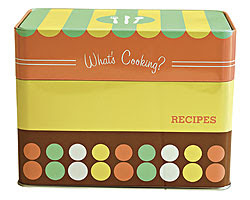 Those of you who know me well know that not much cooking takes place in my kitchen. I do, however, believe that someday I will get my act together and start preparing delicious, healthy, home cooked meals for my family…and we'll all sit around the table at 6:00 pm with a prayer and perfect manners discussing the fine points of our day…just enjoying this fantasy a little further. RIIIGHT. Until then – thank goodness for my microwave. Even though I don't cook, I love to collect recipes and really do hope to use them more in the future. My problem is that I have no clue how to organize all of them. Some are written, some I've printed from online, some are in various cookbooks and some I've cut from magazines. I need a system – it's driving me crazy not having one. A system that is easy to continue to add recipes to without a lot of hassle. So my question to all of you cooks out there is this: how do you organize your recipes??? What works for you?
p.s. If you're reading this, send a comment my way…I use the term "cooks" pretty loosely!

Free printable of the paint colors throughout my home!
Enter your name and email address to get instant access to my paint colors along with other free organizing printables. More will be coming soon!
Exclusive to subscribers!